Turkish Airlines TK16
Buenos Aires (EZE) – Istanbul (IST)
Departure: 23:25
Arrival: 22:00 (+1)
Duration: 16 hours 35 minutes (including stop at GRU)
Aircraft: Boeing 777-300ER
Seat: 5D (Business Class)
I was the first passenger to board my flight and managed to snap a few pictures of the empty cabin. I have previously done reviews of business class on the Turkish Airlines (TK) Boeing 777-300ER on my website. This plane's cabin is not the most modern of designs, but it still looks great to me! It's damn stylish. When the overhead compartments are open, the ceiling appears to be too low, though.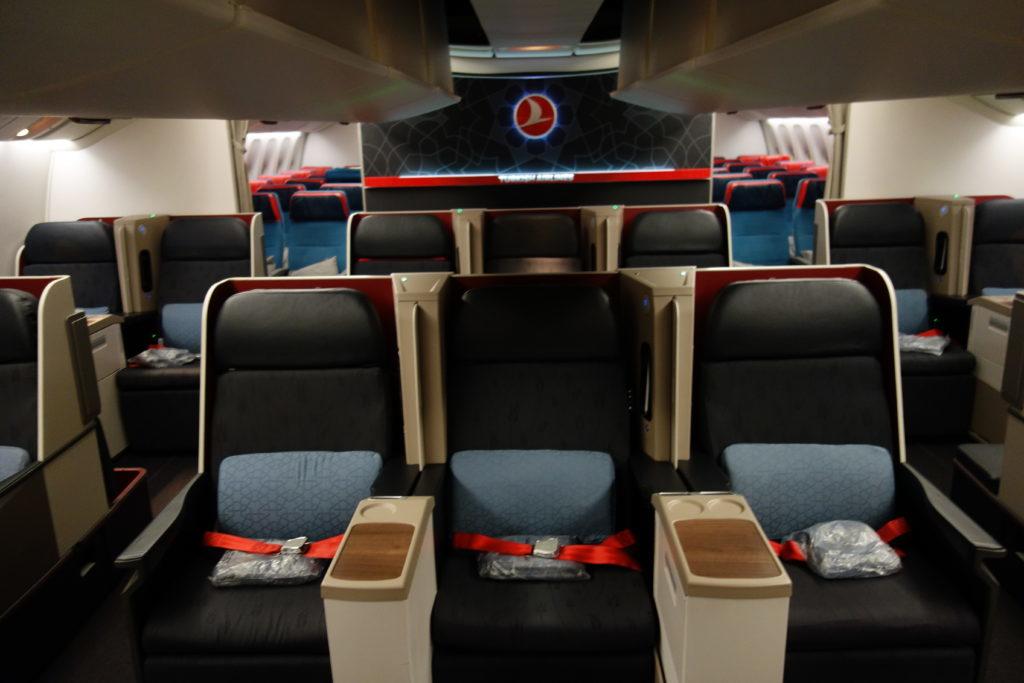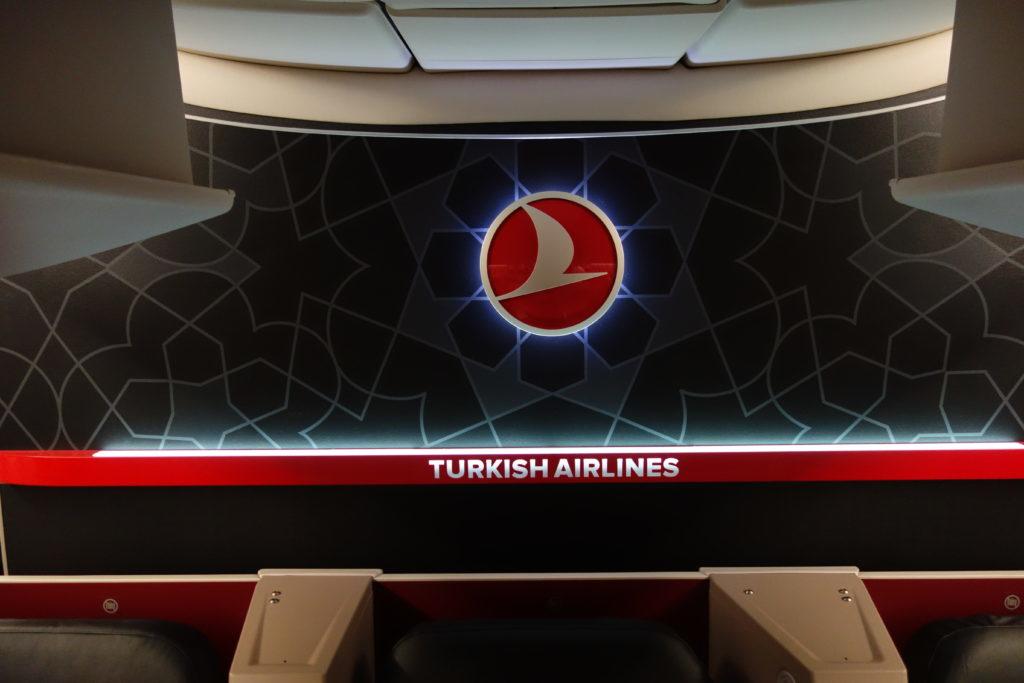 The TK business class cabin consists of 49 seats, divided into two mini-cabin sections – 4 rows in the first one, and 3 rows in the second one. The configuration is 2-3-2. A middle seat in business class? Whoa!
The positive impression that the TK business experience has had on me is partly due to the fact that over the years, I can't recall a flight I've had where there was not a free seat next to me. But, not this time… I had selected 5D – an aisle seat in the central block in the second mini-cabin.
Having checked the seat map before my departure, I knew that the cabin would be packed. On such a long red-eye flight, I prefer having a direct aisle access instead of window seat. I figured that the window shades would be down, anyways, for the duration of the flight.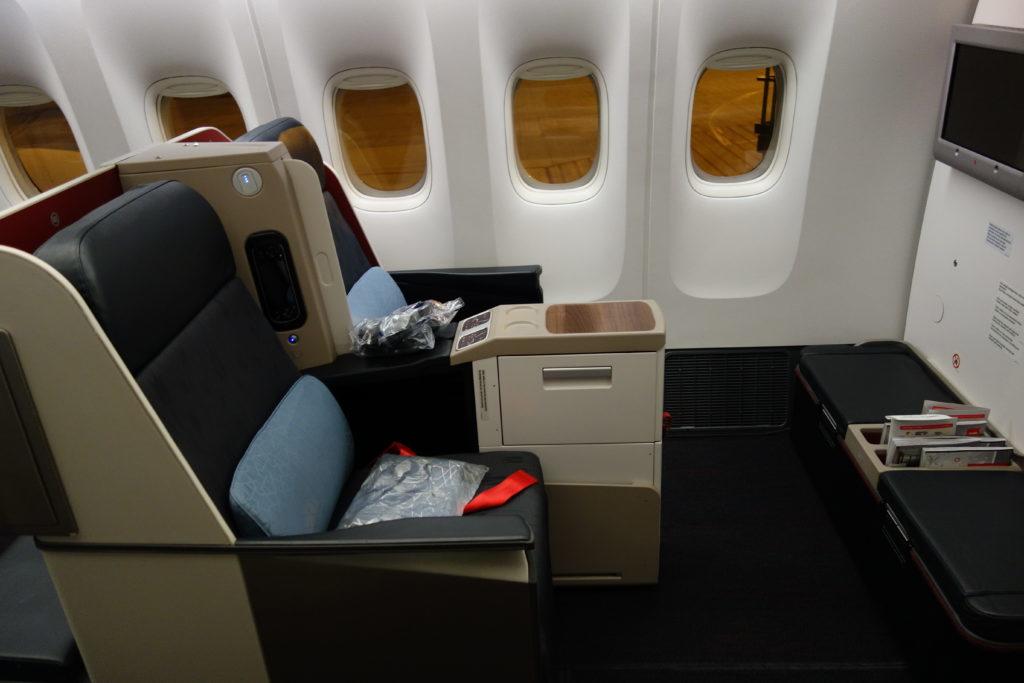 The seats in TK business class are able to adjust into some of the most comfortable beds in the industry. There is virtually unlimited leg space in these seats, which I love!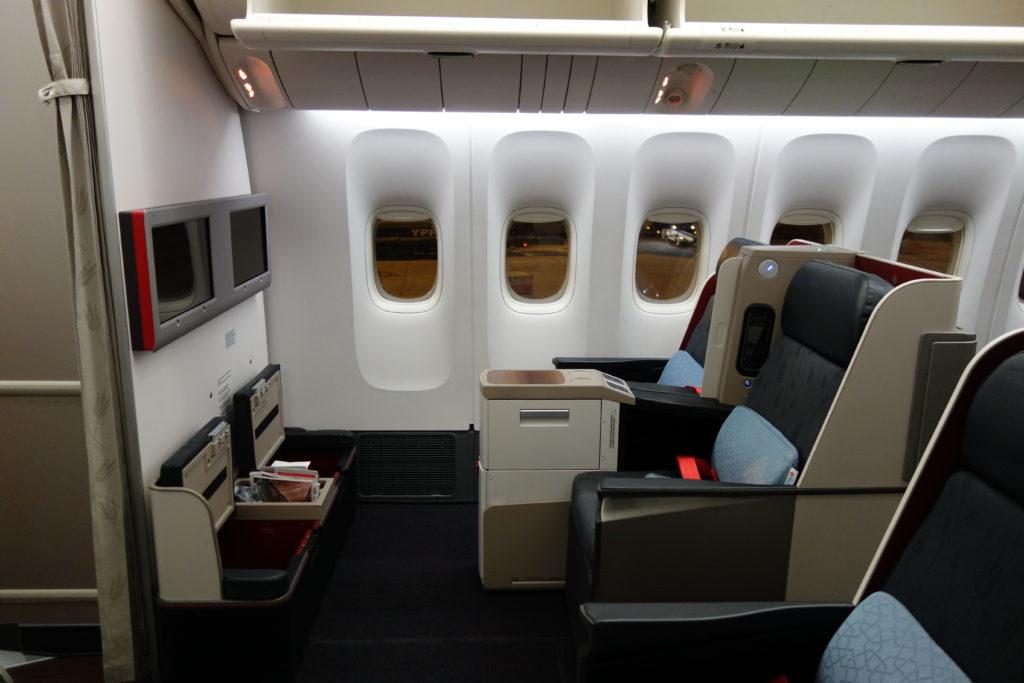 The amount of personal storage space is not great, but good enough. You can stow your shoes and some bigger items in the compartment under the seat. There is room to store a book, a camera, and other similar sized items under the armrest.
As for privacy, this configuration leaves a lot to be desired. Retractable partitions provide just the bare minimum of privacy. This is how the least desirable central seat looks with the partition retracted…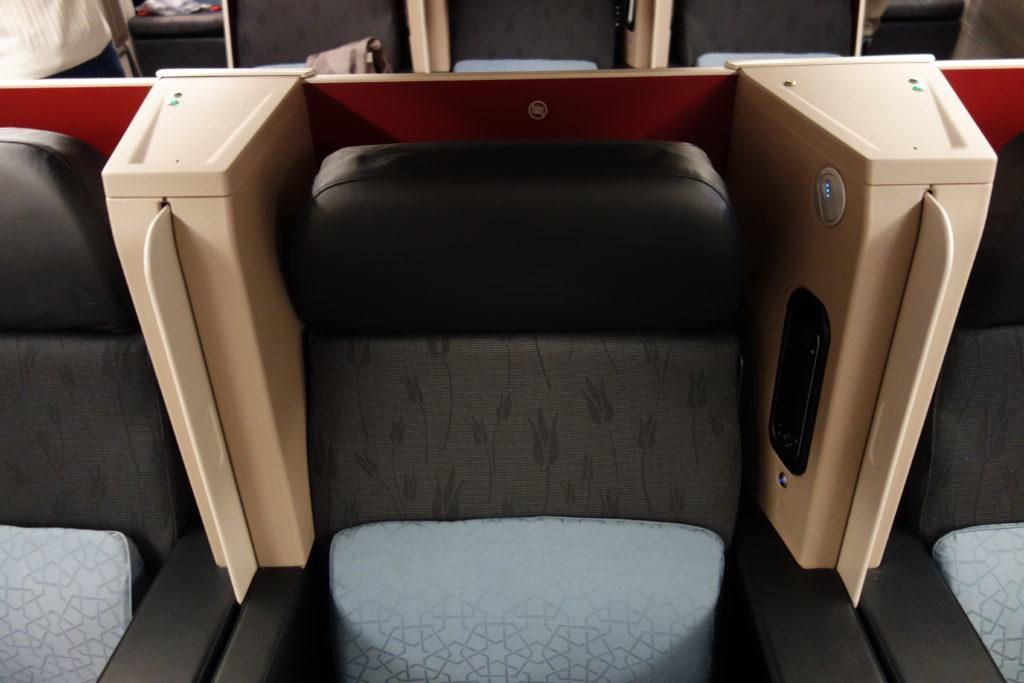 …and extended.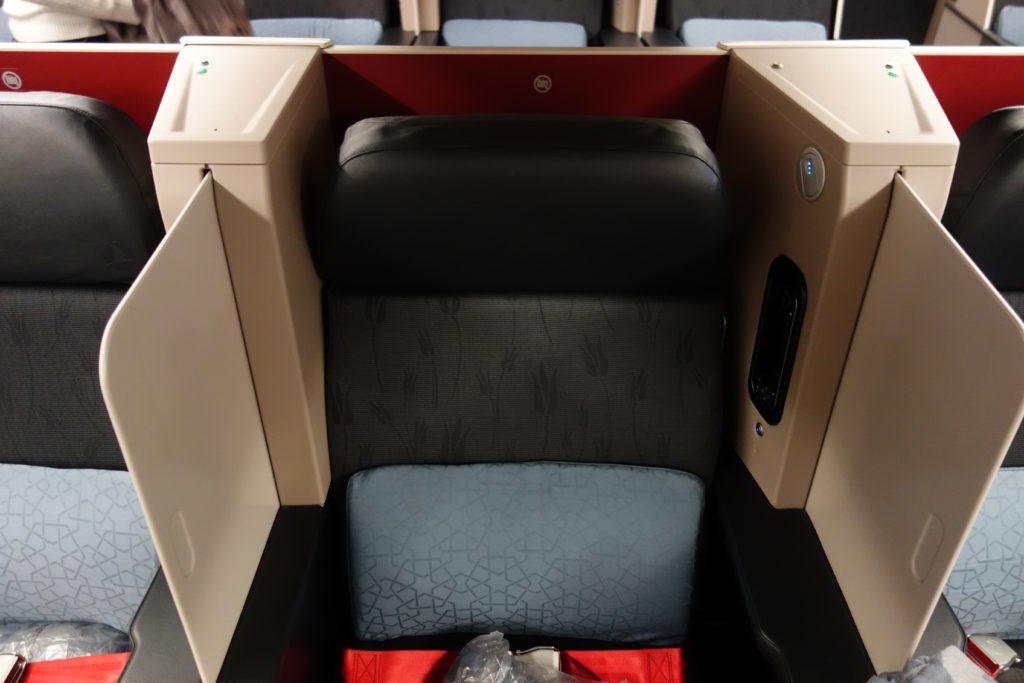 To the right, there was a reading light, and the IFE remote control.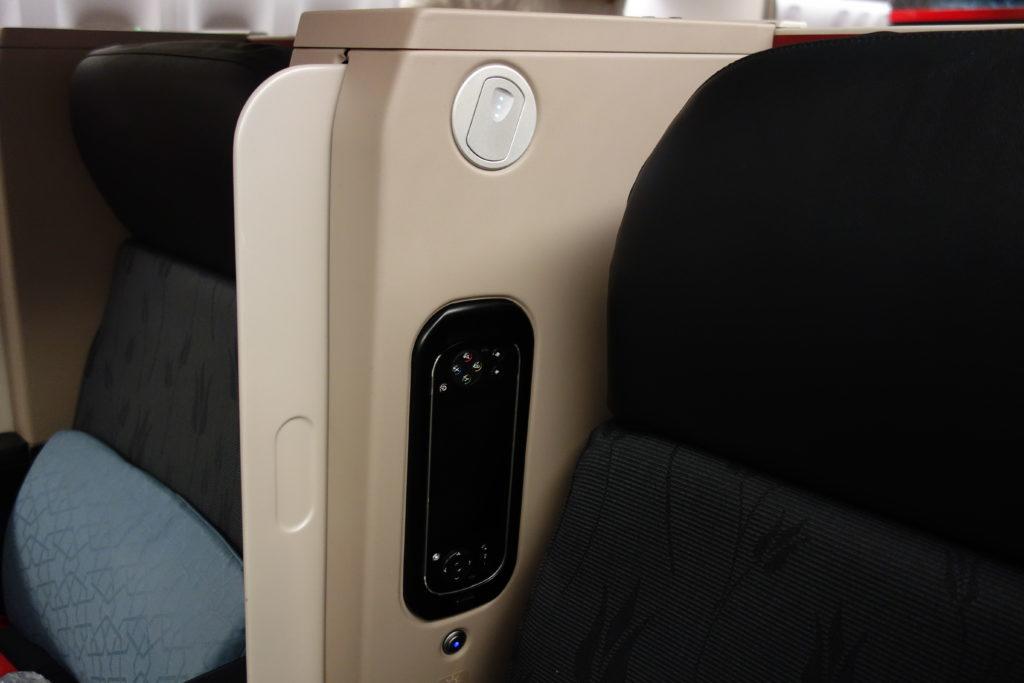 Funny – I noticed that it had been installed upside down 🙂 This was on one of the newer TK planes, and apparently, someone failed to keep an eye on it while installing the remote.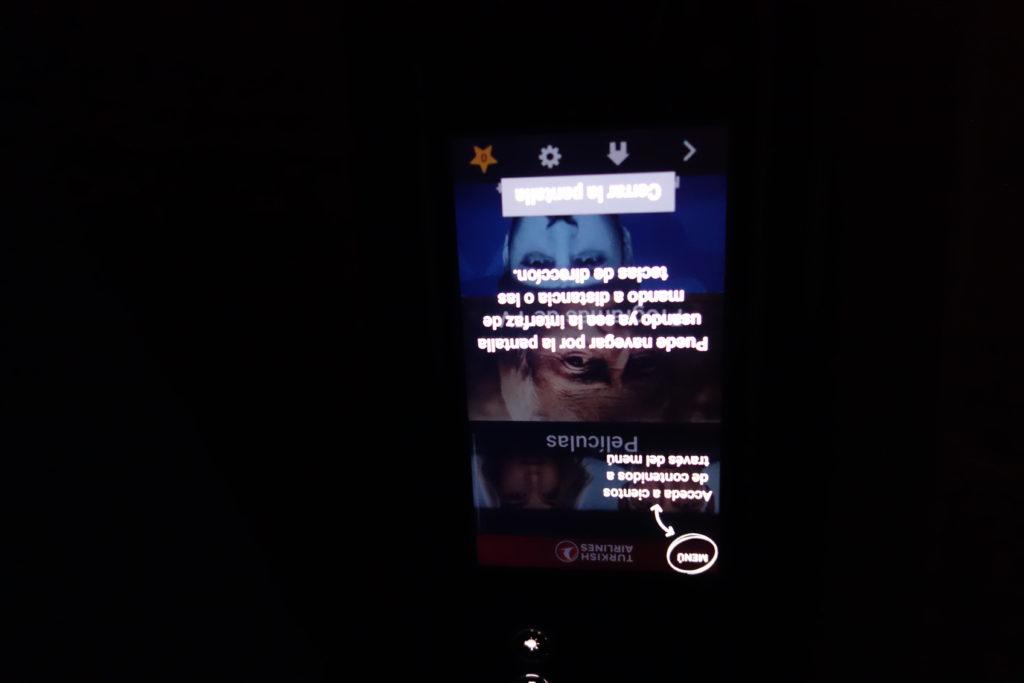 Between the seats were the seat control buttons. These were pretty intuitive to use, except that it seemed strange that there was no way to adjust only the back rest. It could only be reclined backwards by pressing the lower left button, which puts the seat into a horizontal position. The footrest goes up automatically with this. So, if you only wanted to lower the back rest, you would then have to return the footrest to its original position by using a different button.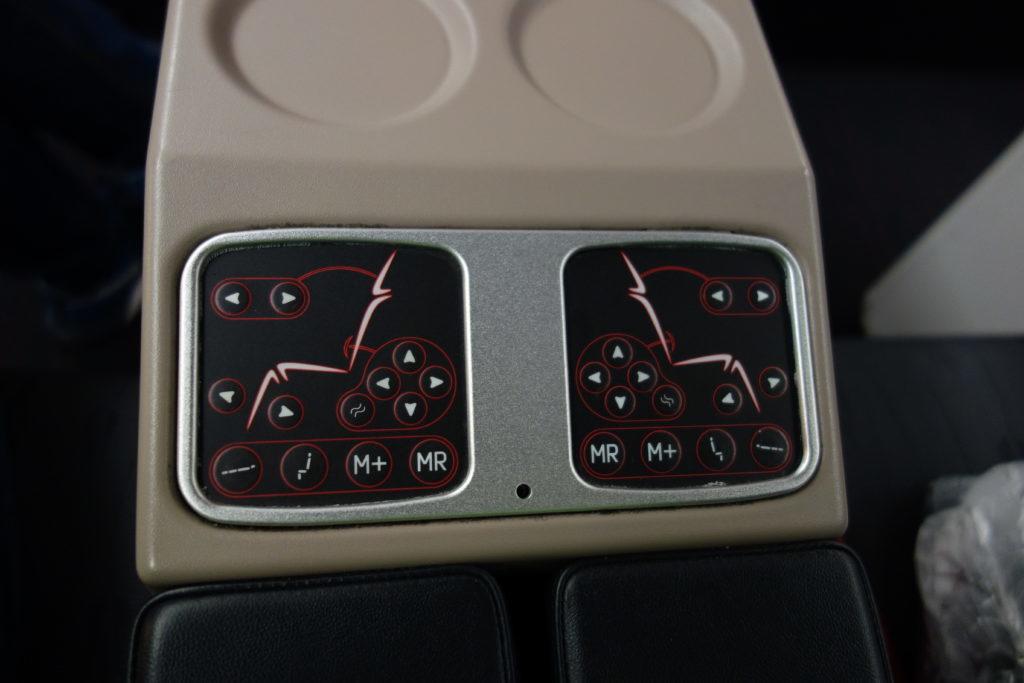 Under the armrest, there was a port for headphones, and an electrical outlet.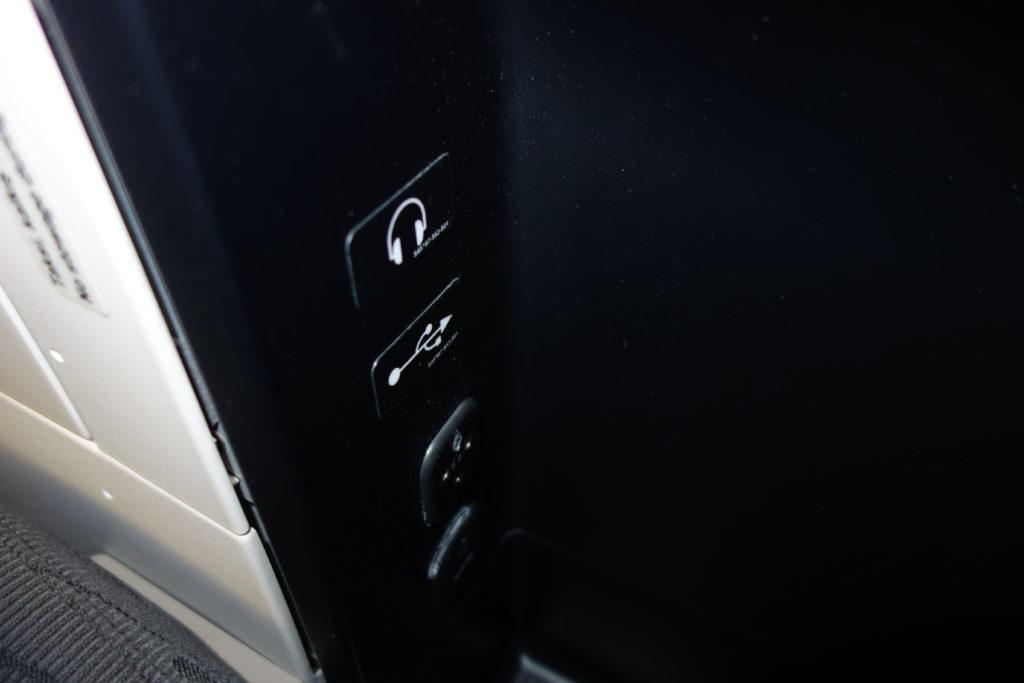 I find this IFE screen to be one of the best in the industry, both in terms of screen resolution and the ease of navigation. You can control it either by touch-screen or by using the remote.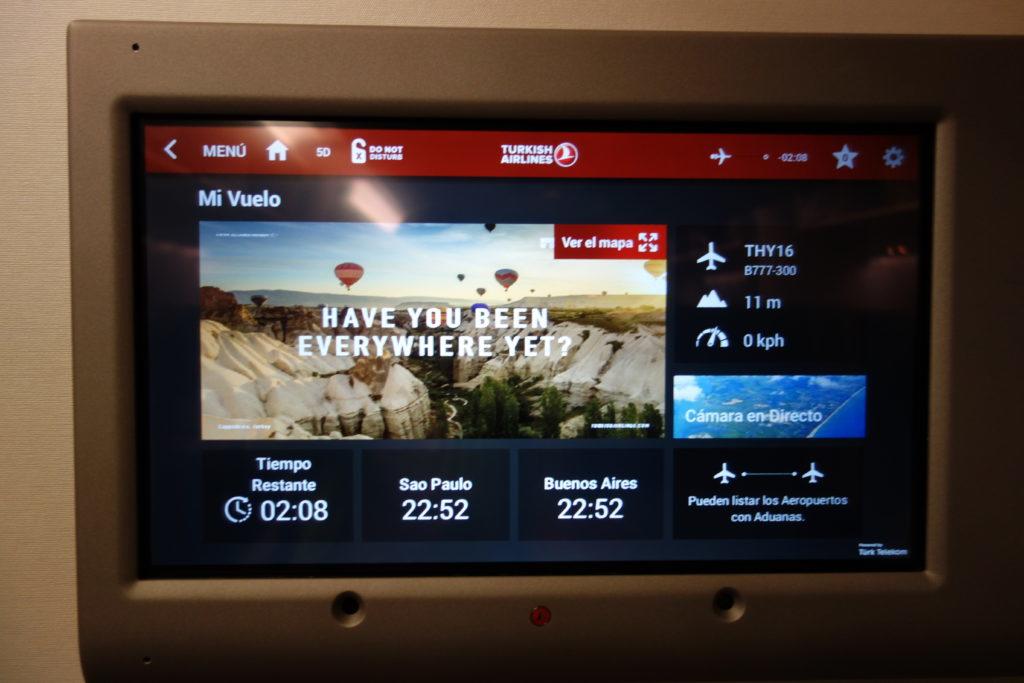 Unfortunately, there was a lack of housekeeping in the cabin. There were no slippers or headphones on some of the seats. Things just seemed sloppy. I figured maybe it was just because the first flight segment was just going to São Paulo?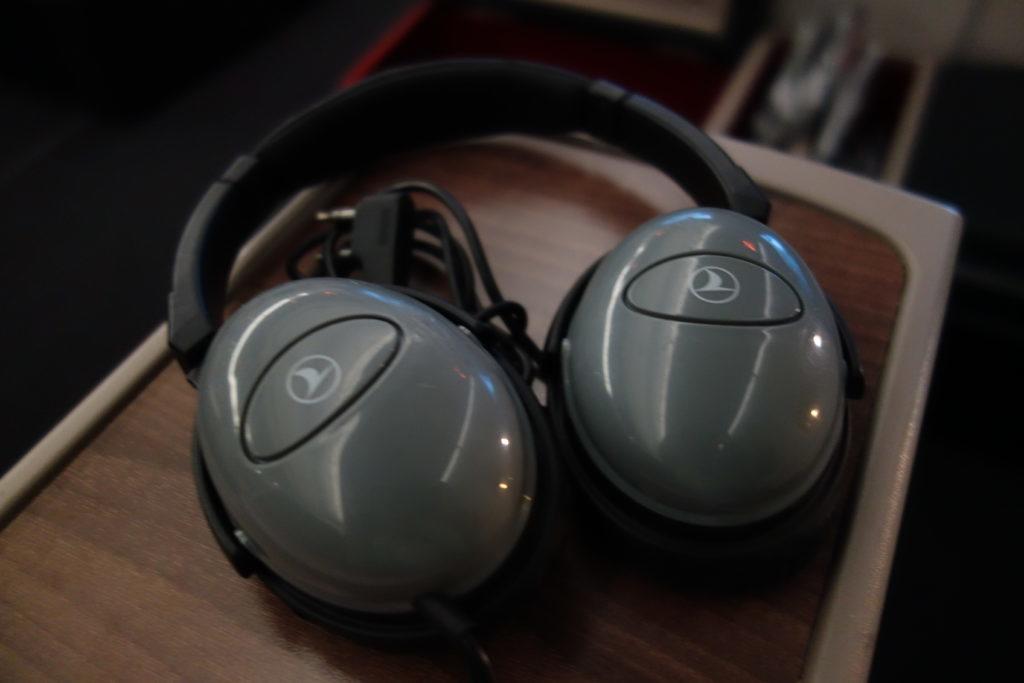 During boarding, the flight attendants showed no interest in passengers, and took their sweet time to chat with each other in the galley. There were 8 (!) flight attendants. Not one of them greeted me, or offered to take my jacket. So, I had to ask them myself…
When I was finally offered a drink, I was given the choice of either water or orange juice. I asked if I could have the traditional homemade lemonade, and the answer was "I do not think so". Yet, some passengers DID get to choose lemonade. Ah, those Turks…
Only six seats were occupied in the second mini-cabin. Obviously, most passengers would be boarding in São Paulo. I decided to take advantage of the situation, and moved to a window seat so that I could enjoy the view of Buenos Aires at night.
To complete my review, I snapped a picture of the economy class cabin. The color scheme is just yuck, ain't it?
At 11:12pm, the boarding was completed, and mood lighting was turned on in the cabin.
Am I the only one who thinks that they've gone a bit overboard with the disco-style lighting?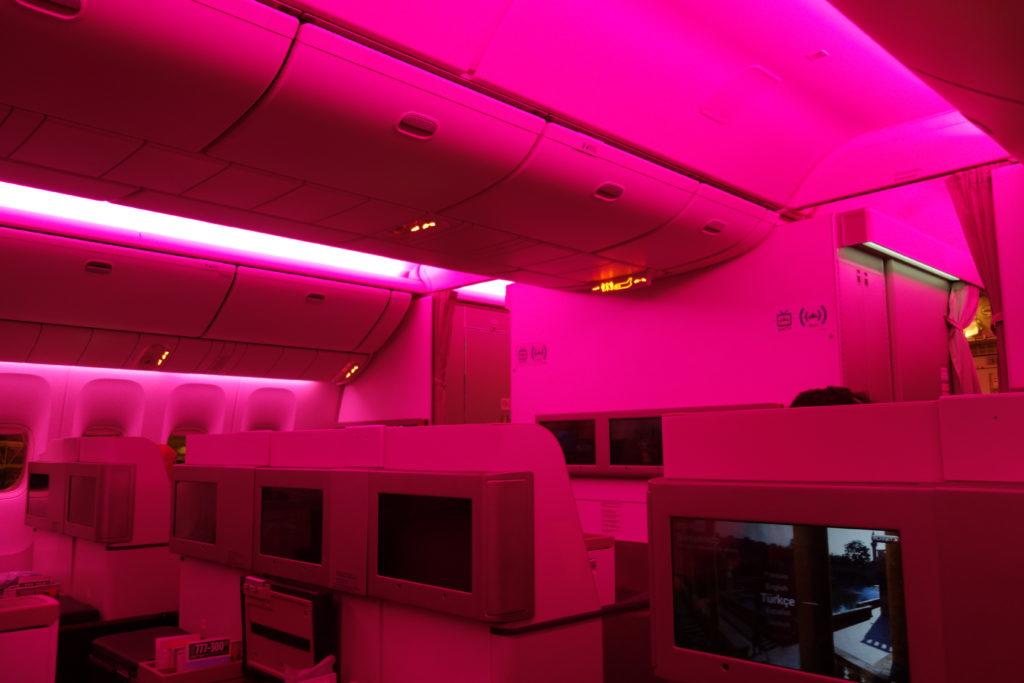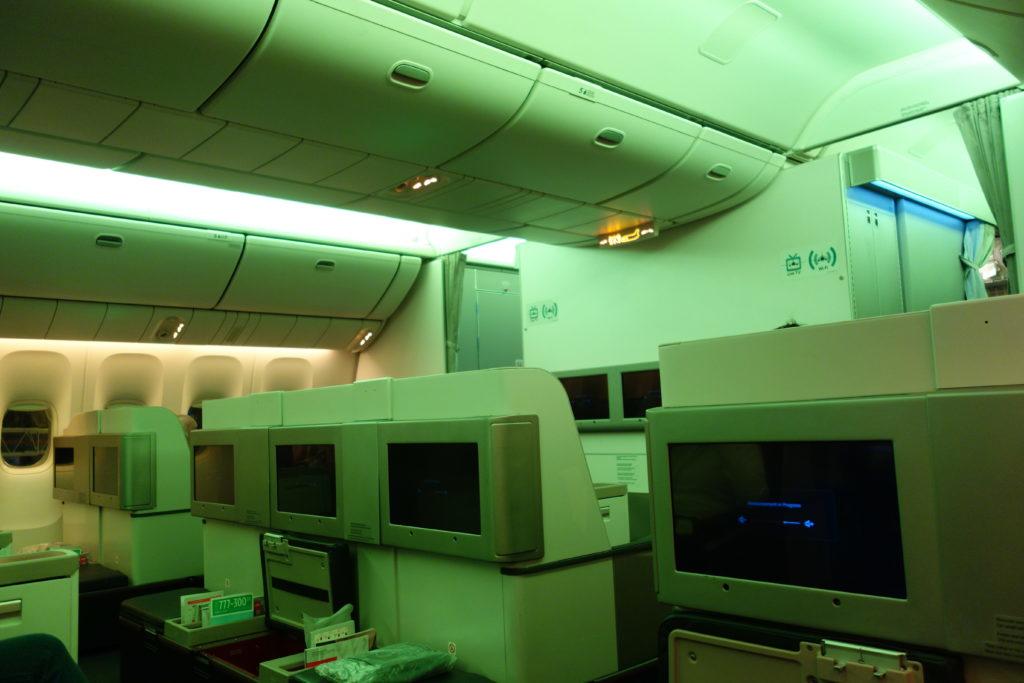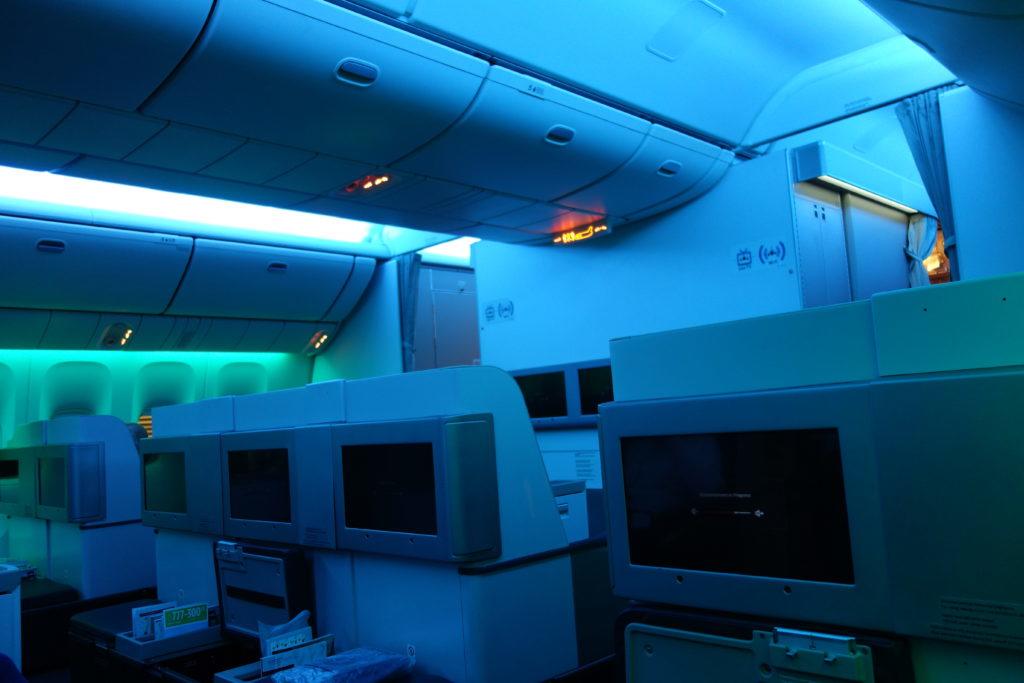 The captain welcomed the passengers aboard, and informed us of our flight time of 2 hours and 20 minutes to São Paolo. At 11:20pm, the safety video (featuring Zach King) was shown.

A few minutes later, the pushback began (past the beautiful Aeromexico's Dreamliner), and we quickly taxied to the runway. By 11:32pm, we were already in the air, and I was able to enjoy the nighttime view of the city below.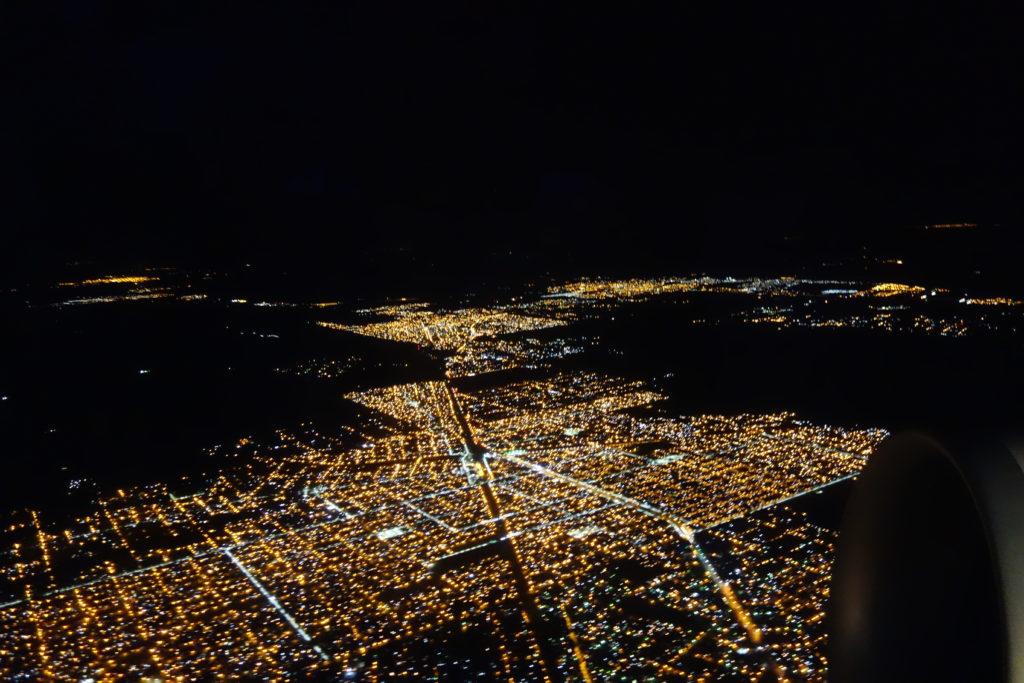 As the plane ascended, I played around with the entertainment system. The range of options for films and music is massive! I can rarely find anything that suits my taste – but that's because I don't really care for films or music 🙂
However, if you happen to be a "normal" person who does enjoy this stuff, then let me tell you – you will not be disappointed!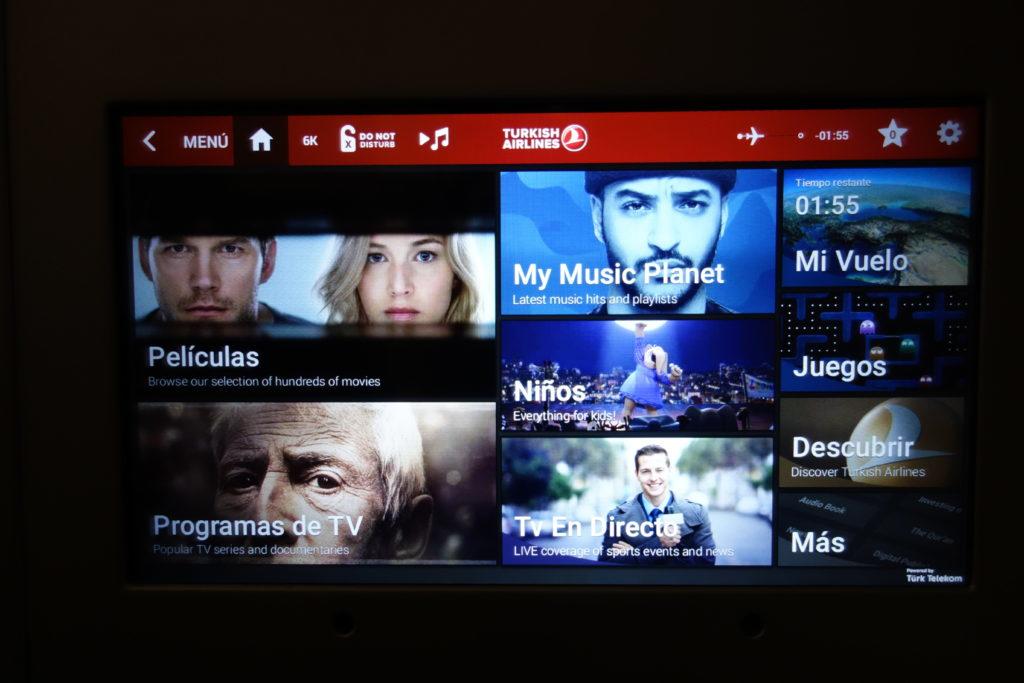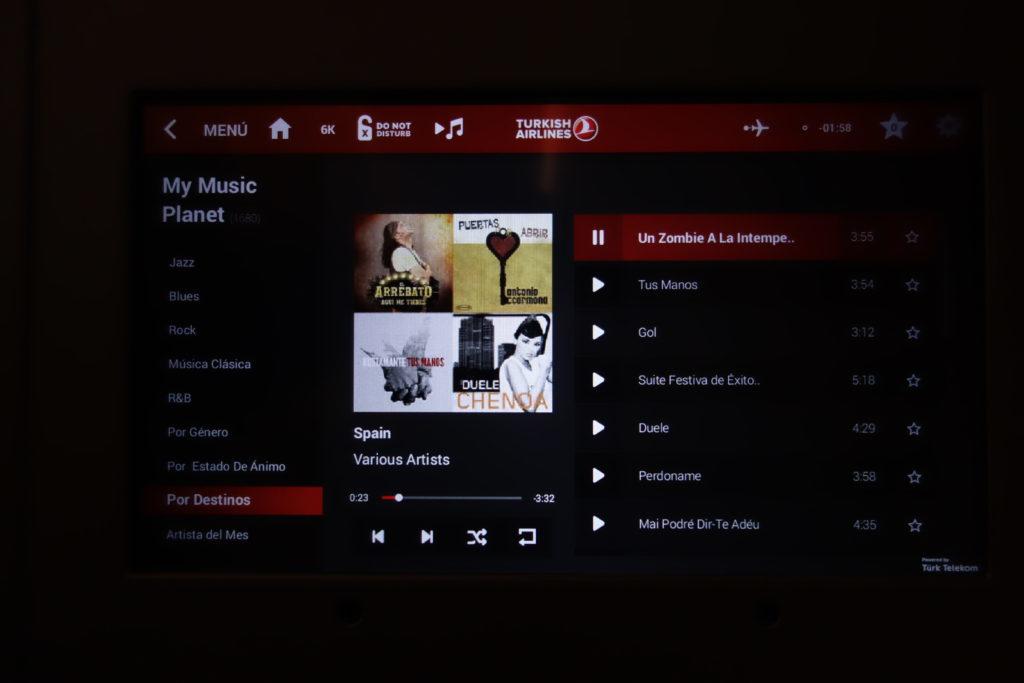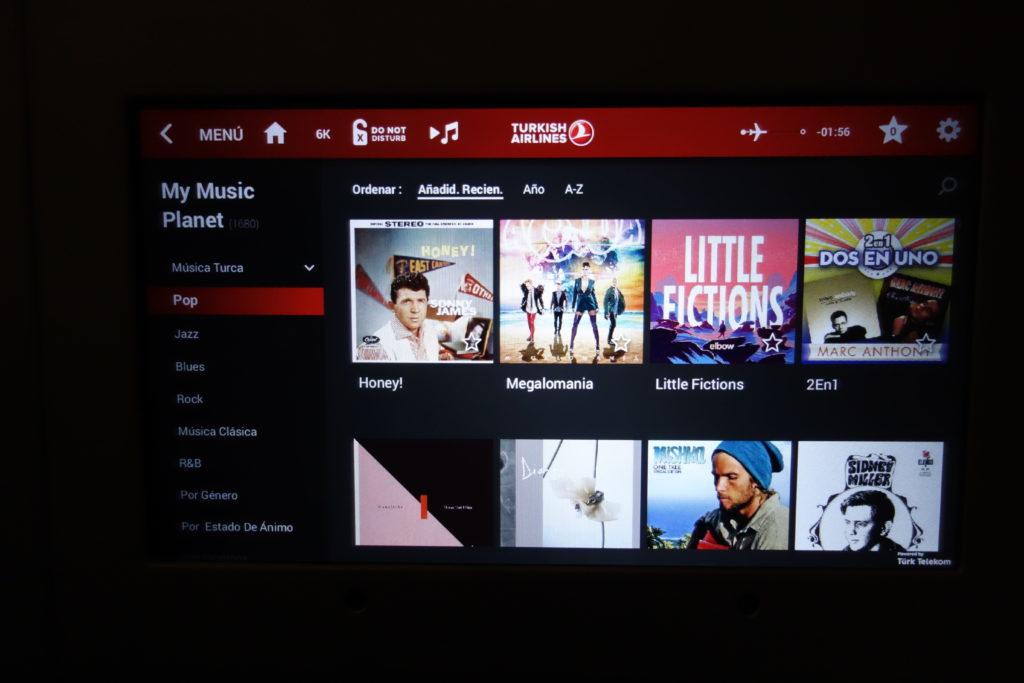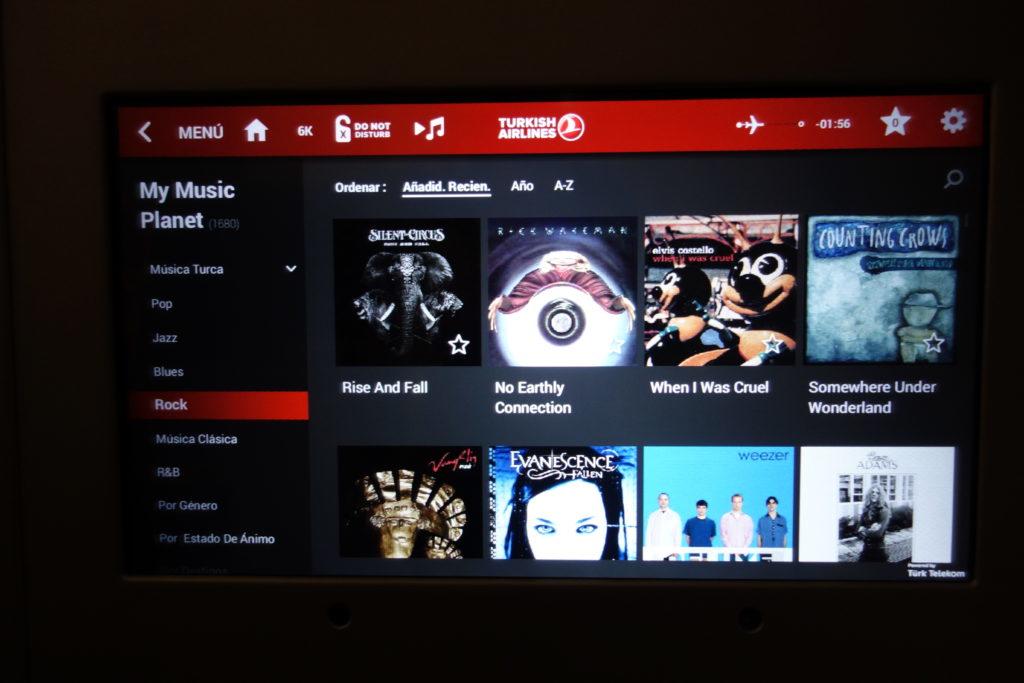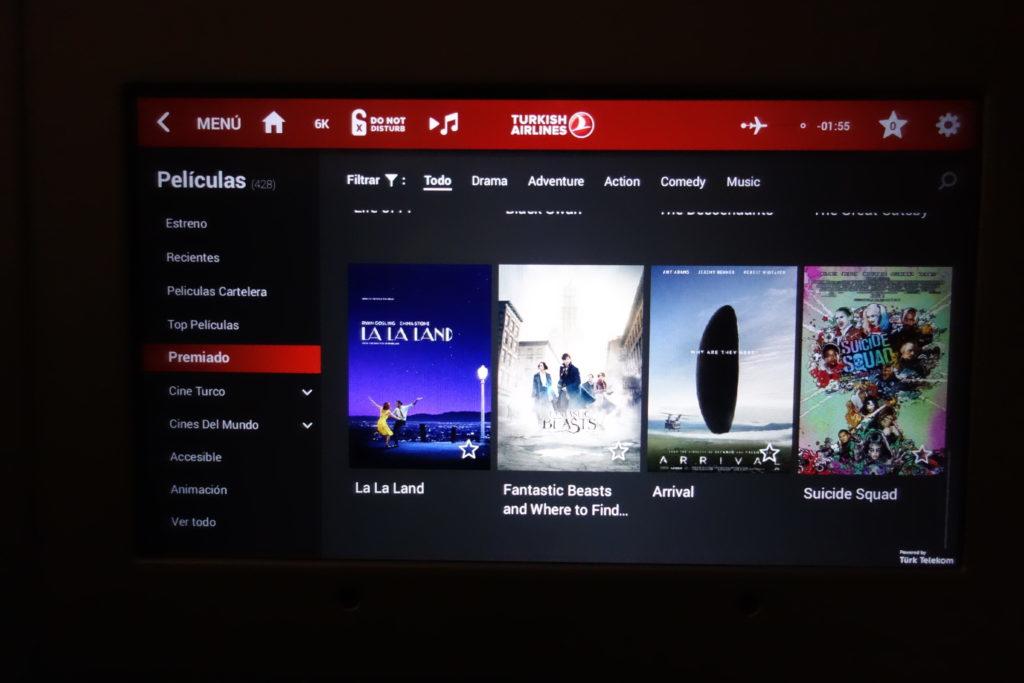 The flight map is amazing. It's truly the best entertainment one could expect. You could spend hours customizing it!
Shortly after the seat belt signs had been turned off, the in-flight service started. First, the FAs distributed Brazilian immigration cards to those ending their journey in São Paulo. Then, hot towels were offered.
Ibrahim, one of the flight attendants, greeted me by name, and asked what I would like to drink for dinner. This flight was only two hours long, so passengers weren't offered an aperitif (service tends to be reduced on shorter flights). Ibrahim assumed due to my name that I spoke Russian, and immediately switched to Russian himself.
I asked for champagne, which was served with dinner.
The first course consisted of roast beef, tomatoes, and avocado, served with a creamy balsamic sauce, along with a tiny bit of mezze, cheese, and dried fruit. There was also chocolate cake.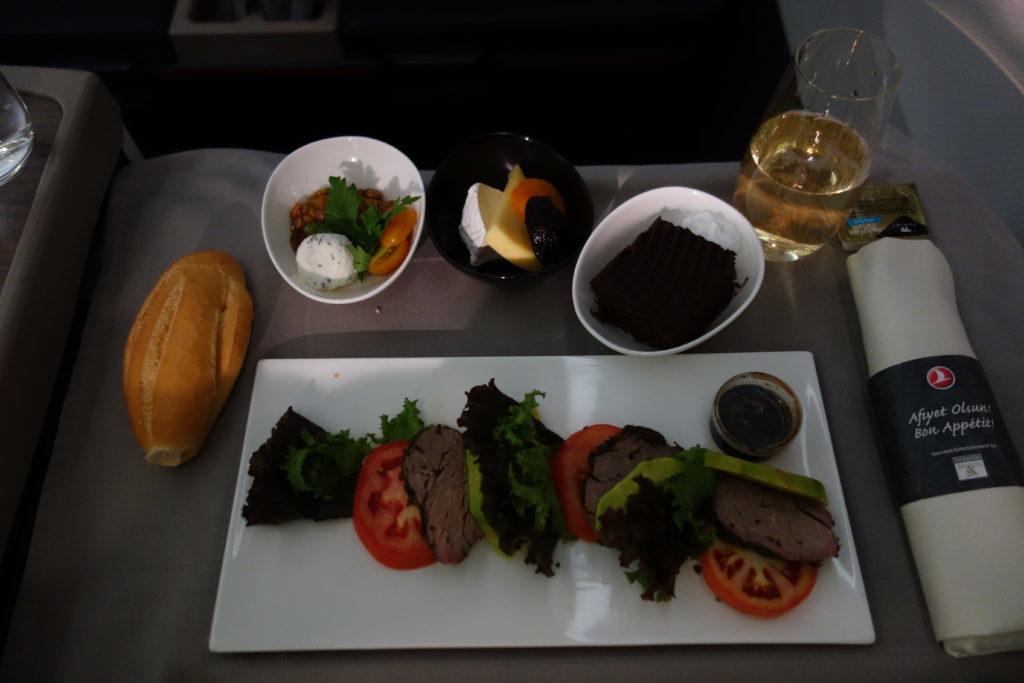 For the main course, I was offered the choice of chicken crepes or ravioli. I went with the first option.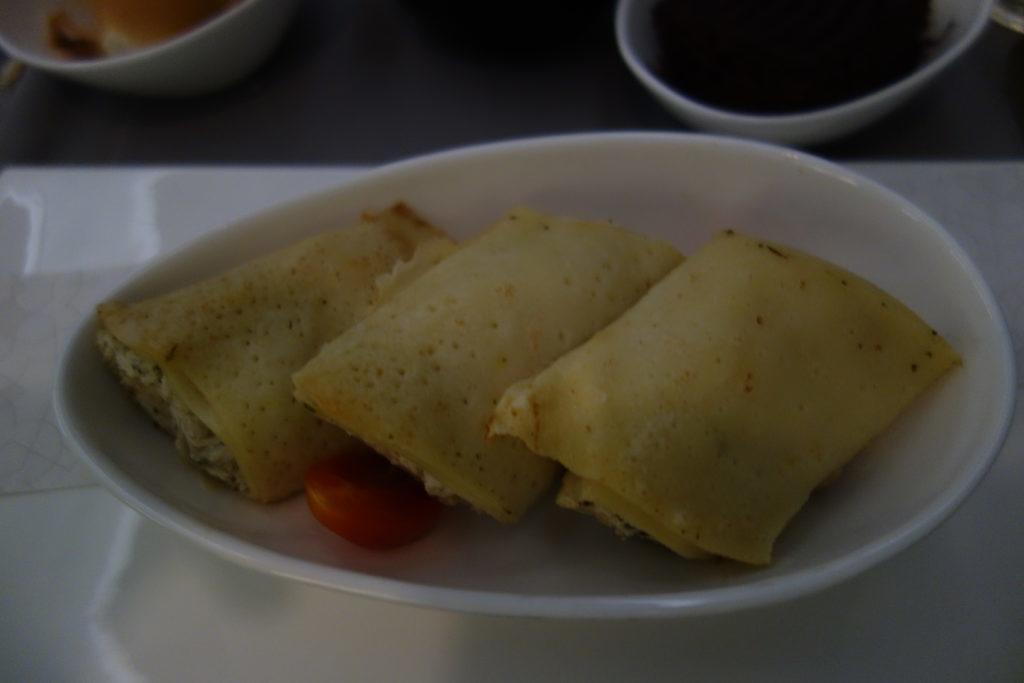 I finished my dinner with a glass of port wine (which Turkish Airlines tends to serve generously), and a cup of tea. I love these Turkish glass holders!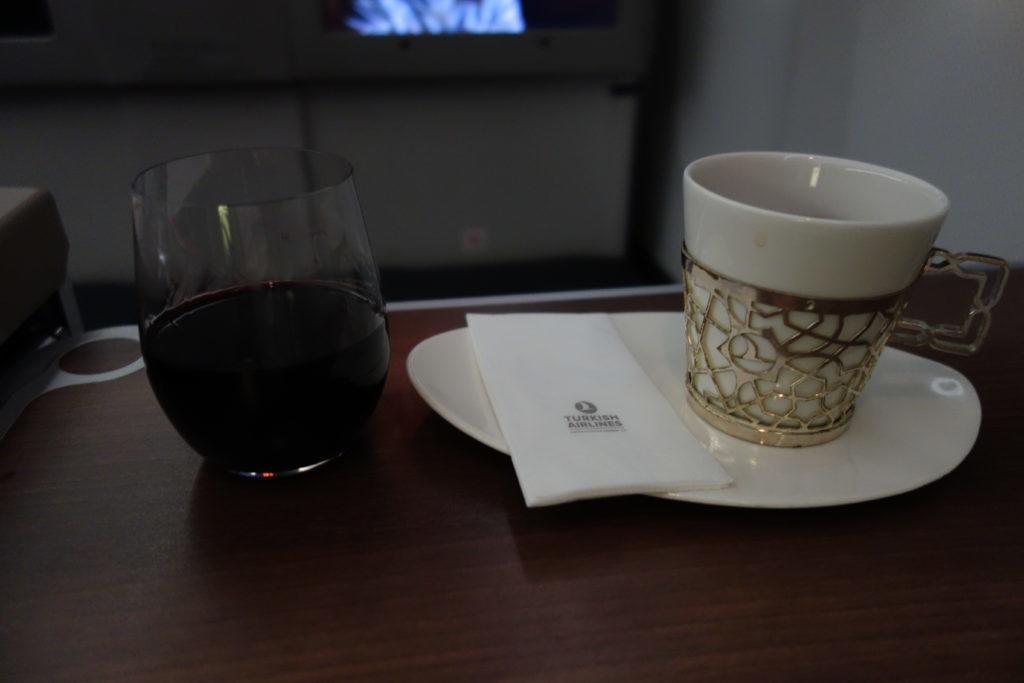 The dinner was… alright. To put it in perspective, a similar dinner is served on any intra-European TK flight which lasts from 1 to 1.5 hours.
There was no printed menu, no pre-dinner drink, and no refills were offered during dinner. So, the experience was just average.
There was definitely time to spare for more complete service. Hell, on the duration of the of this flight, I managed to watch all of "Don't Say a Word". If Michael Douglas has enough time to save his child and bring the bad guy to justice, then there is plenty of time for them to offer a menu and an aperitif 🙂
By this time, it wasn't known if this service was going to be the first dinner, or the only one.
While in the lavatory, I saw a lush plant in there.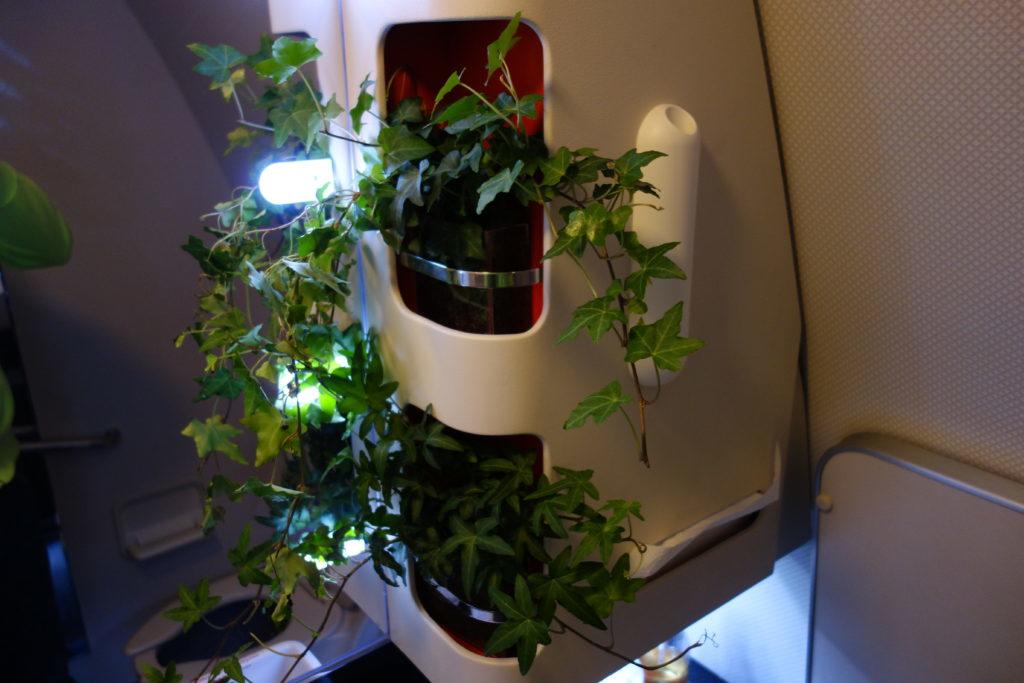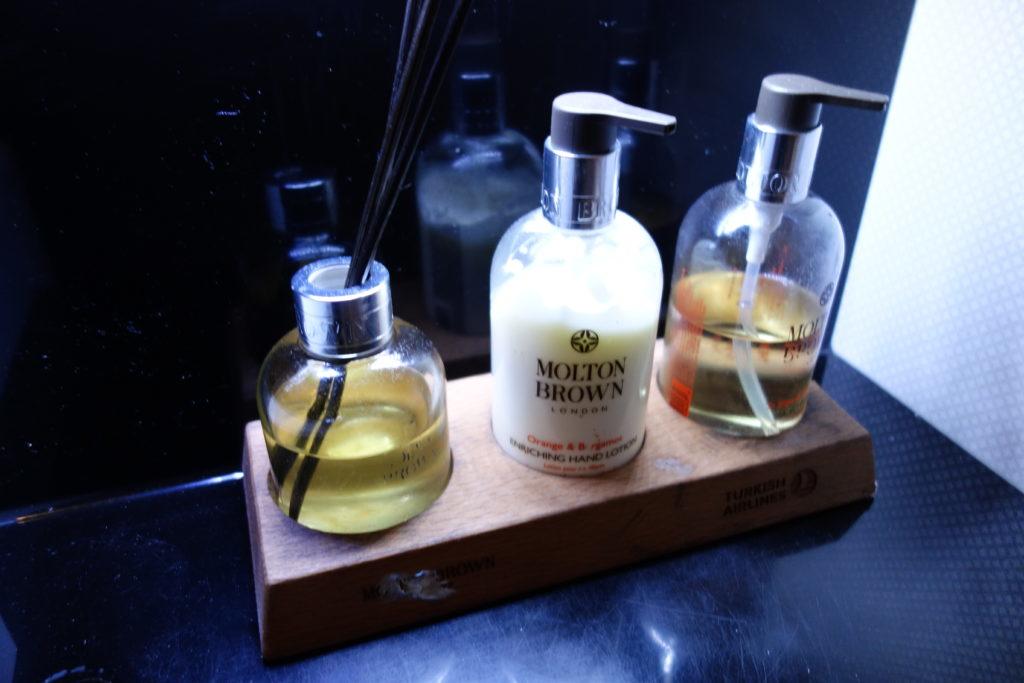 As I was sipping port and watching the movie, we began our descent towards São Paulo.
We landed at around 2am. It was "rush hour" for the Middle Eastern airlines. Emirates and Qatar (in the Oneworld livery) were both there.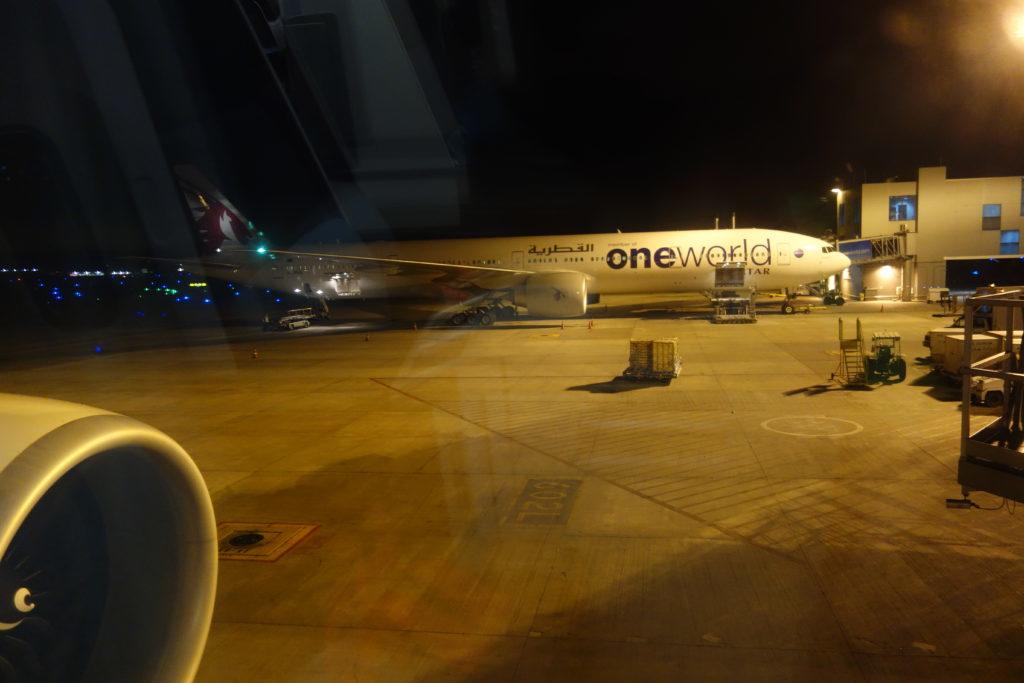 Most of the passengers left the plane in São Paulo. Turkish Airlines makes great use of this fifth freedom route.
Those who continued their journey to Istanbul were asked to stay on board.
During this time, there was also a crew change. I hoped that the new one would be more attentive 🙂
I also wished that that the flight attendants would have been… hotter. Even by average Turkish beauty standards, it was painful to look at the downright ugly FAs on this flight.
For about two hours, I observed the housekeeping duties in the cabin, and the bedding being added to the seats. The cleaning job was rather superficial.
If the cabin housekeeping is done so poorly in a one and a half hour time frame in São Paulo, then why should one assume it would be more thorough in Buenos Aires?
I wonder when exactly is the cabin ever thoroughly and properly cleaned?
I stretched my legs by walking through the economy cabin and the front business class mini-cabin, where I observed six bearded men wearing skullcaps, playing cards. Every time I walked back through the cabin, they were still playing those cards, up until the arrival in Istanbul. The passengers on some of these TK flights really do sometimes leave me speechless.
The boarding finally commenced at around 3:30am. As expected, the business class cabin quickly filled up. I believe this was only the second time, out of the countless flights I've had with TK, where the seat next to me would not be free.
A very obese man took the central seat next to me. Amusingly, he dozed off into a sitting position for the entire flight.
The least desirable seats are usually taken by those who book at the last minute (and, who also end up paying more). It was kinda sad to look at a guy who paid a lot of money for the flight, got trapped in the central seat, spent the entire flight sitting, and didn't even get to enjoy the meal service.
I like sitting in the second mini-cabin, but during boarding, things can get hectic. The entire economy class passes by your seat, sometimes giving you dirty looks of jealousy 🙂
I noticed when you sit in business class on an hour long intra-European flight, the glances of the passengers are mostly judgmental. You can imagine they're thinking, "Why is this bonehead paying for a seat that's no different than economy?" But, it's a totally different story on a 12 hour long red-eye flight.
The new FAs offered beverages to welcome us, and the drink choices were as it usually is. I chose the strawberry lemonade.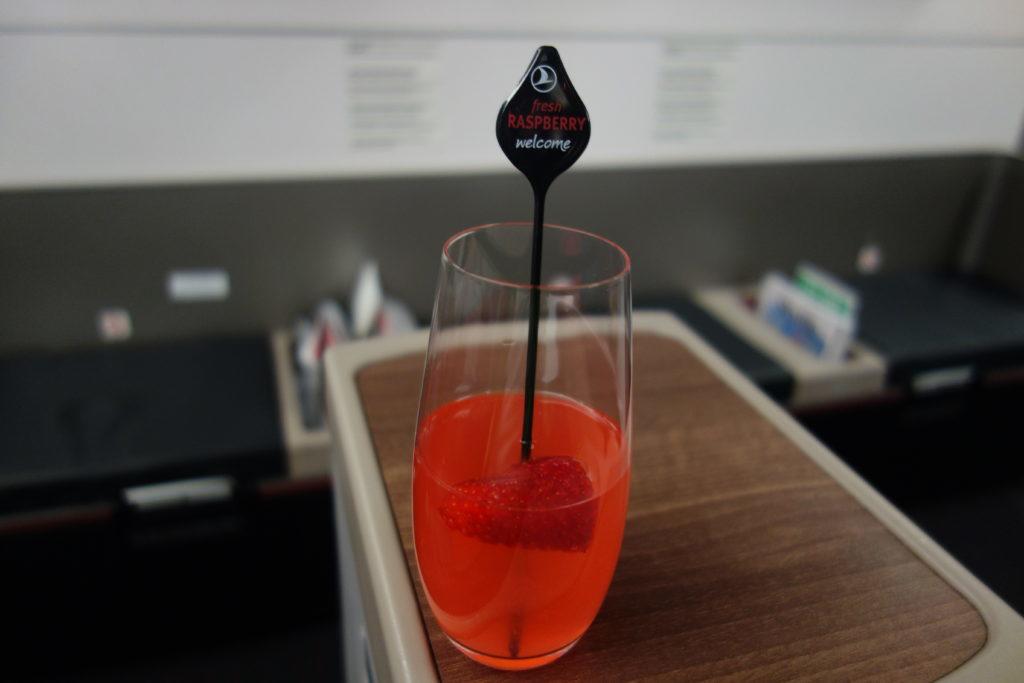 I was then offered headphones, on the condition that they must be returned after the flight…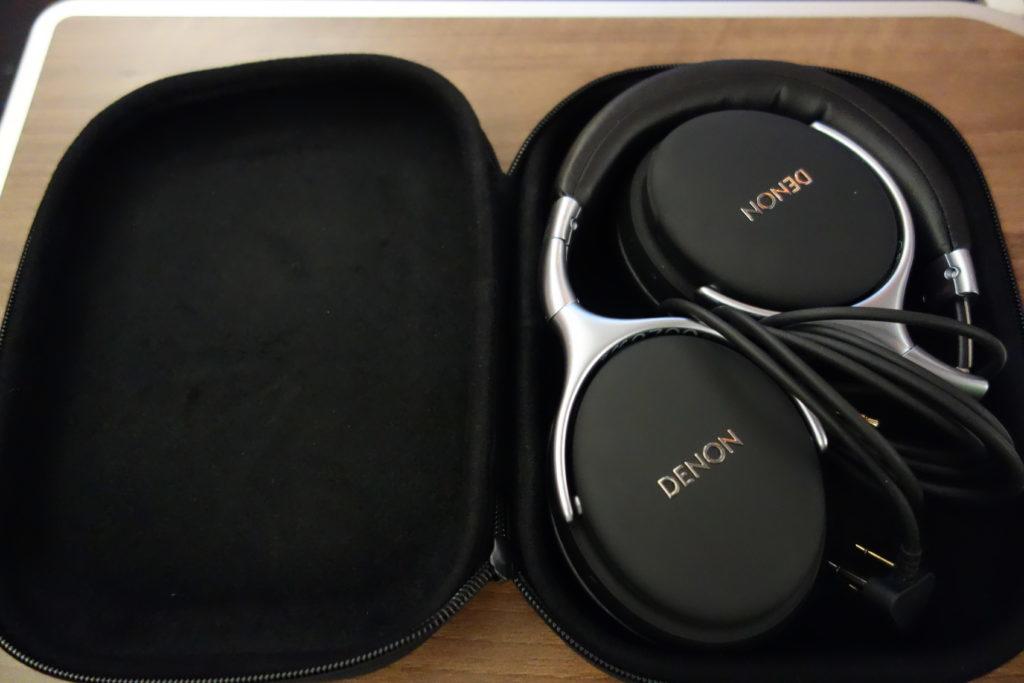 …and the amenity kit.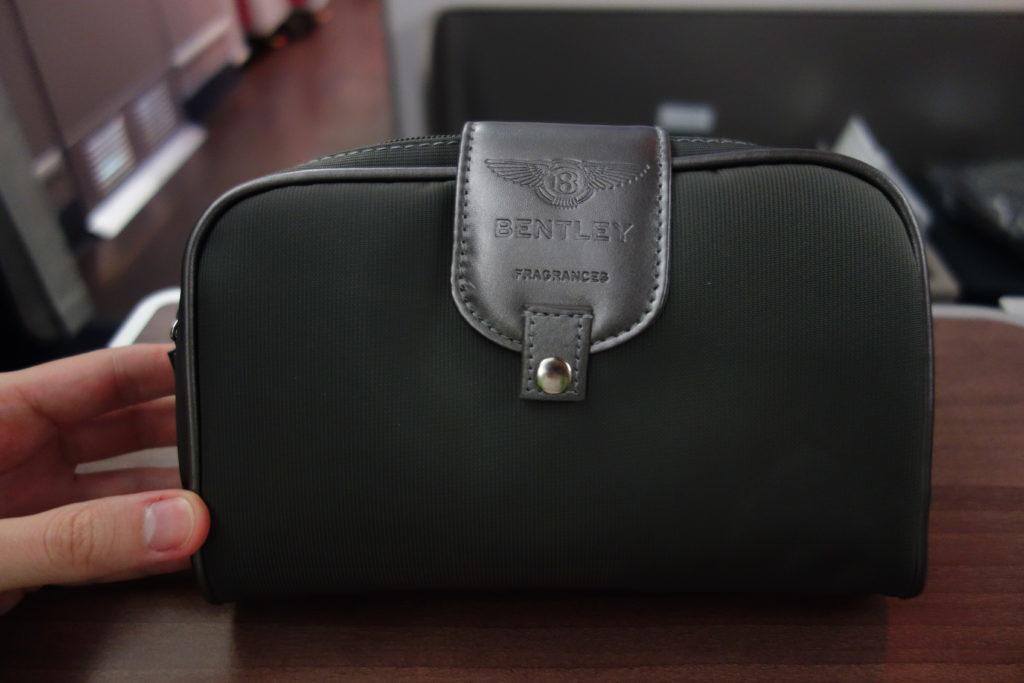 The headphones that TK recently started offering to business class passengers are among the best in the industry (even compared to those offered in first class by other airlines).
About the amenity kits – previously, TK gave the most amazing Jaguar kit, and a few months before that, a Furla kit. This time around, I got a gray Bentley bag, which had basic contents. As a frequent flyer, it's nice to receive different amenity kits, especially when each of them are of such a high quality.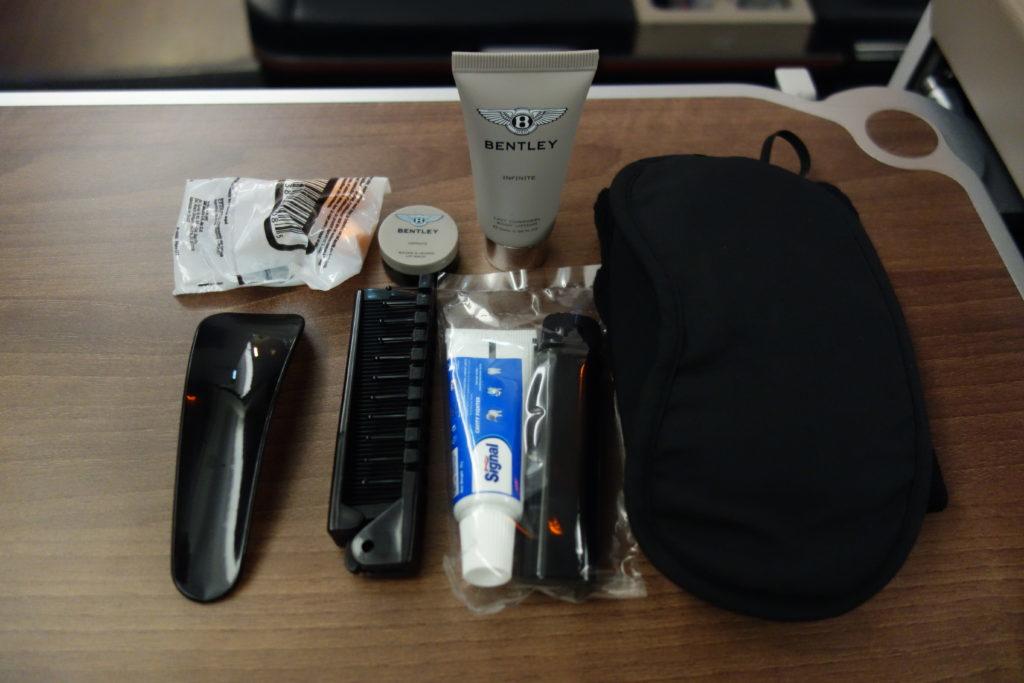 At 4:01, we finally took off. Knowing it was a long flight ahead, I desperately wanted to get some sleep, but I was also curious as to what kind of service would be offered on such a brutal schedule.
Immediately after takeoff, the flight attendants started making beds. With how crowded the cabin was, I felt like I was trapped in a cramped hostel.
At that moment, I was still expecting a light supper. I planned to nibble on cheese, have a glass of wine, and enjoy a dessert (I don't care what time of day it is, you can't say no to a Do&Co dessert). However, after my bed was made, I was asked: "What would you like to have for breakfast?"☺
Alrighty, then…
For the sake of getting some pictures, I agreed to the breakfast. I tried to be a good boy, and to just order orange juice, but I ended up also asking them to open a bottle of wine. I hadn't slept yet, and it was still evening to me, so why not?
Such a departure time really should require Dine on Demand service. Normal service is simply not acceptable during this time frame, as there will always be someone who is dissatisfied. Offering breakfast at 4:30am on this flight was a terrible service decision.
The passengers who started their journey in São Paulo had to arrive at the airport around 1am, which meant that they had to leave their homes or hotels before midnight. Some arrived to São Paulo on a connecting flight. So, even if the airline didn't offer Dine on Demand, a light supper or snack would have made more sense.
Of course, the majority of passengers skipped breakfast. They then later woke up hungry, before dinner service started, and began ravaging the snacks. Pure chaos! TK shot itself in the foot in this situation, which is unfortunate, because one of their best qualities is their wonderful catering.
Anyways… Since I asked for breakfast for the sake of a complete review, here it is: On my tray was fresh fruit, sliced ham and cheese, and yogurt.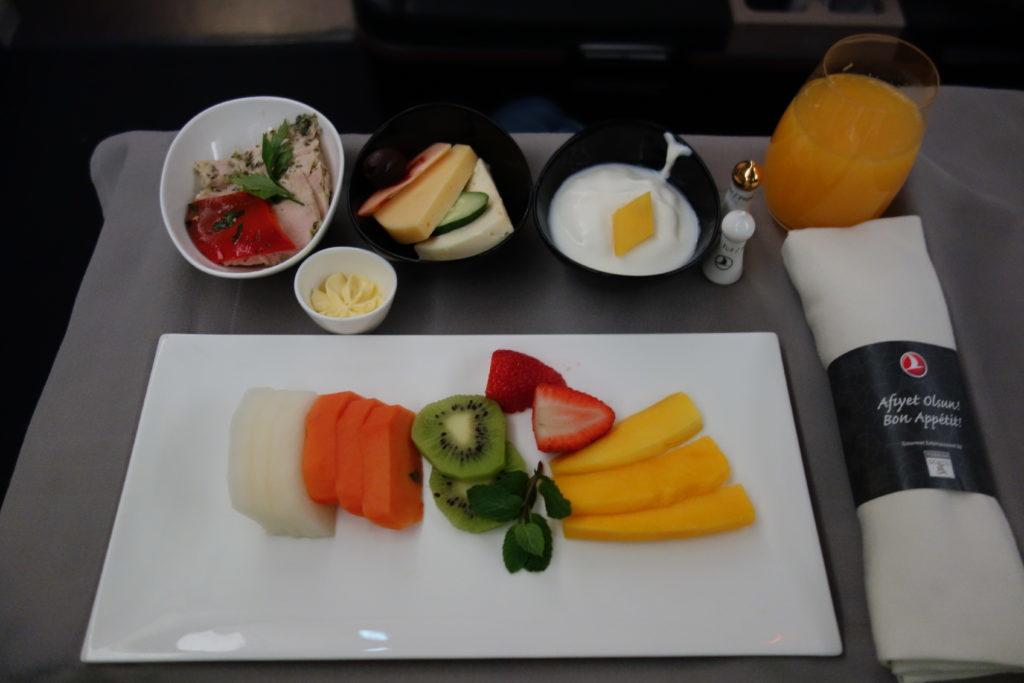 For the main dish, I went for an omelette with potato rösti and mushrooms.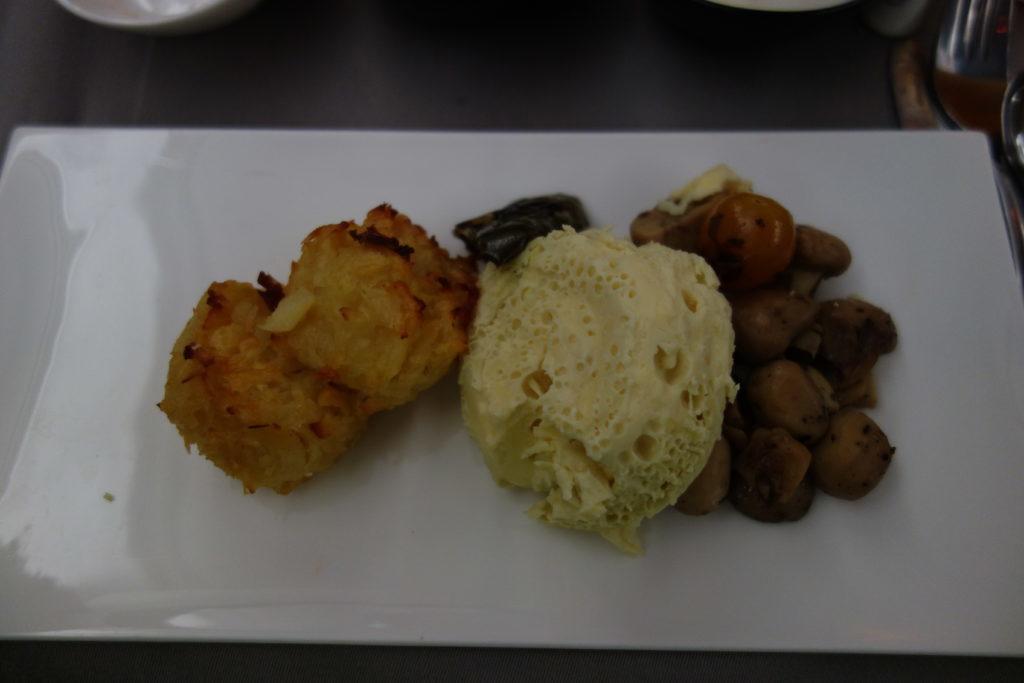 After breakfast, I reclined my seat, and wrapped myself within a warm blanket. Some passengers were offered bottled water, and others were not. I asked for a bottle, only to be told they were out. Ouch.
Welp, time to sleep!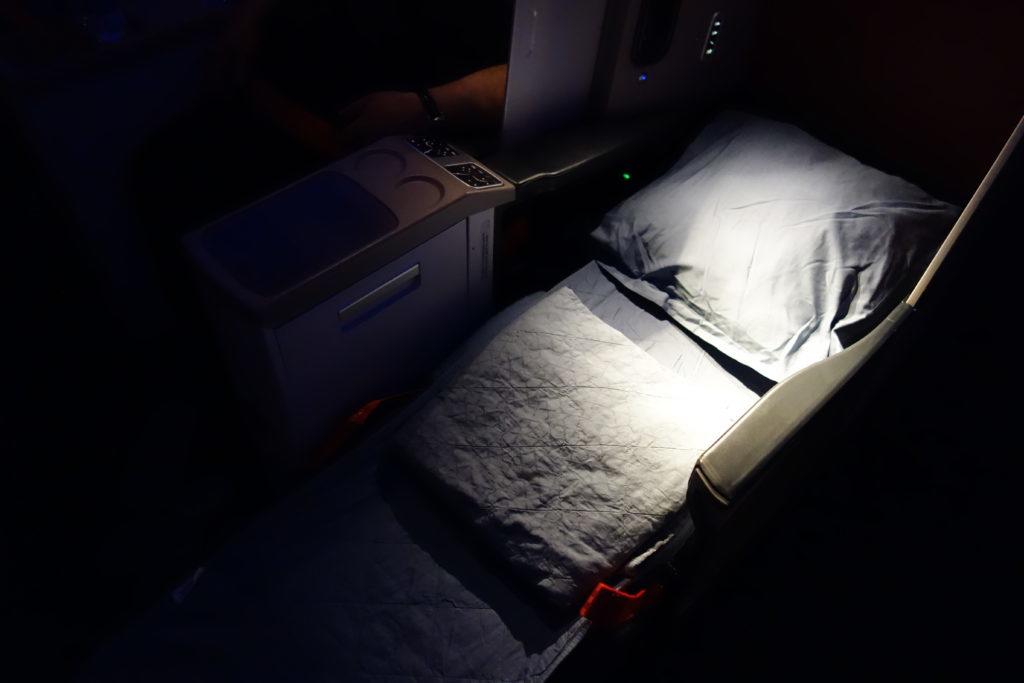 I tend to sleep well in a TK business class bed, but this time, I was waking up frequently. The A/C was running stronger than usual, and the lights and noise were bothersome. This was because they didn't close the curtain between the cabin and the galley. Turbulence was also quite heavy. After four hours of interrupted sleep, I finally got up. According to the flight map, I could see that we were bypassing some special zone, and now approaching the African coastline.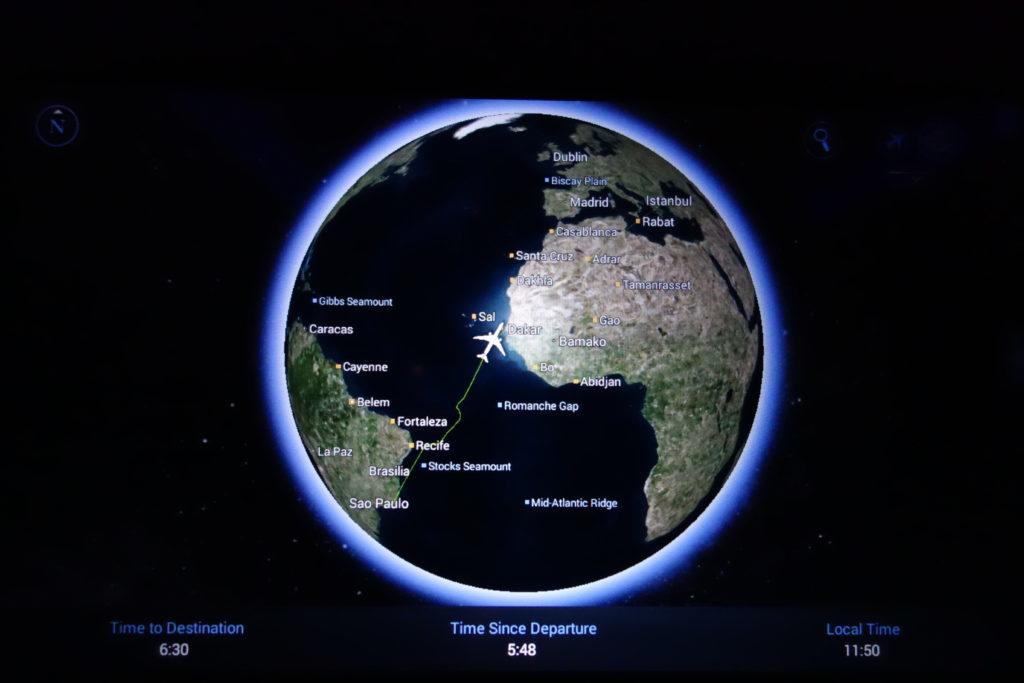 I then checked out the snack offerings in the galley. They were basic, but the papaya looked yummy, and I liked the high-quality tea selection. The famous candle imparted a certain flair.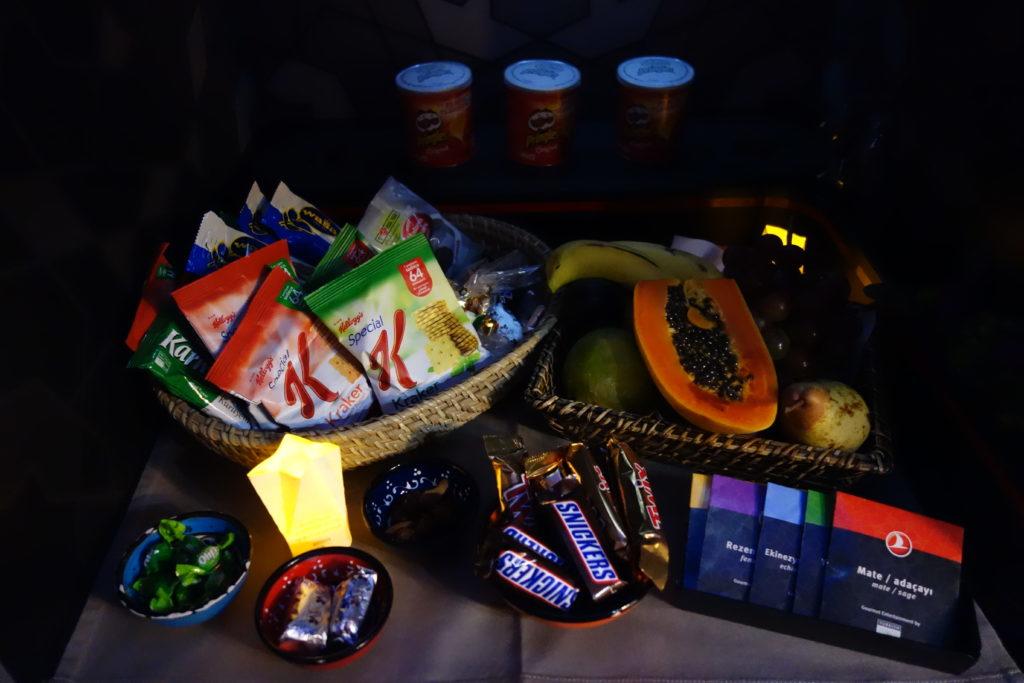 Magically, an unlimited supply of bottled water appeared in the galley! Nice…
I tried to take another nap, but I couldn't fall asleep, so I decided to watch a movie. "Bridge of Spies", starring Tom Hanks, was great! I asked for a cup of green tea to go with the movie. Strangely, this tea bag was not from the Do&Co collection.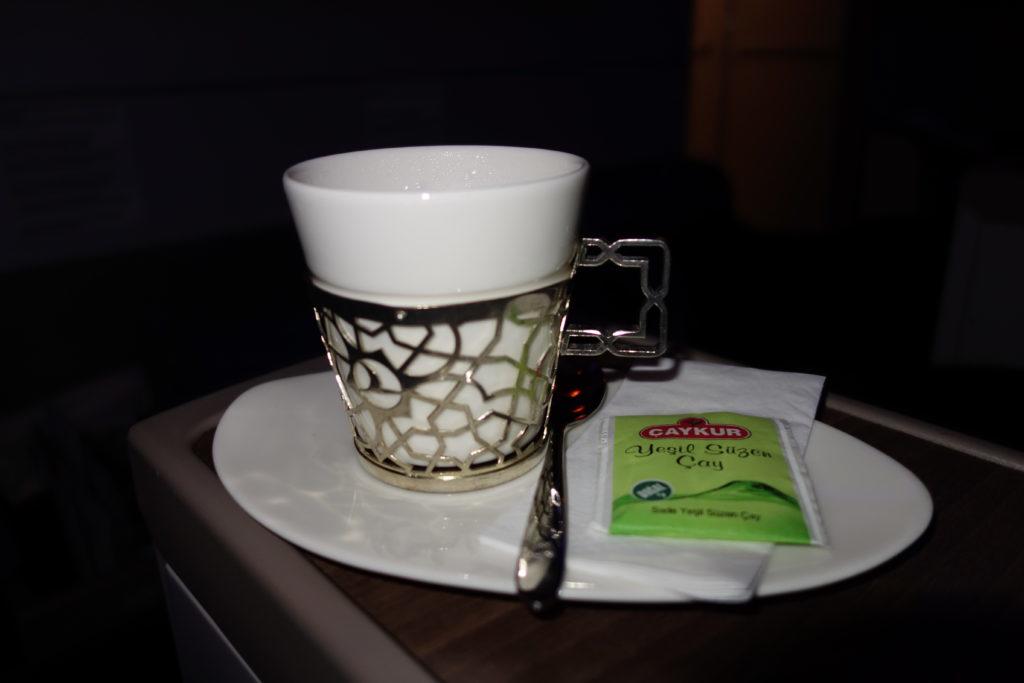 I didn't feel like getting out my laptop, but the internet worked fine on my smartphone. I had no problems checking my email or sending WhatsApp messages.
As usual, the WiFi is free for all business class passengers.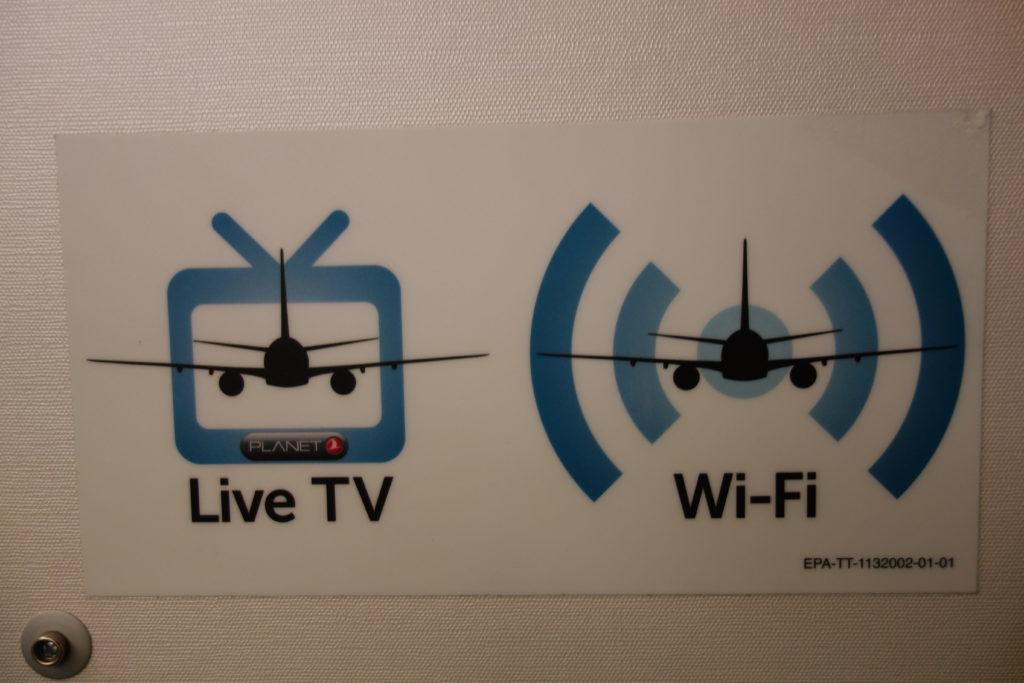 Having fulfilled my movie watching quota for the next two years, it was then dinnertime. At this point in time, there was another 3 hours and 40 minutes until our arrival.
I still can't wrap my head around which is more absurd: breakfast before going to bed, or dinner immediately after waking up 🙂
Printed menu cards were now being distributed to the passengers.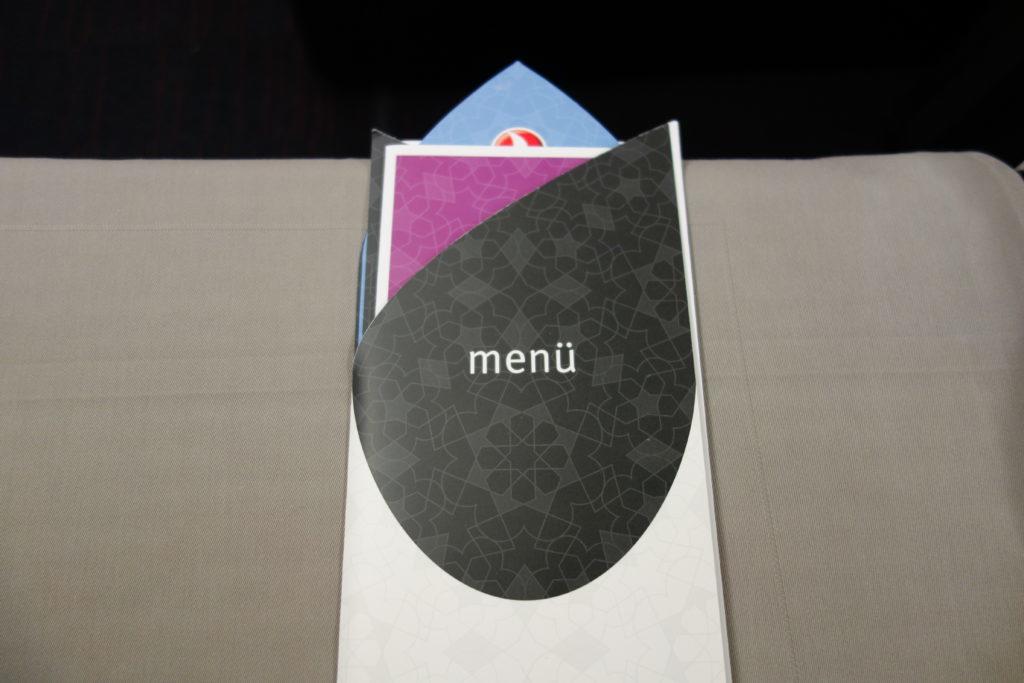 Comically, they included breakfast menu cards as well, which for some reason were never offered at the right time. The service on this flight was just chaotic!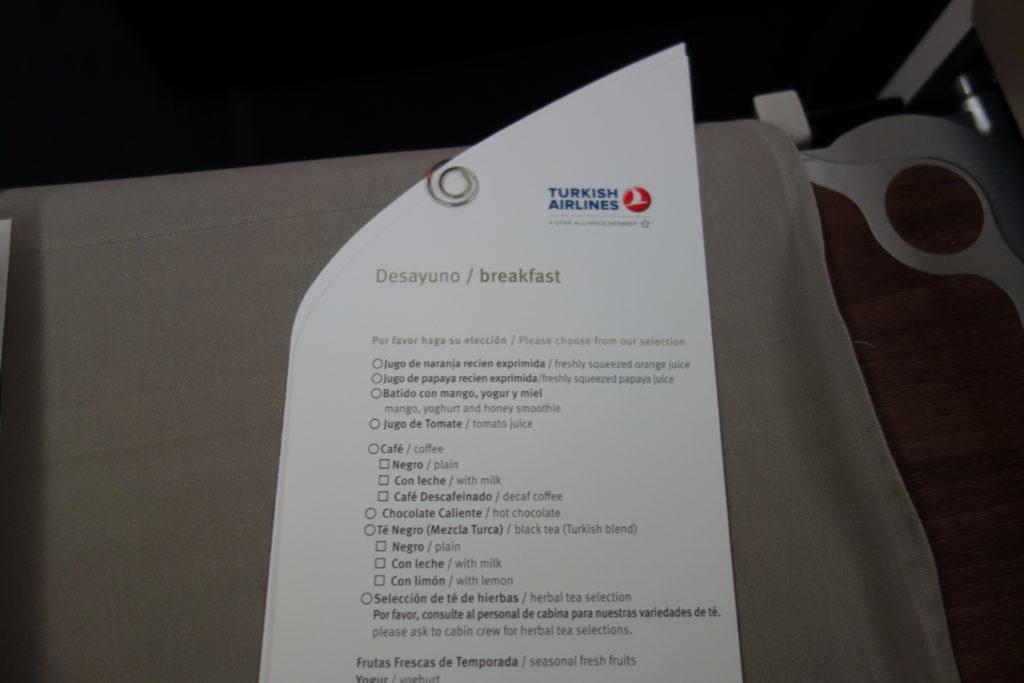 This is what the main menu looked like.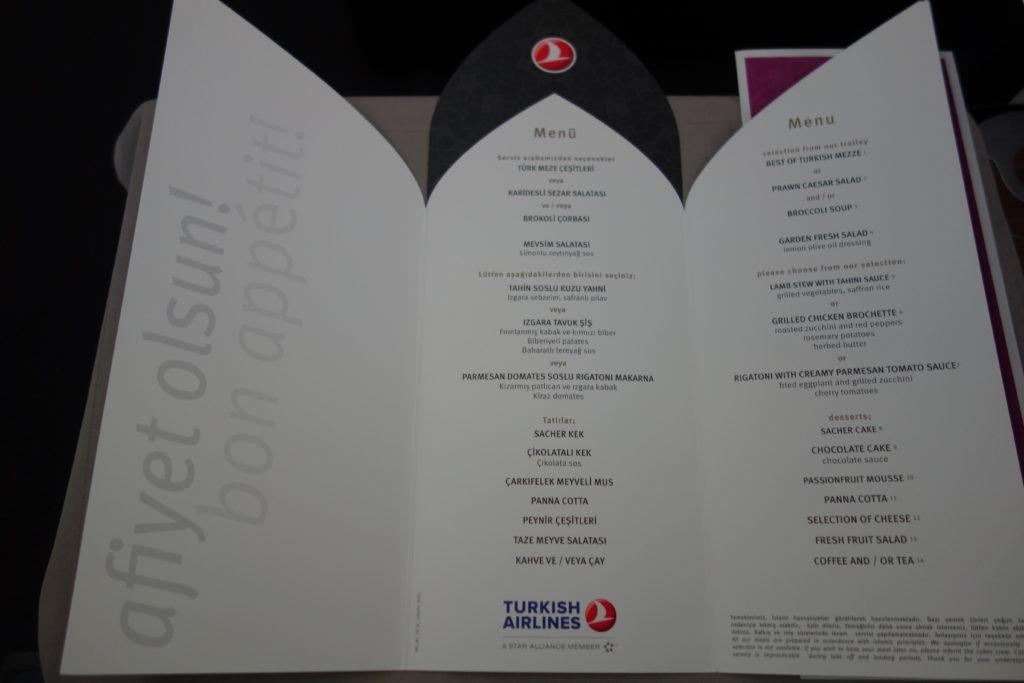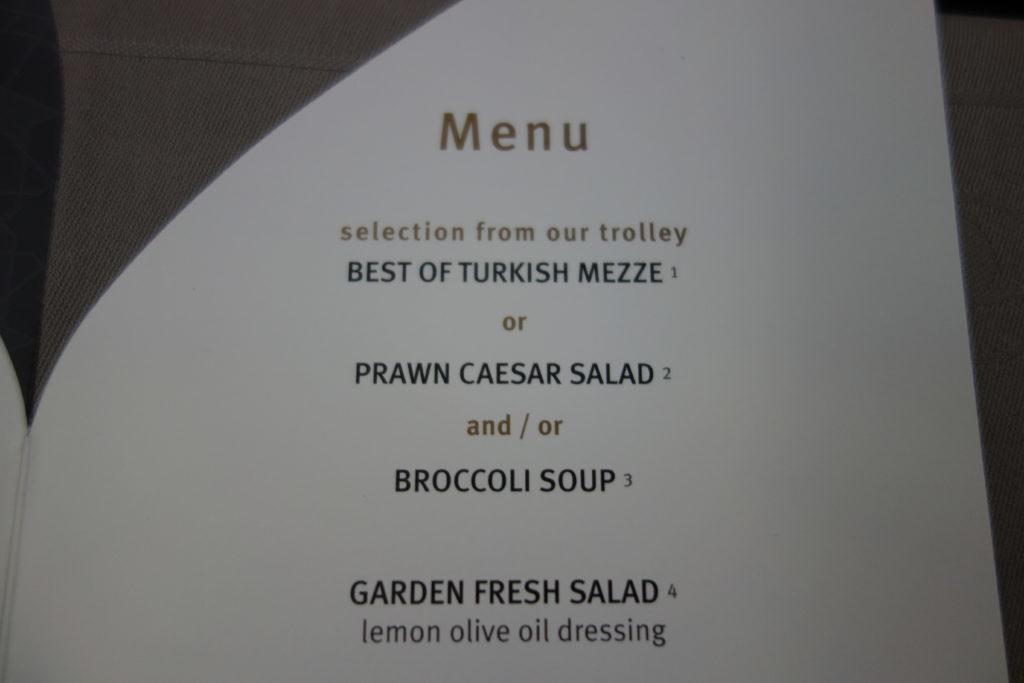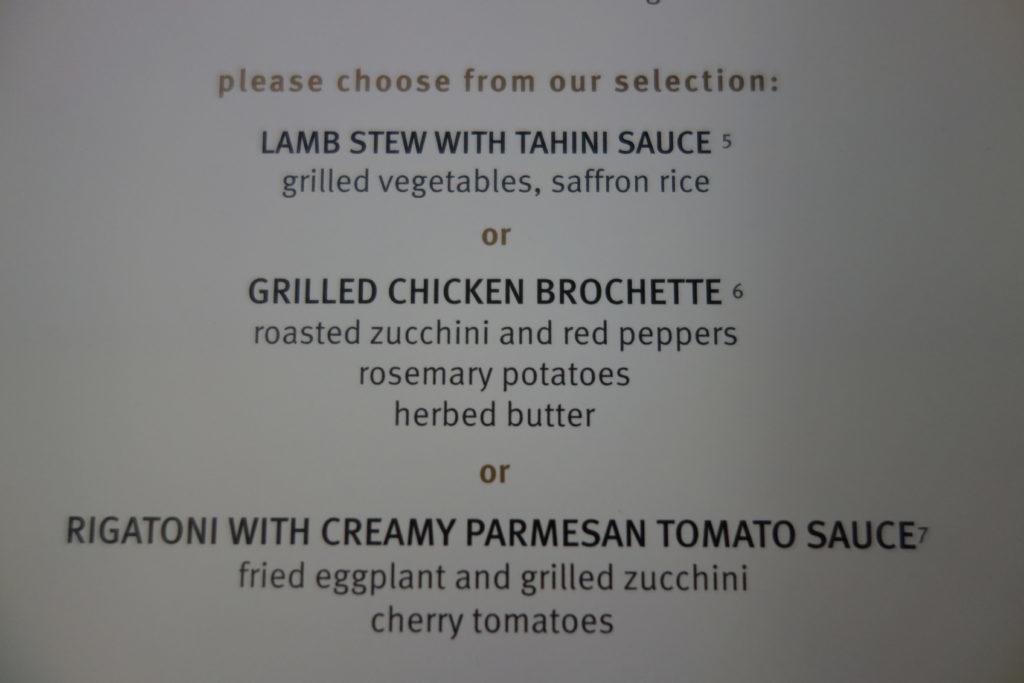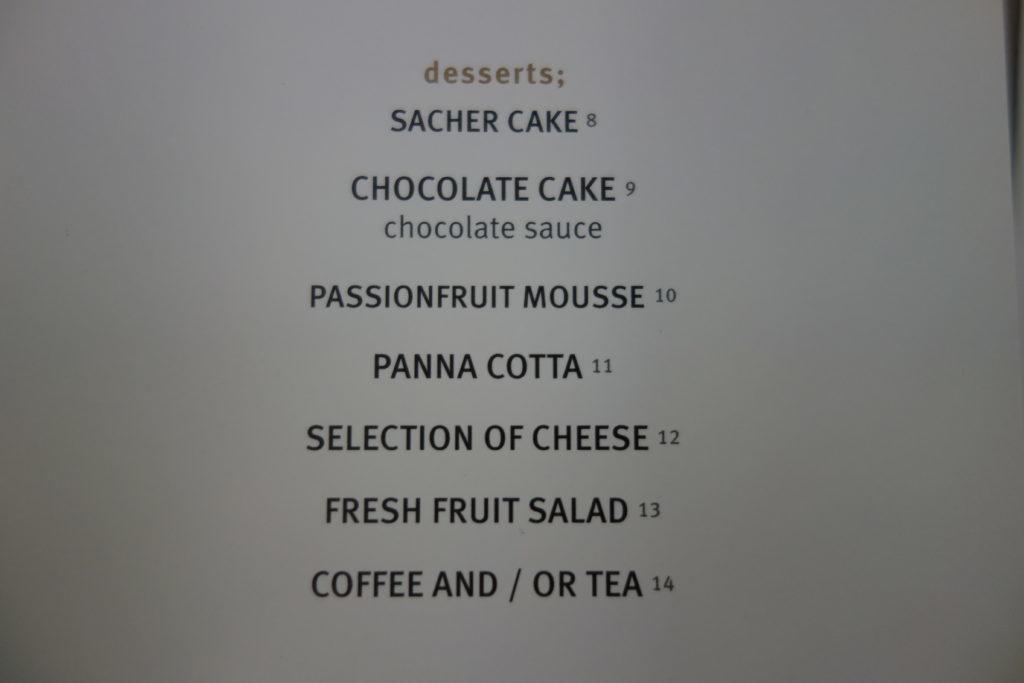 It was translated into both Spanish and Portuguese.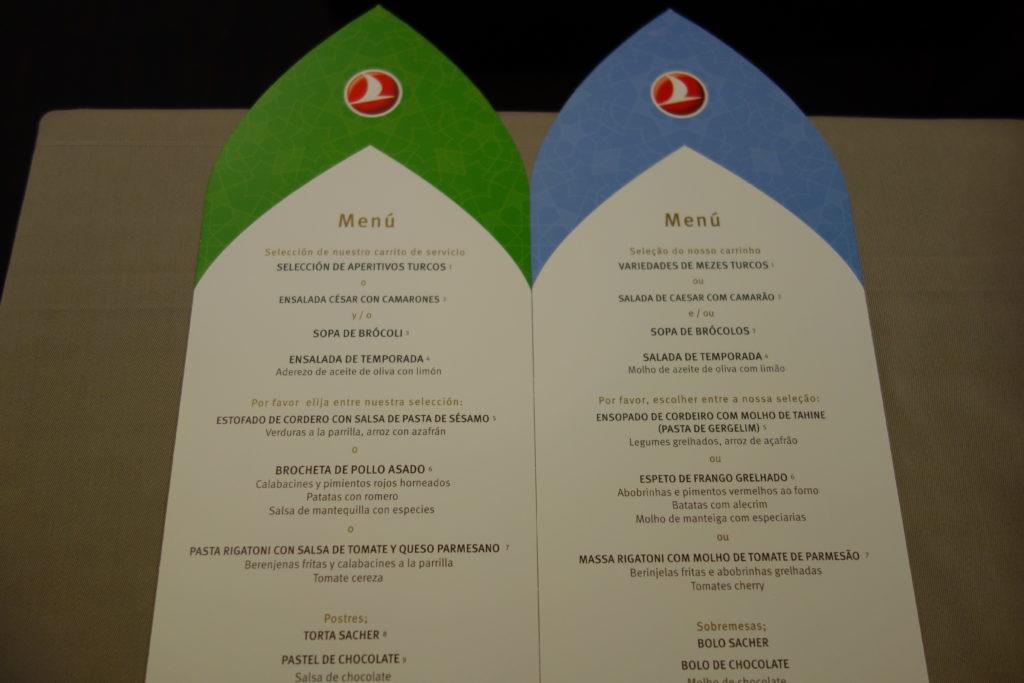 The wine list is always the least impressive feature of TK's catering.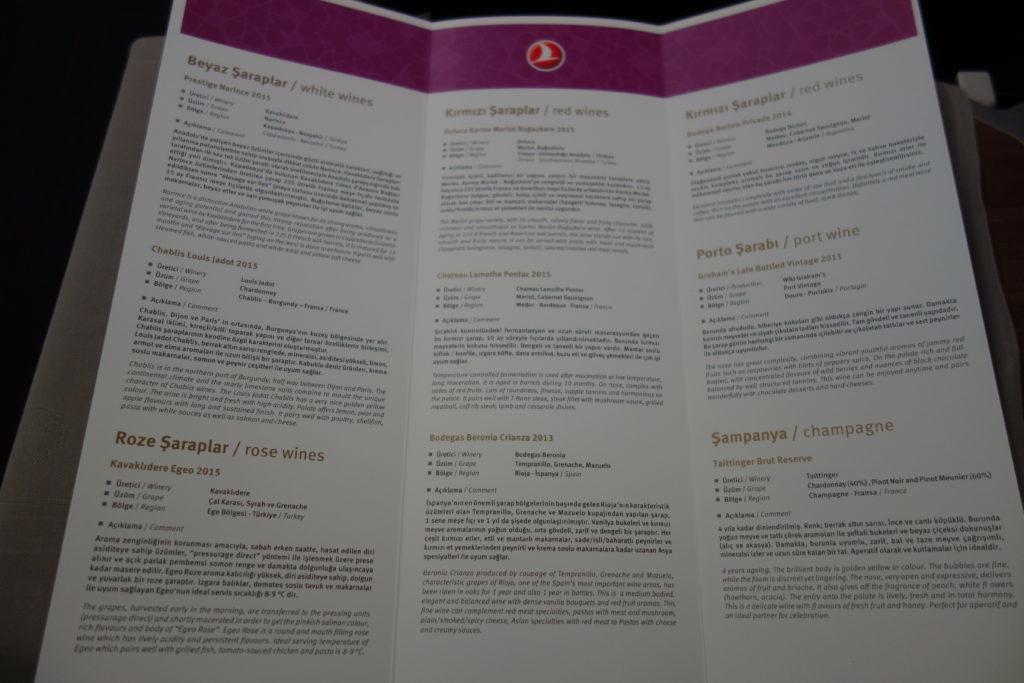 I was offered a hot towel. The onboard chef took my order for the main course, set the table, and offered me some nuts and a glass of water. Why water? Hmm…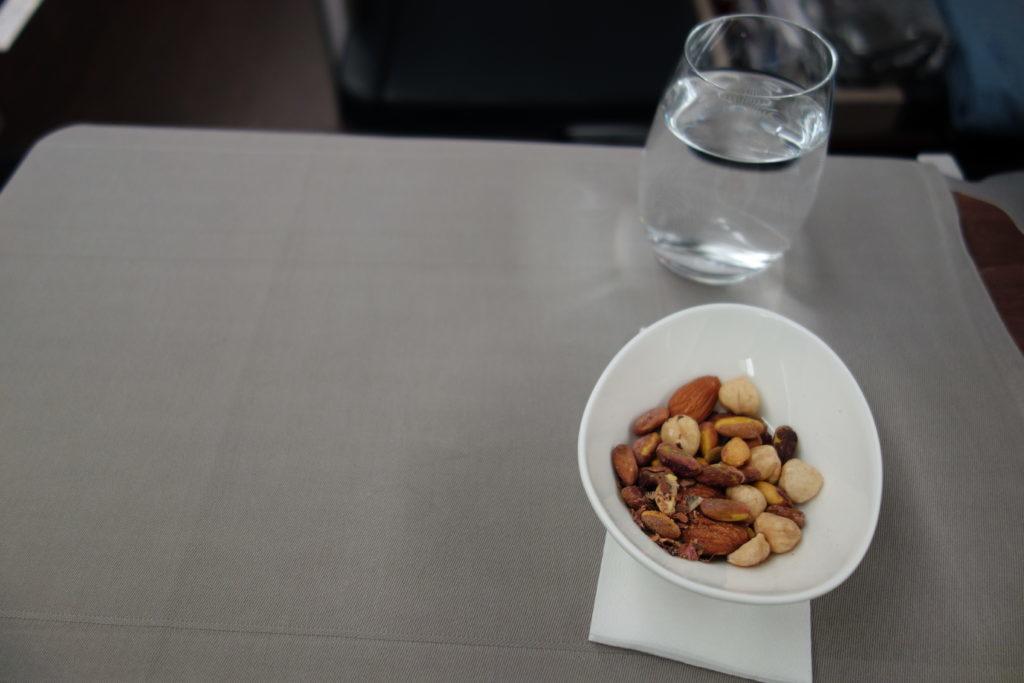 One hour(!) later, it was time for aperitif – I chose a glass of Spanish red wine – and the first course. The presentation was top-notch, as it always is.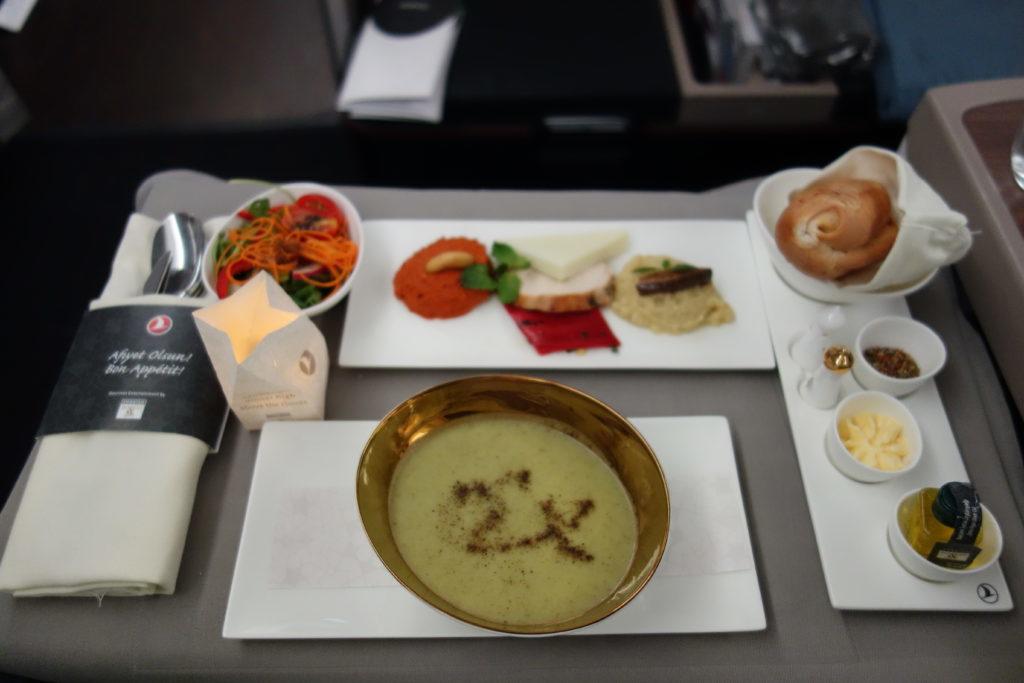 I chose mezze, which consisted of only three varieties, and a broccoli soup.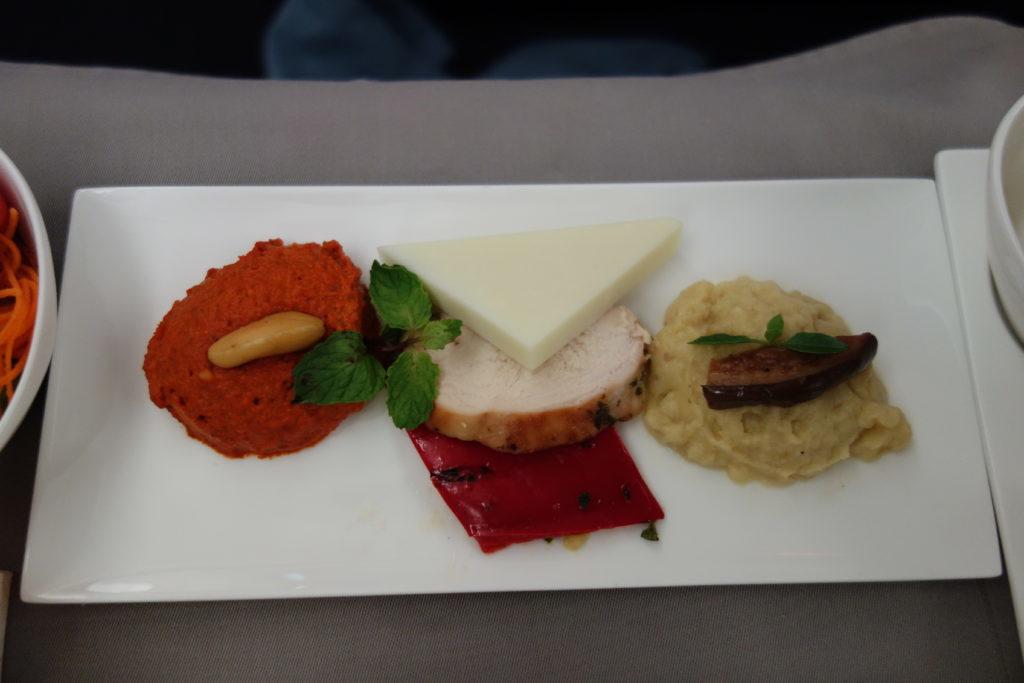 Half an hour later, the main dish followed. The lamb was tender, and the sauce didn't inhibit its taste.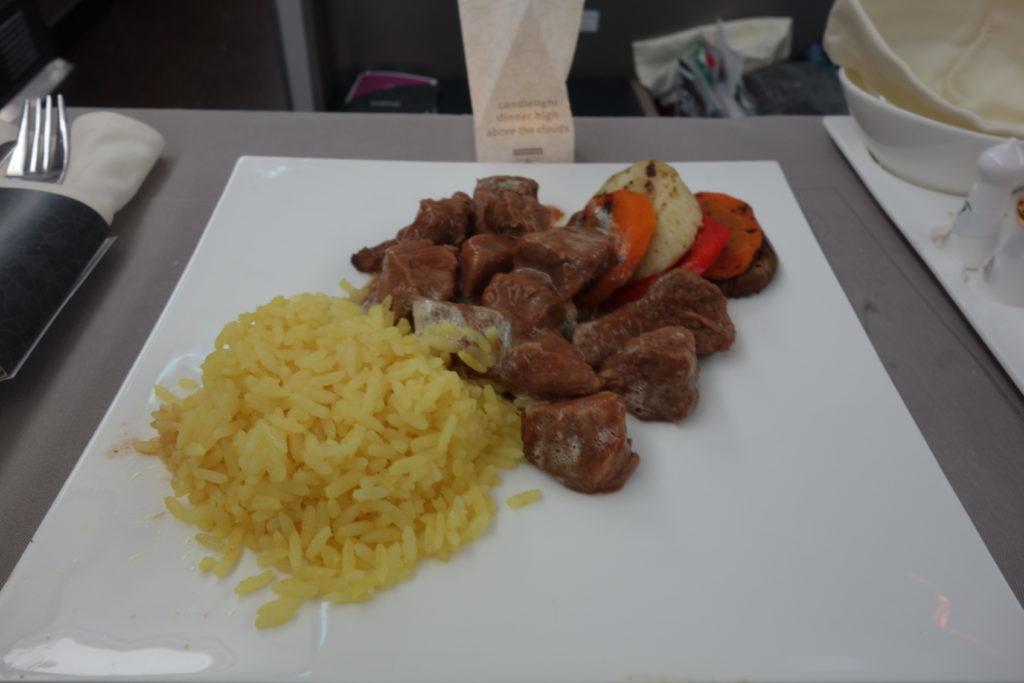 After another long period of time, the dessert cart arrived. I chose the passion fruit mousse and the Sacher cake. They were good, but not amazing.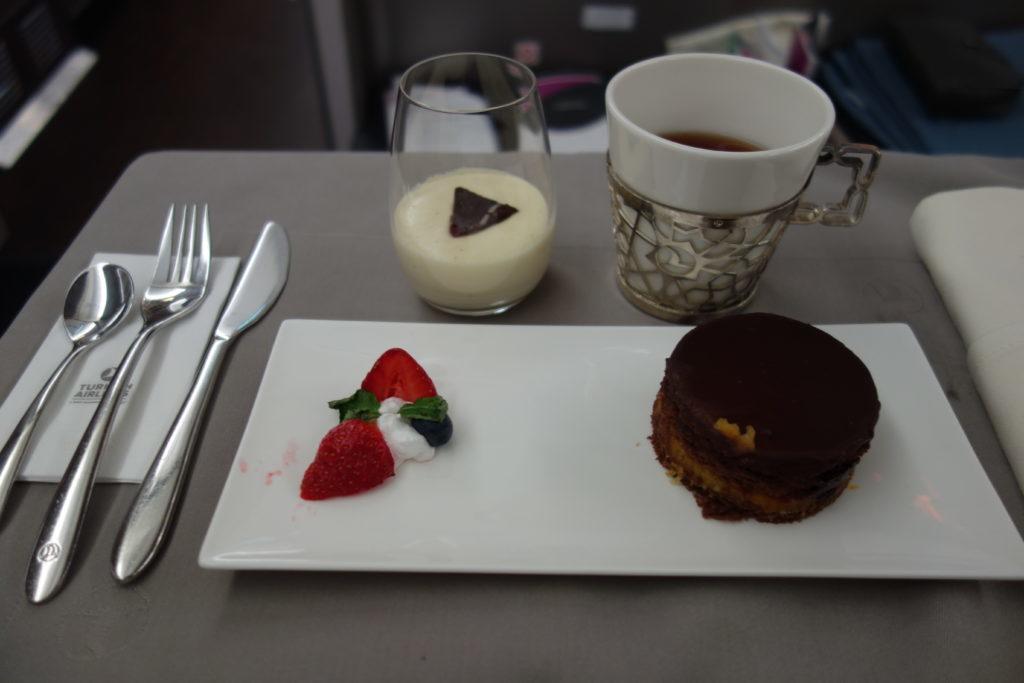 Overall, the breakfast/dinner/whatever-you-want-to-call-it was good – but nothing more than that. Especially considering the generally high standards of TK and Do&Co. Additionally, the service was inattentive and extremely slow. I understand that there are often delays when you're seated in the back, but this was ridiculous. It took two and a half hours to service just a regular meal! Really?
The FAs were constantly forgetting my drink requests. When I asked for water, several times they ended up bringing me a Sprite.
When I asked for a glass of Turkish red wine, the flight attendant, thinking that no one could see him, tried to be slick. He sniffed an already filled glass, judged by its smell that it was Turkish, and brought that glass to me. Honestly, he probably guessed right – the wine was shitty 🙂
After the meal was finished, there was about one hour left until landing. I stretched out my legs again. The bearded guys with skullcaps were still playing those cards in the front cabin.
Soon, the FAs collected the headphones. Passengers who wanted to use the entertainment system up until arrival were now given less sophisticated headphones (a picture of them is shown in the beginning of this review).
At 10:16pm, we landed in Istanbul. The line at the dedicated passport control was quite long, but luckily for me, no line at the Hotel desk. 15 minutes later, I was on my way to the hotel "Polat Renaissance". This is the hotel that the airline offers, with almost no exceptions, to business class passengers in transit.
---
Overall, this was one of the least pleasant flights I've had in Turkish Airlines business class.
On one hand, I could mention the impressive entertainment system, and free high-speed WiFi.
On the other hand, the service provided this time failed to please the passengers.
FAs were unprofessional and unfriendly. Timing for service and meals was terrible. The cabin was full, which also meant dirty toilets.
No matter how attractive the TK prices are on this route, the next time I will choose another airline to fly to and from South America.
Four of TK's South American destinations (Bogota, Panama, Caracas, and Havana) are served by an A330 which does not feature a flat-bed seat. As for the other two destinations (Buenos Aires and São Paulo), I do not recommend them due to the inconvenient departure and arrival times, and the lack of Dine on Demand service.
In the grand scheme of things, these points might not seem important, but I will say that TK catering is one of the best aspects of this airline. The maximizers among us will not want to miss out on that.