When you arrive at the Vilnius airport, you will find lots of obnoxious advertising for the IDW Esperanza Resort. Usually, a lot of the advertisements in airports are for tourist traps (which I wouldn't touch with a ten-foot pole). Anyway, let's find out!
The driver was already waiting for me in the Arrivals hall. The transfer service from Vilnius or Kaunas and back (to the airport or railway station) is included in the price. Cool, since the resort is located in a remote place (which you can't reach without a car). Having just arrived from Buenos Aires, the license plate on this limousine looked like a sign from above!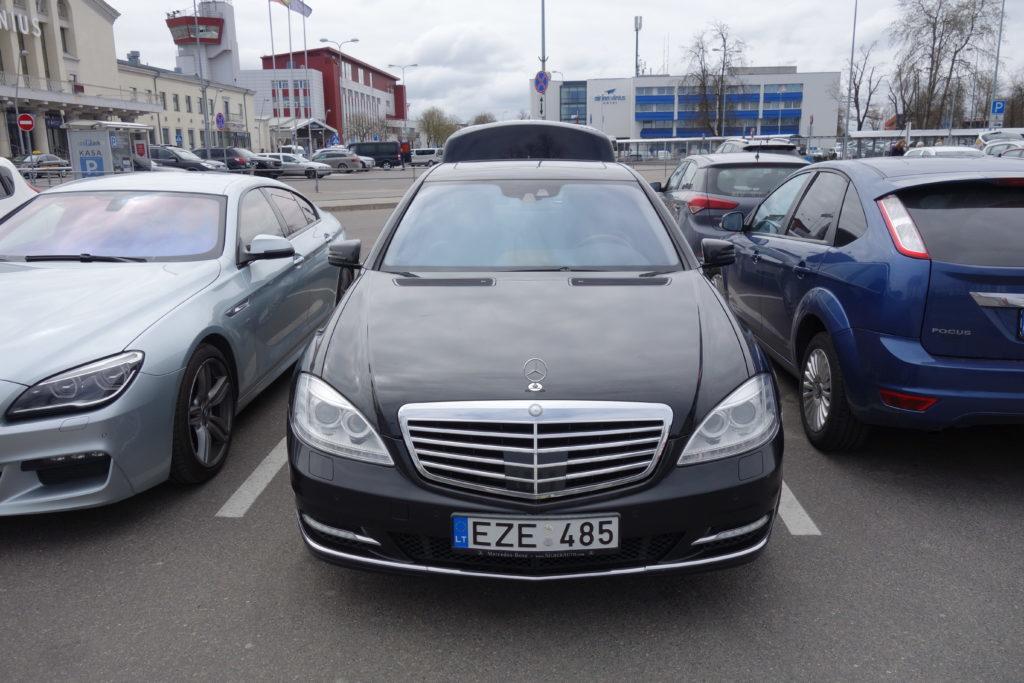 Half an hour later, and I was already there. I must say that the driver (as well as his colleague on the drive back) was very professional and polite. Looking back, I will say that the entire hotel staff was extremely warm hearted and friendly. It is often assumed that the more expensive and high class a hotel is, the more friendly and professional the staff will be. However, in my experience, this is the complete opposite. So, my experience at the IDW Resort was a pleasant surprise.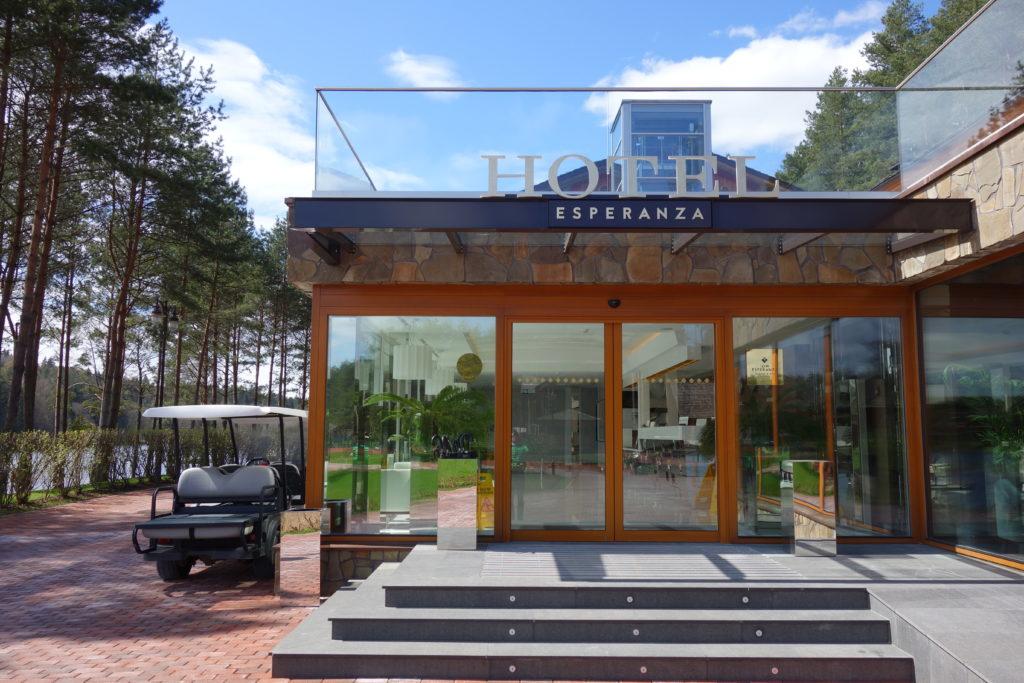 The reception staff spoke both English and Russian perfectly; they offered me an upgrade to the Luxury Suite. This is a standard advantage of "SLH Loved" membership.
The resort lobby looked modern, and large windows offered a wonderful view of the lake.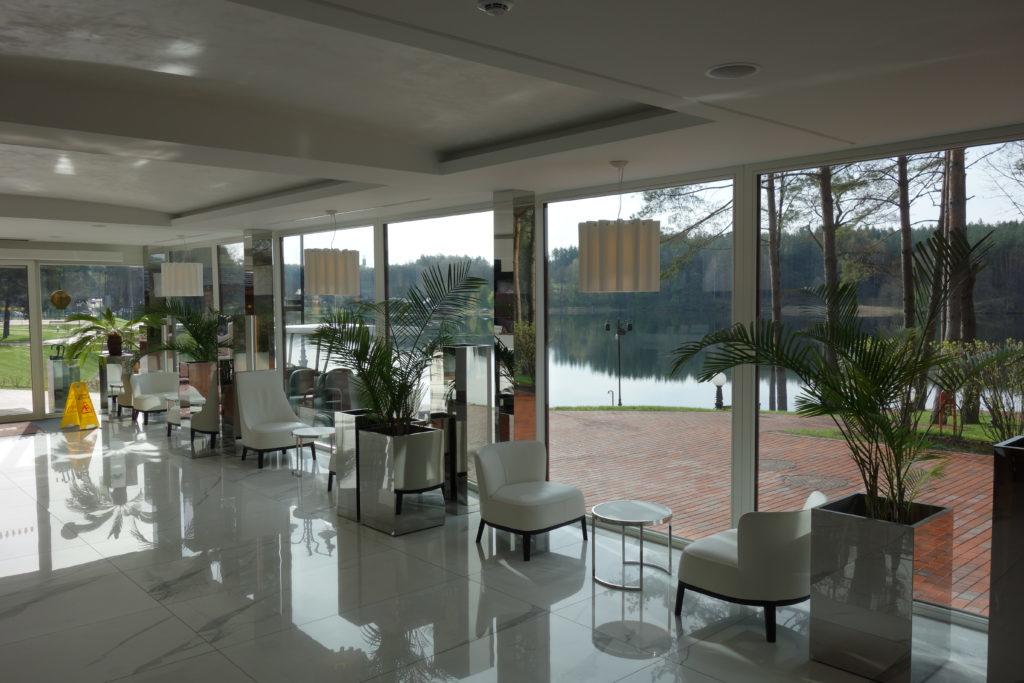 Here, you could buy amber jewelry and goods, borrow books to read, or check emails on one of the computers.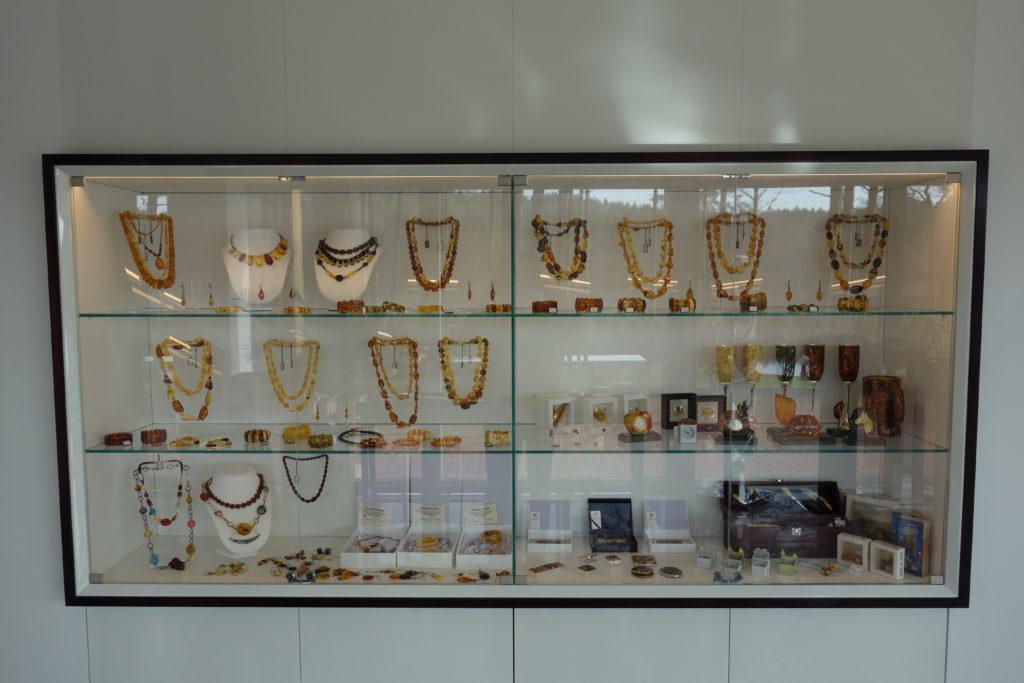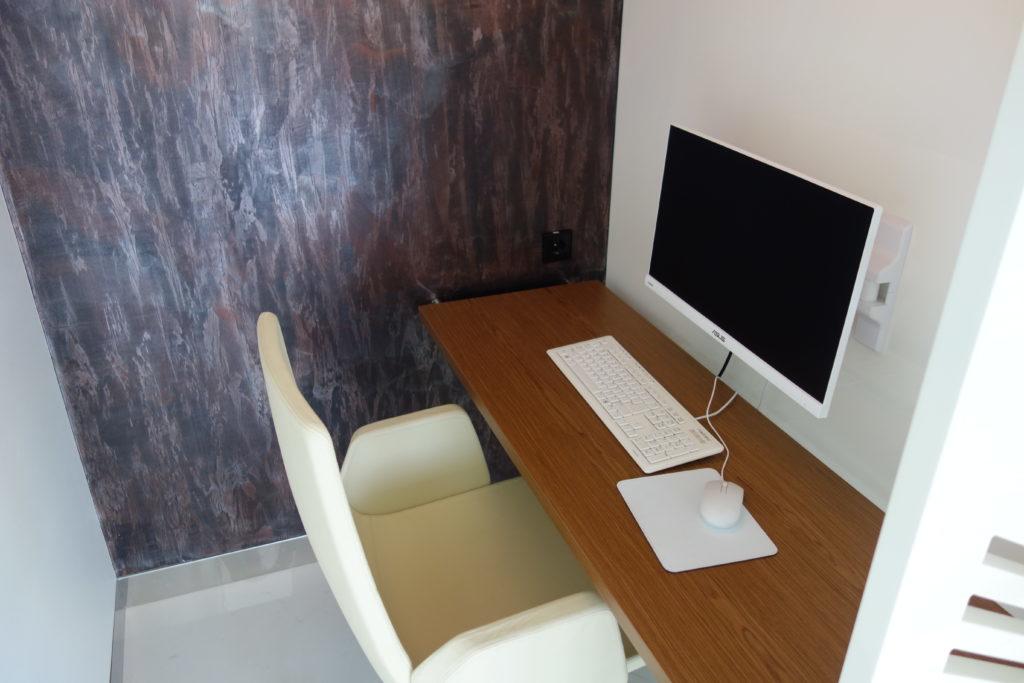 My room was on the first floor. A young, friendly employee of the hotel (who tried to speak Russian – which not many young Lithuanians do) escorted me there. You can get to the first floor by going up a wooden staircase, or you can ride a futuristic elevator (which sort of clashes with the overall rustic style of the hotel).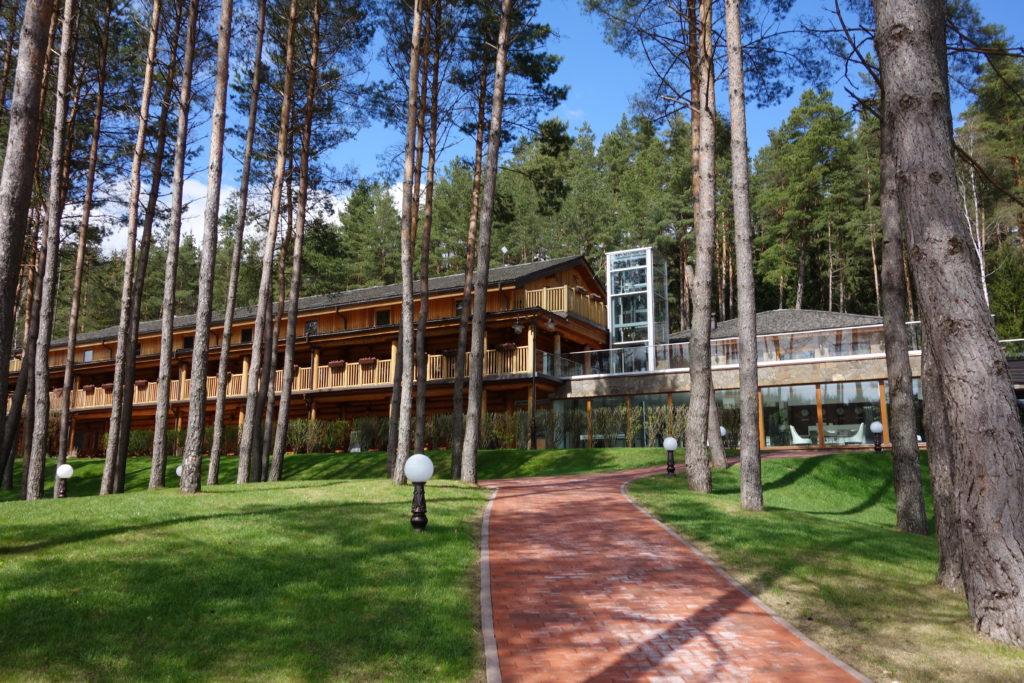 The guest rooms are accessible from the gallery. When the hotel is full, guests will often pass by here. The windows overlook this area. Keep this in mind if you (like myself) don't like drawn curtains, and prefer to walk around with no clothes on.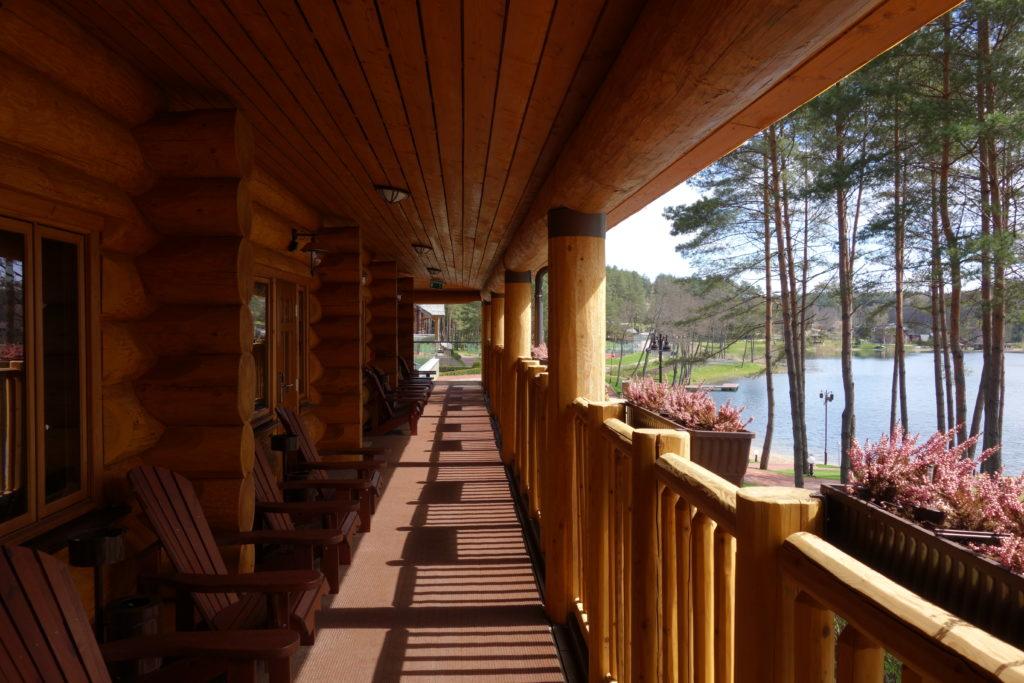 Near the entrance to each room, there were deep wooden armchairs, which reminded me of my trips to the southern United States.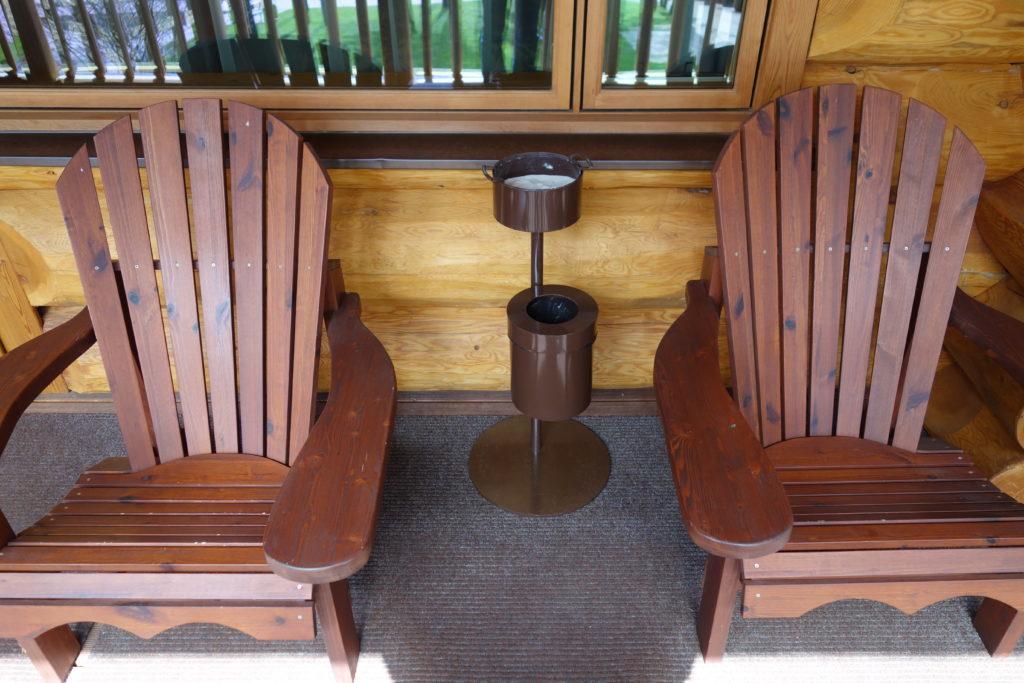 Interestingly, my Luxury Suite was nothing but two connected rooms, each with it's own door and room number.
It was simple, but tantalizing.
On the right side was a bedroom with a large bed …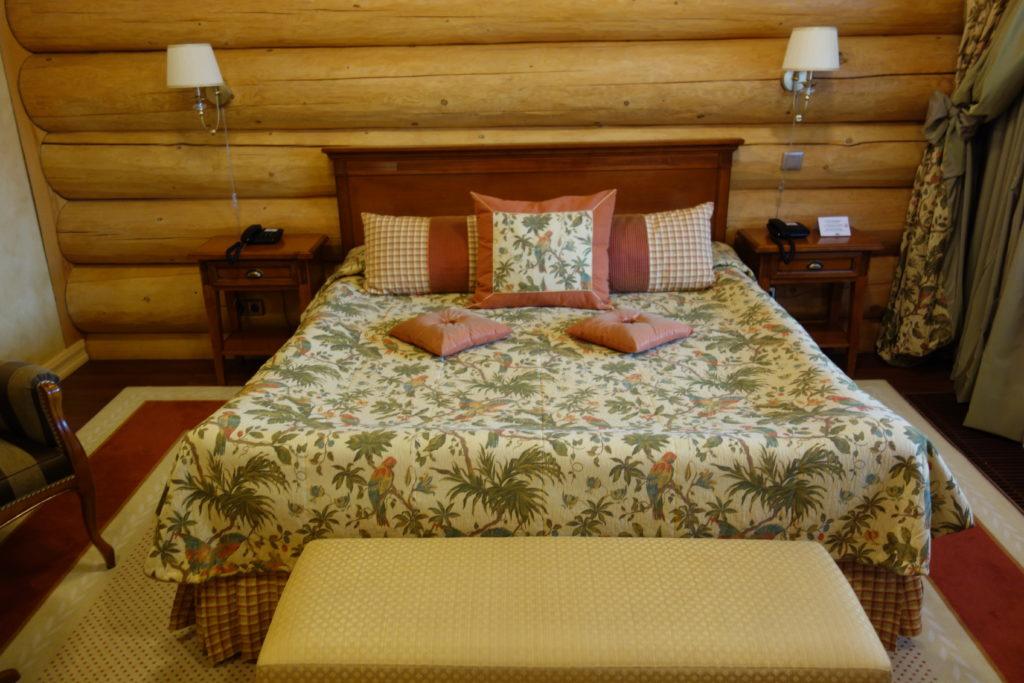 …a round table with two armchairs…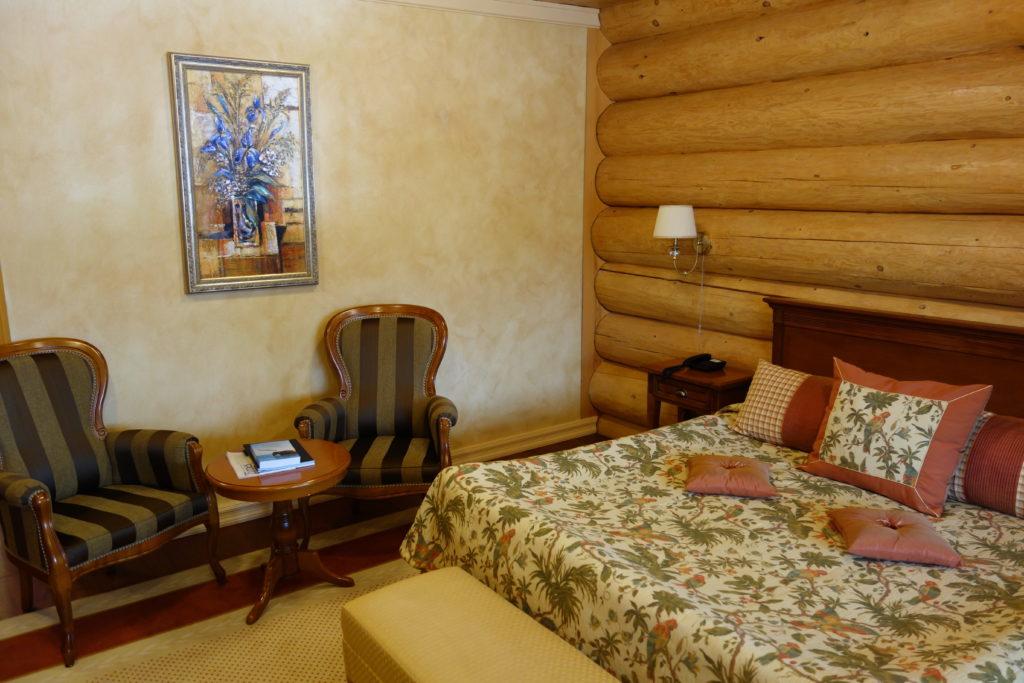 …a fridge, and a small desk with a TV on it.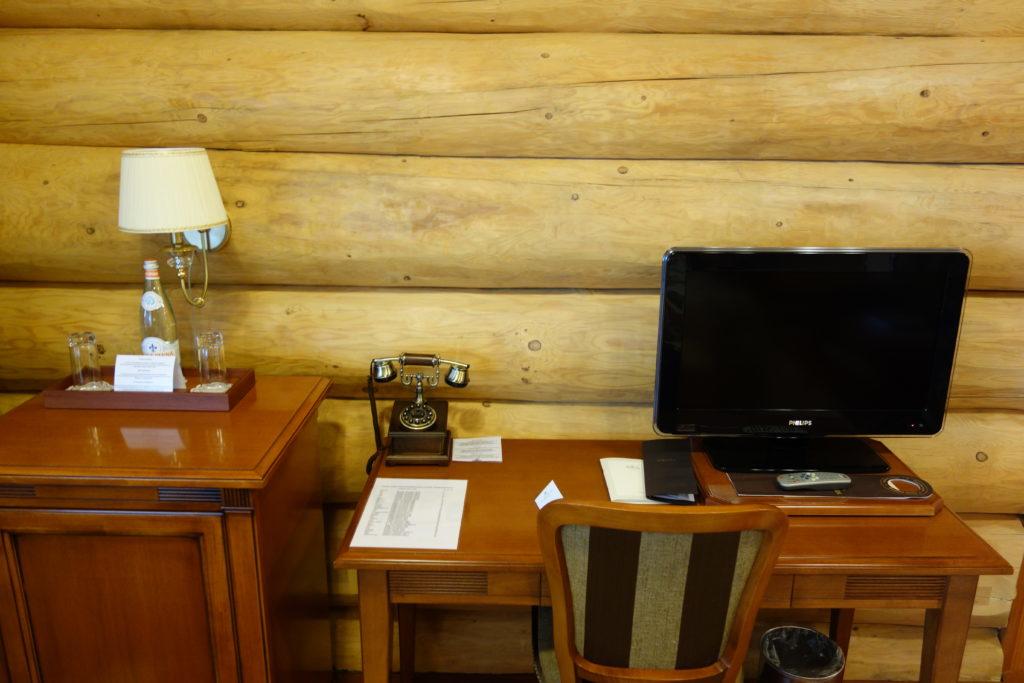 I enjoyed the fixtures, such as this vintage-style (yet functional) telephone…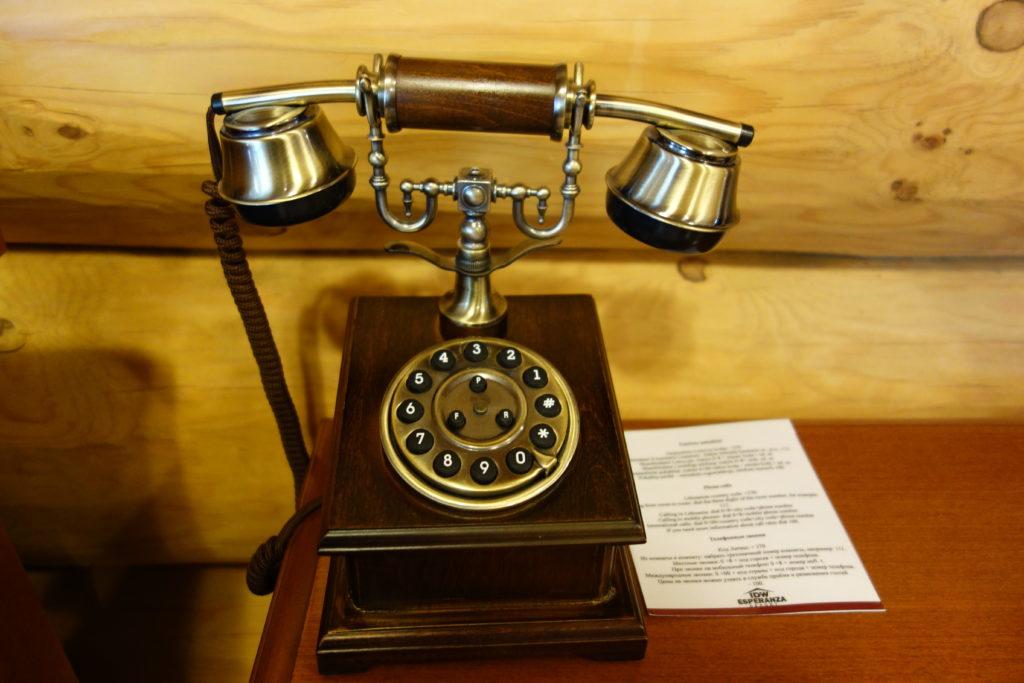 ….and a bottle of Acqua Panna water. I'm still wondering why Lithuanian mineral water was not offered, considering this hotel is in Lithuania. This country is full of springs! Hmm…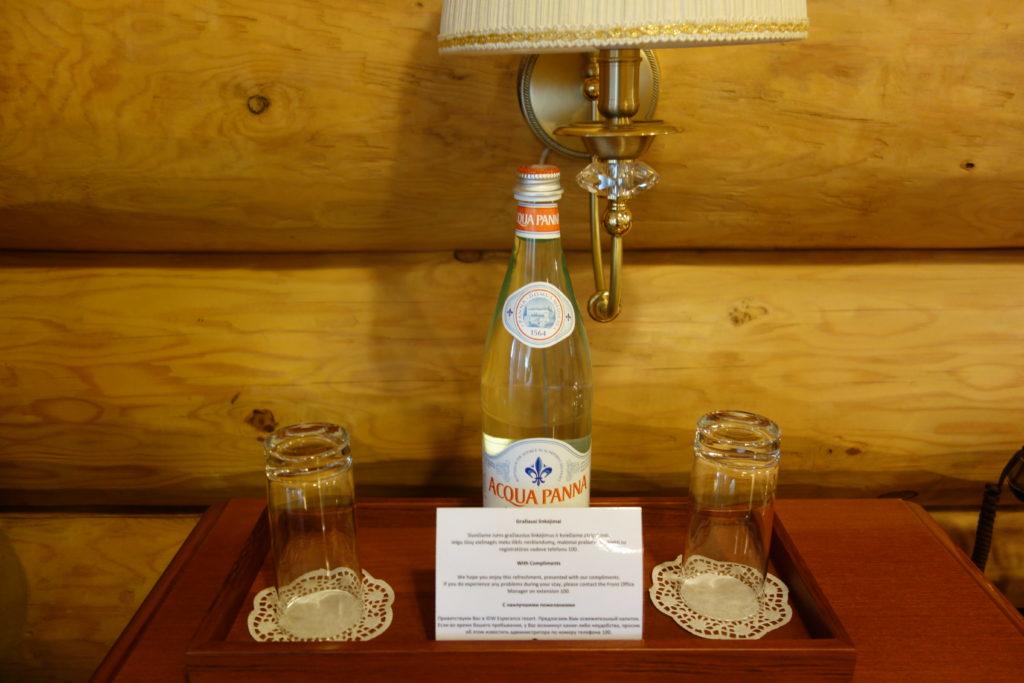 The bedroom had a bathroom, which included a bathtub.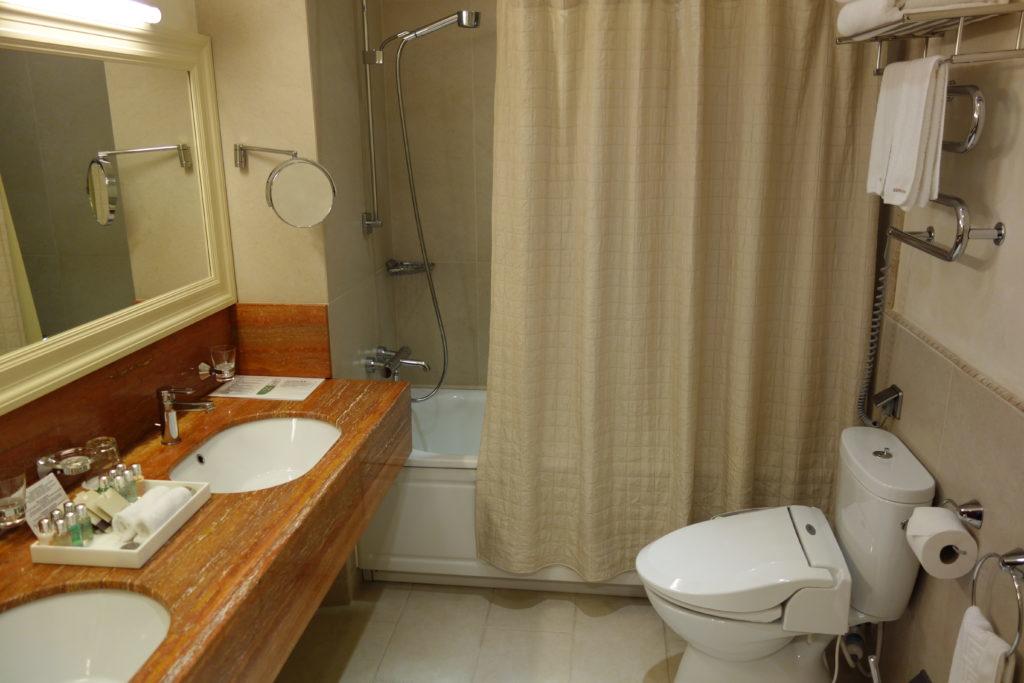 On the left area, there was a living room. The sofa there could be converted into an additional bed, if necessary. There was also a comfortable dining table.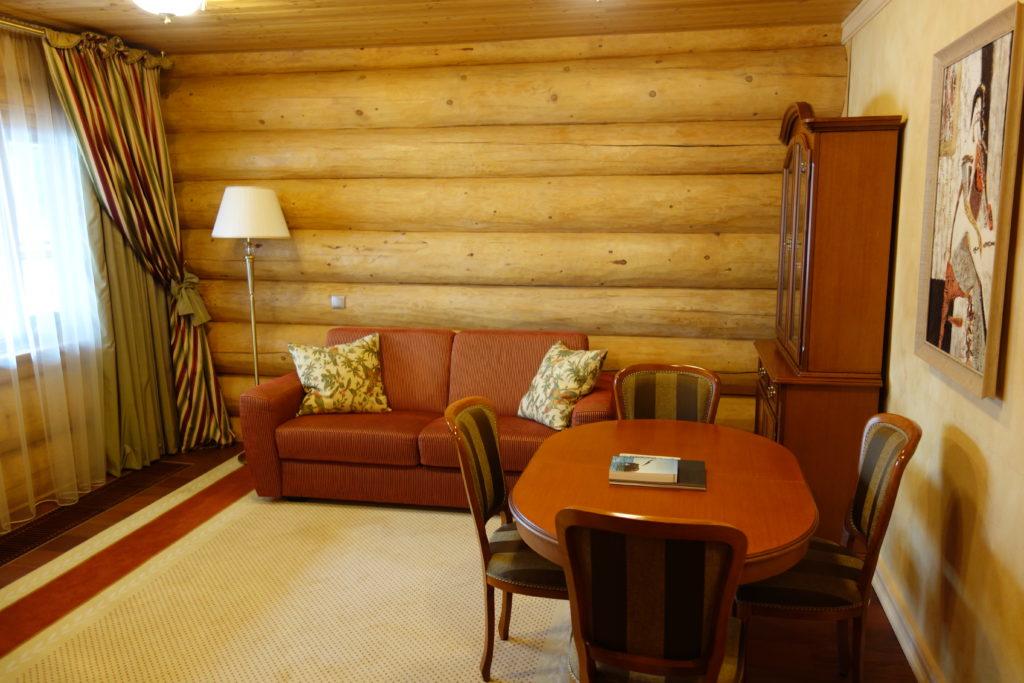 Here there was another TV on a desk, mirroring the layout of the bedroom.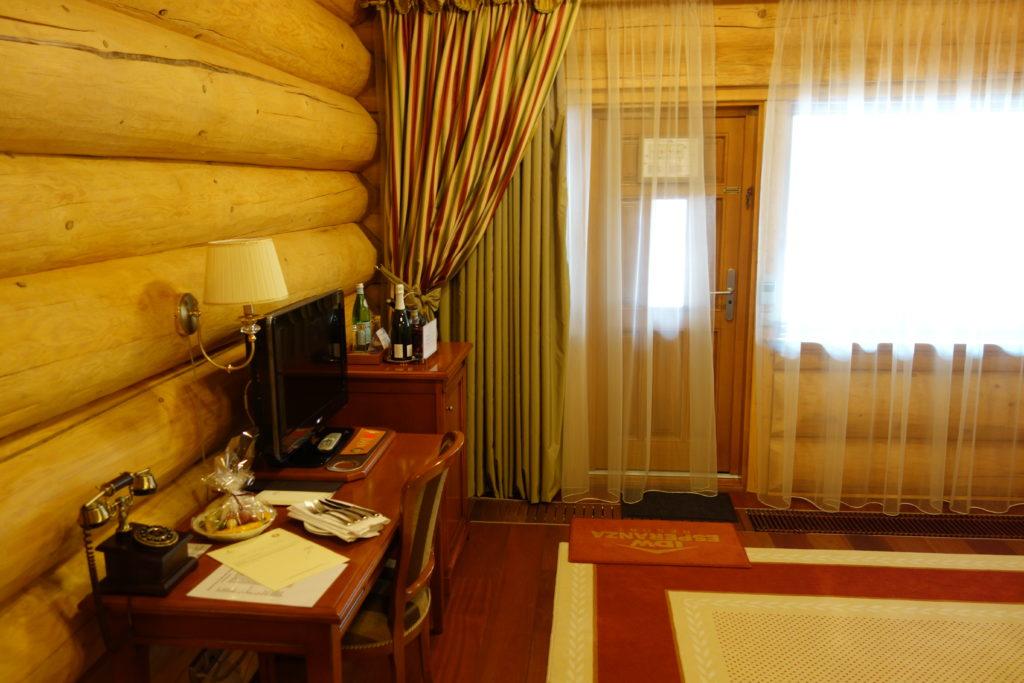 The cupboard had a full set of dishes, as well as an electric kettle.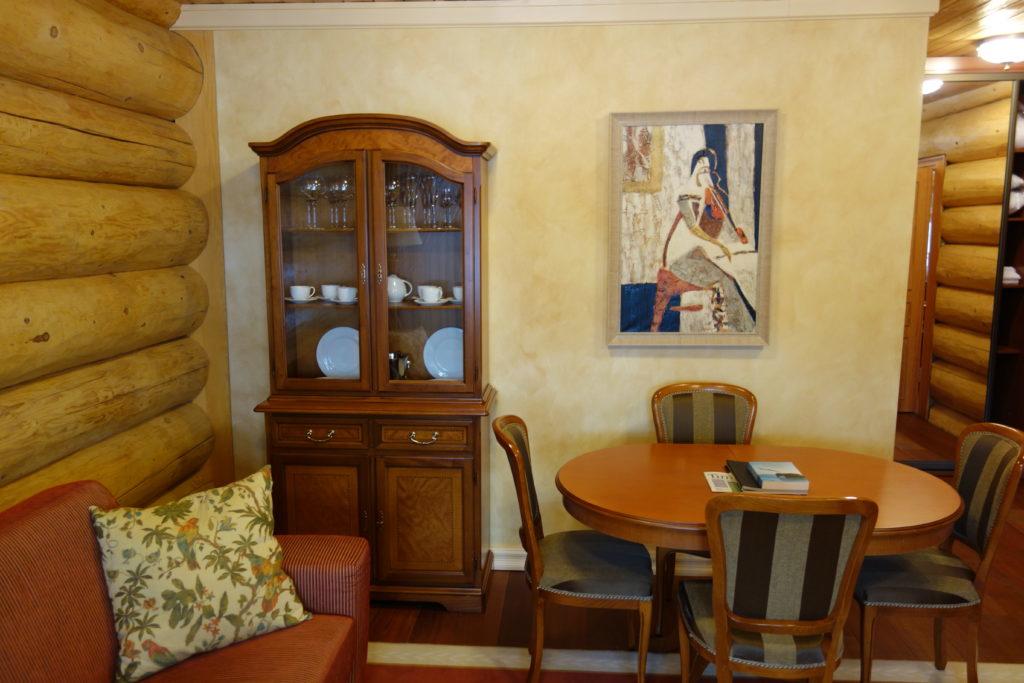 There was also a wardrobe, which included bathrobes and slippers.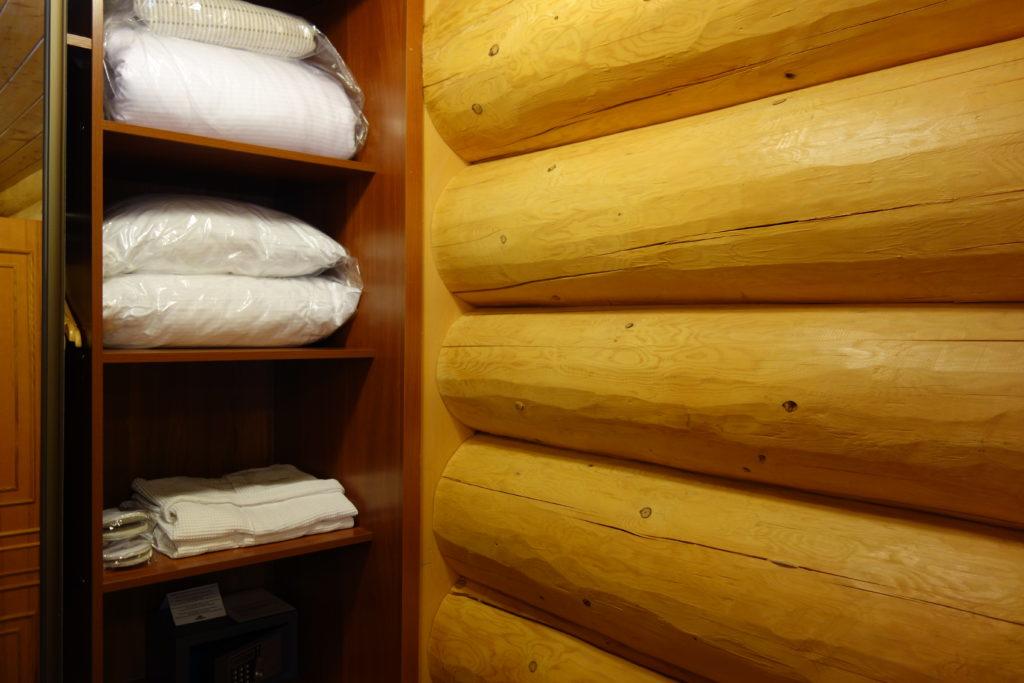 On the table was some wine and cognac available for purchase, next to a complimentary bottle of San Pellegrino water.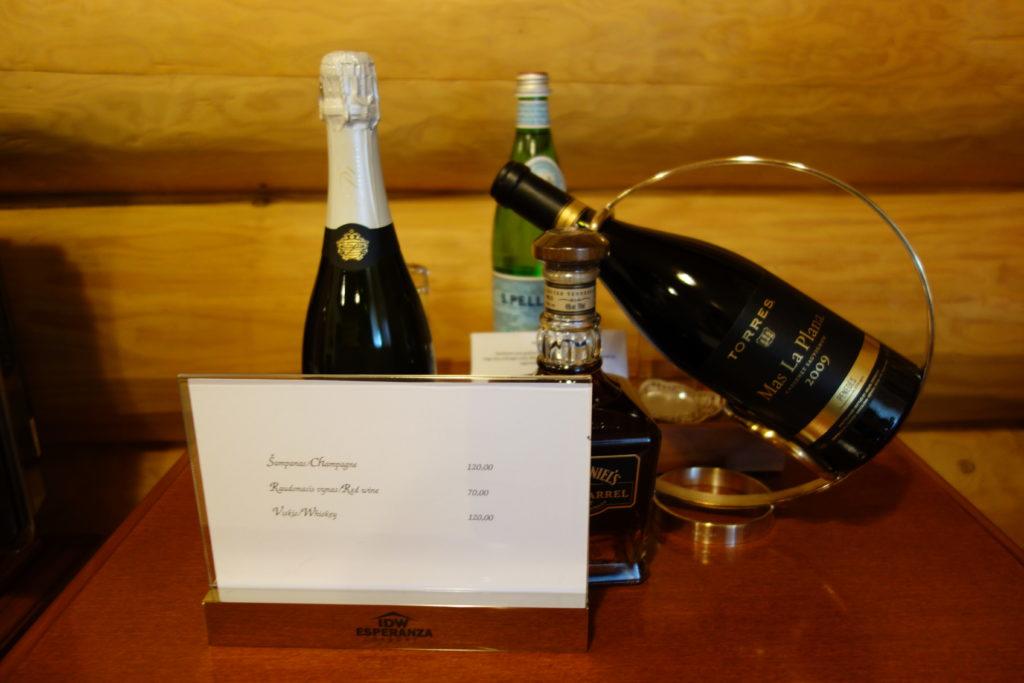 There was a welcoming plate of fruit waiting for me. The mango was amazing; I haven't had a mango that sweet anywhere outside of Mexico.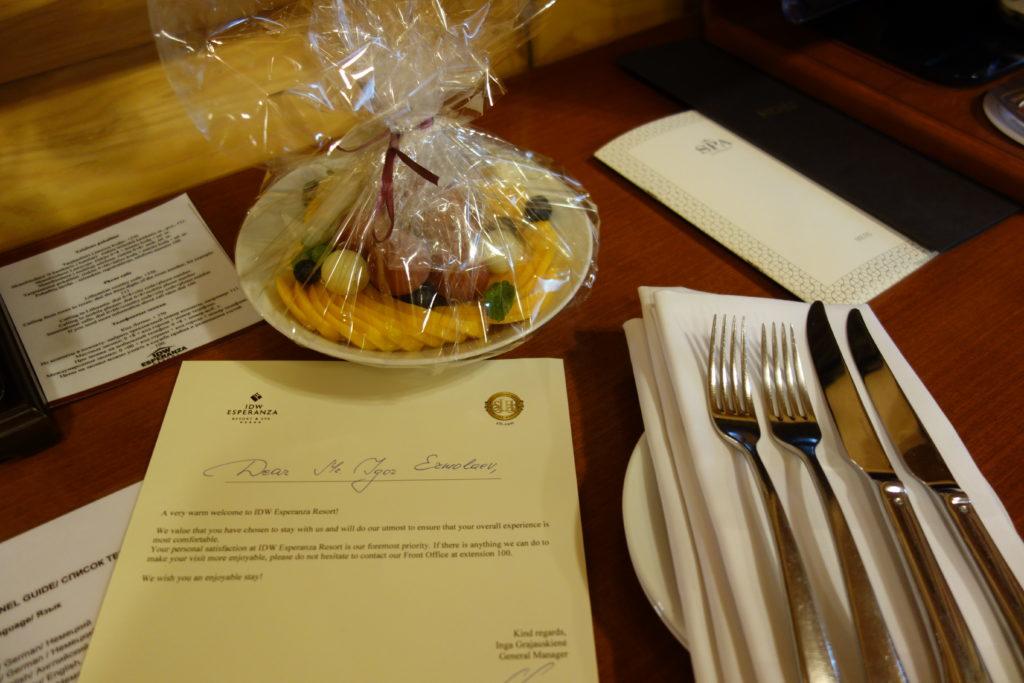 The second bathroom was the same size as the first one, and it had a shower.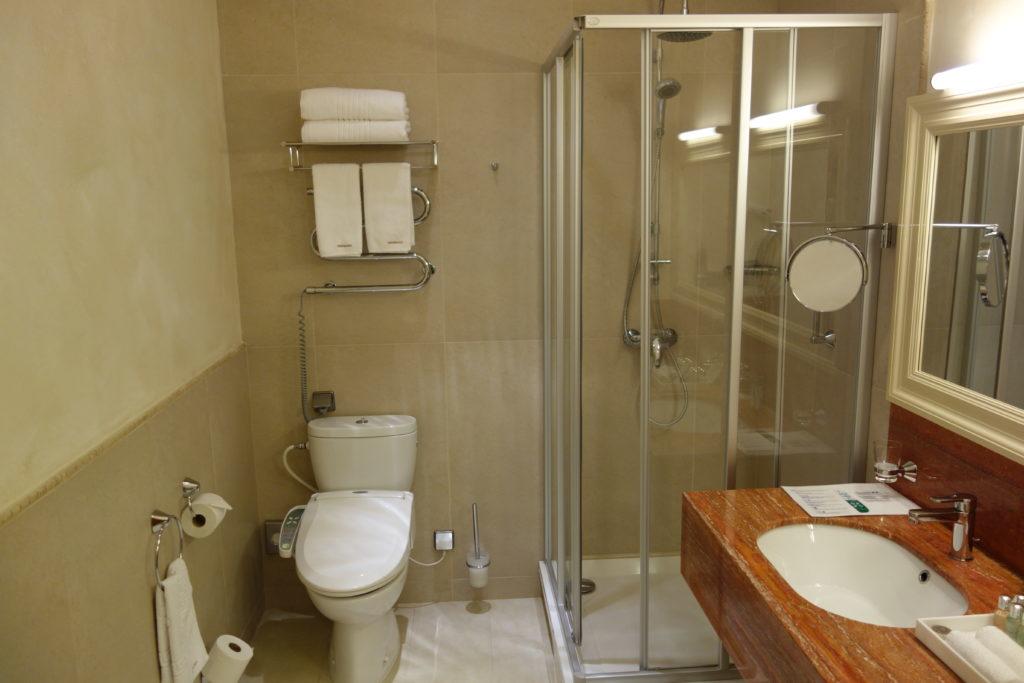 The highlights of these bathrooms were the Japanese toilets. Those who are familiar with my reports of JAL first class know that I enjoy my bum getting spritzed. I have never encountered a Japanese toilet anywhere in Europe before. Take it from me – if you've never sat on a warm, comfortable toilet, reading a nice book, while wondering what temperature to rinse your nether-regions with, then you are missing out! It's really cool.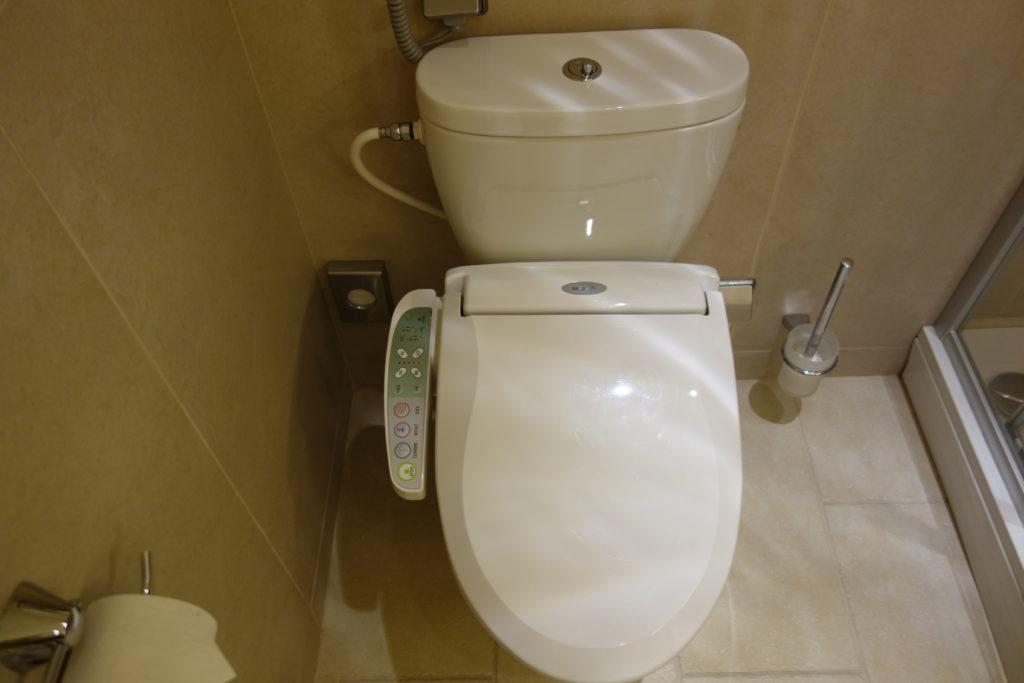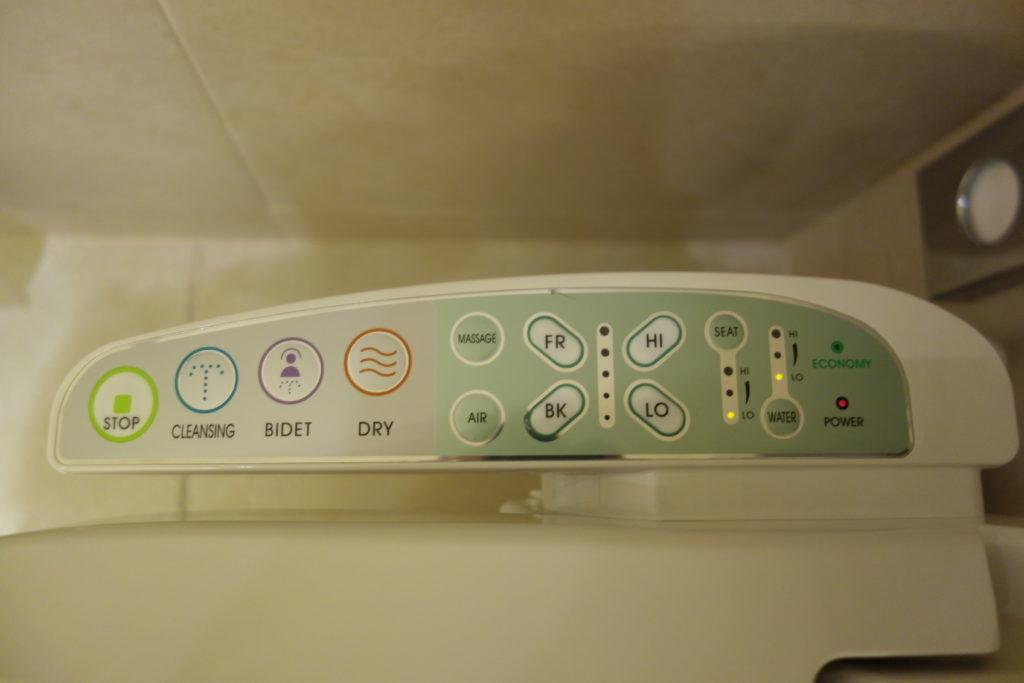 The instructions for use were attached.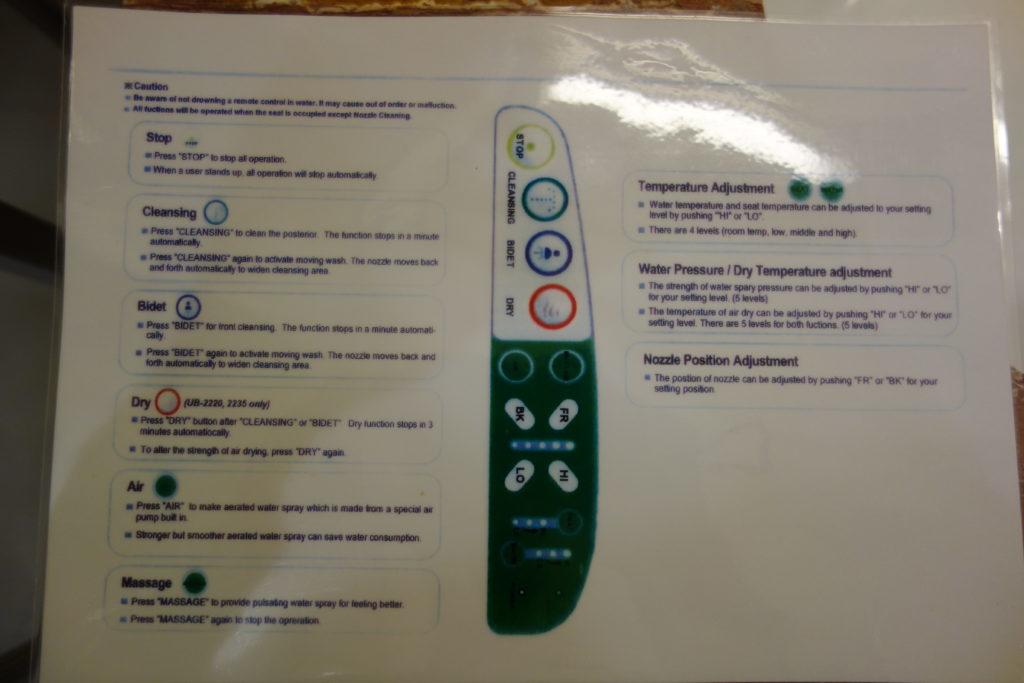 The accessories were from Molton Brown. Amusingly, this is exactly the same brand of soaps and creams that Turkish Airlines has been offering recently in business class lavatories.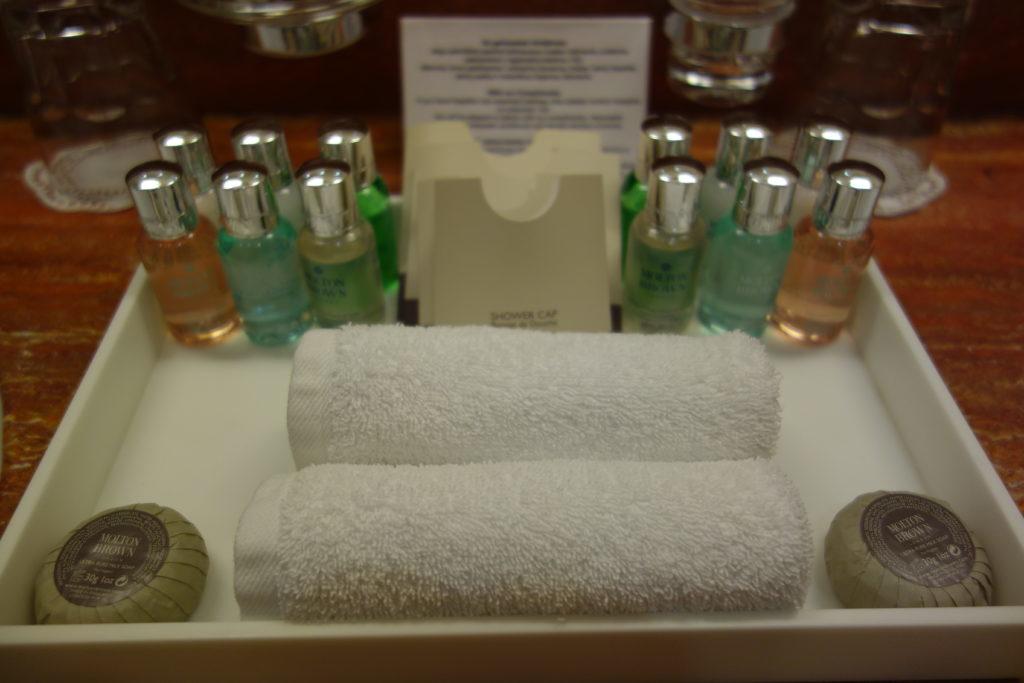 All in all, I was more than satisfied with my suite. One might argue whether it should actually be considered "Luxury", because in some ways, it just reminds me of a country house. Either way, I slept well (at first the mattress seemed to sag, but it turned out to be very comfortable), I could work well, I could have my ass tickled well, and I felt just fine.
The abundance of wood definitely added to the cozy feeling. The mighty cedar logs had been imported from Canada (As a side note: while this may be an excuse for the hotel room rates being so high, I would have liked to see more priority given to local timber and building materials).
The attention to detail in the resort was truly luxurious. Heated floors, high-quality plush towels, and accessories for every taste. Impressive!
After some rest, it was time for me to explore the resort grounds. It wasn't that big of an area, but the grounds were very well kept. Employees combed every blade of grass and swept away every fallen leaf. The fact that I had spent the previous month in mucked up Buenos Aires probably improved my perception here – not having to play hopscotch around dog crap was already a pleasure.
An addition to the people that took care of the lawn, there was also a robotic lawn mower. Another unexpected thing that seemed out of place…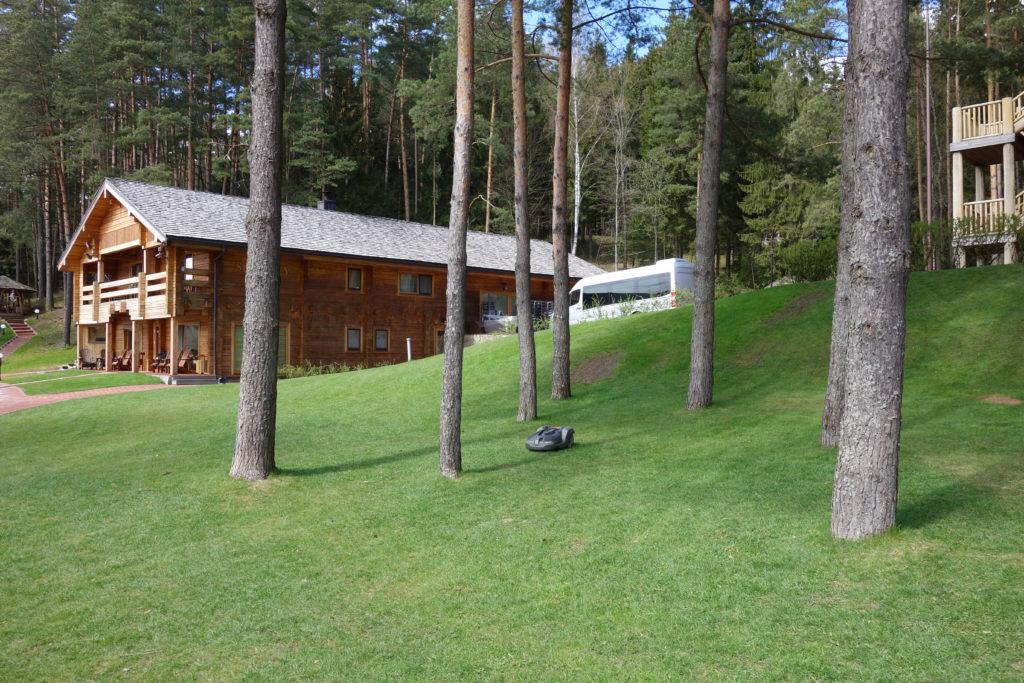 Perhaps the most satisfying thing was that I was basically the only guest. My visit here occurred just between two major May holidays (Labor Day and Victory Day – the latter being one of the most celebrated holidays in Russia), and the resort was virtually empty. There was an elderly English couple that was enjoying spring sunshine on the bench – and that was it! The downside of off-peak time was that only one restaurant was open, and that only a small number of spa procedures were available (more on that later).
Your perception or reasoning may differ from mine, but for me, the intent of visiting places like this is to have the ability to escape from the eternal hustle and bustle of big cities; to just to listen to the silence, and to feel tranquility. IDW Esperanza would have zero charm for me in the high season. The staff would have probably told me about summer discos by the lake, or about African weddings. Oh, no – screw that! It was great to have this place to myself. I strongly recommend visiting IDW Esperanza in the low season (even if during the summer everything would be green, and organic vegetables would be flourishing in the garden!).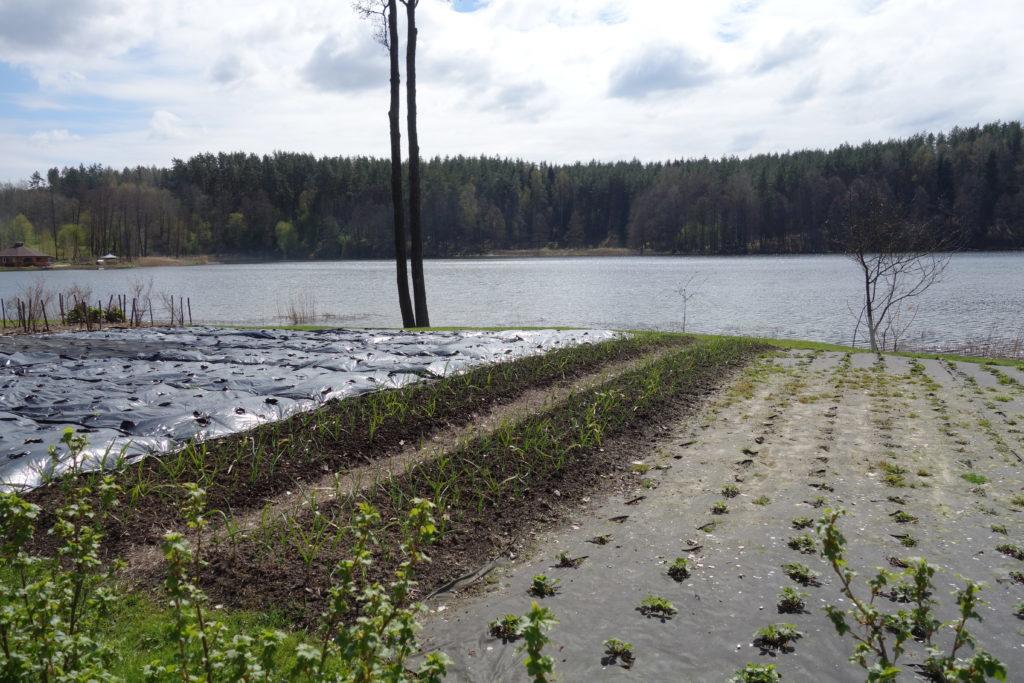 Speaking of the resort area, there was a small beach with a playground…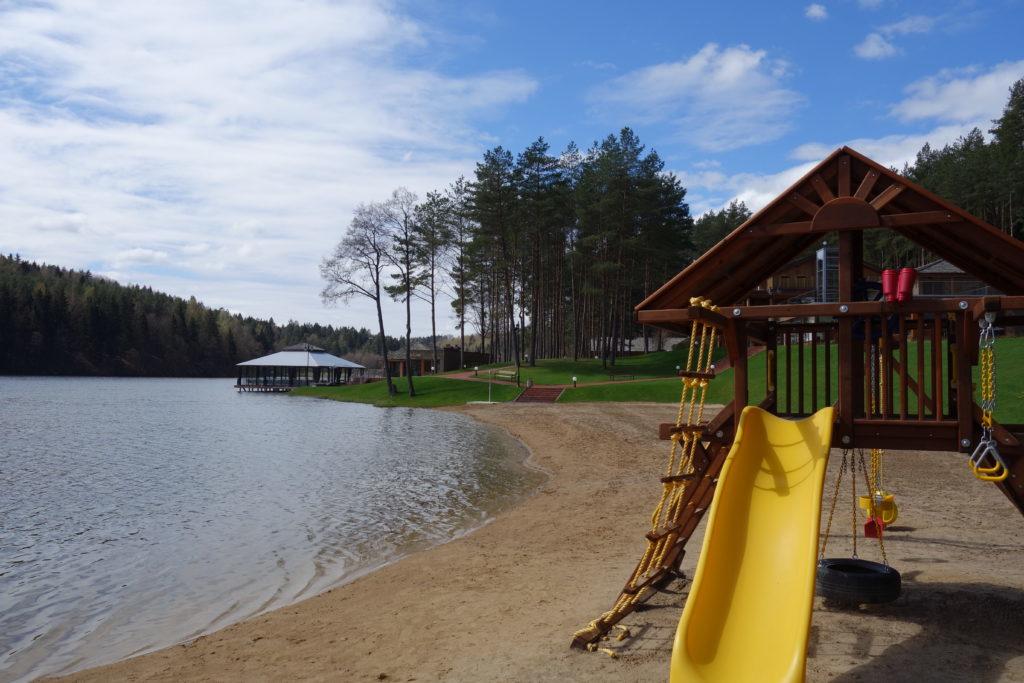 …a floating terrace…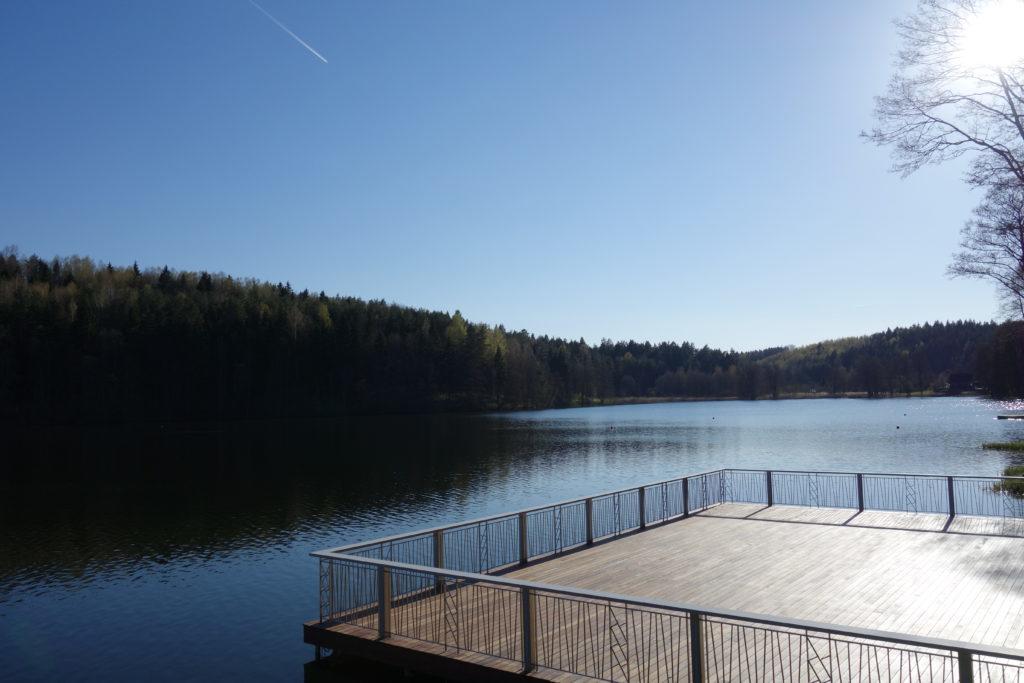 …a summer grill restaurant, which was closed…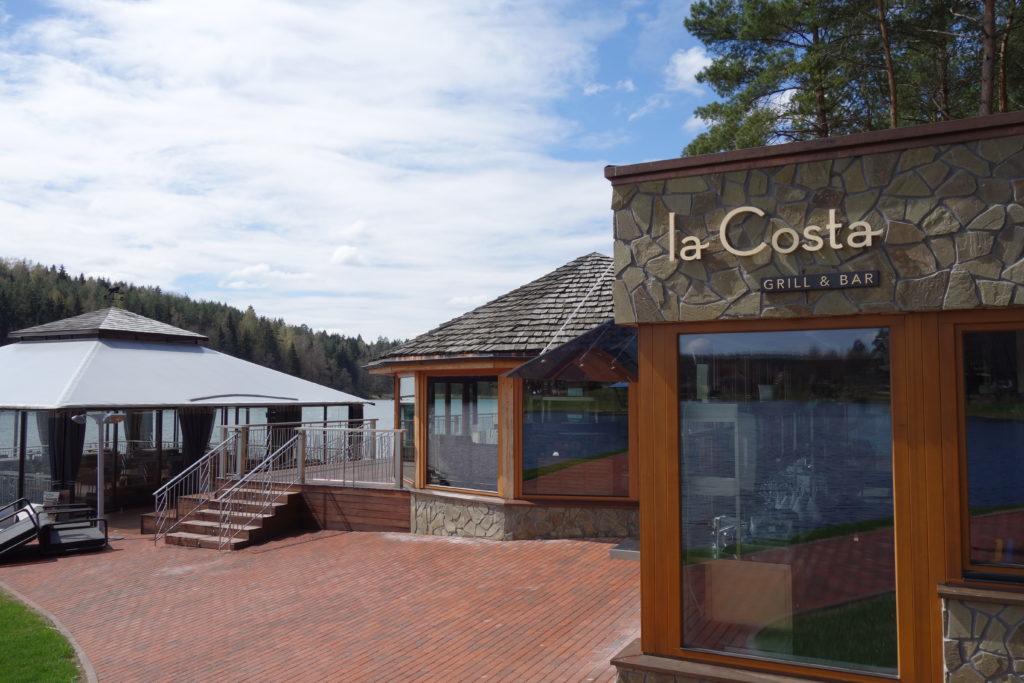 …and some benches to just sit back, relax and read a book (one of which was a catalog showcasing SLH hotels, conveniently left in the room).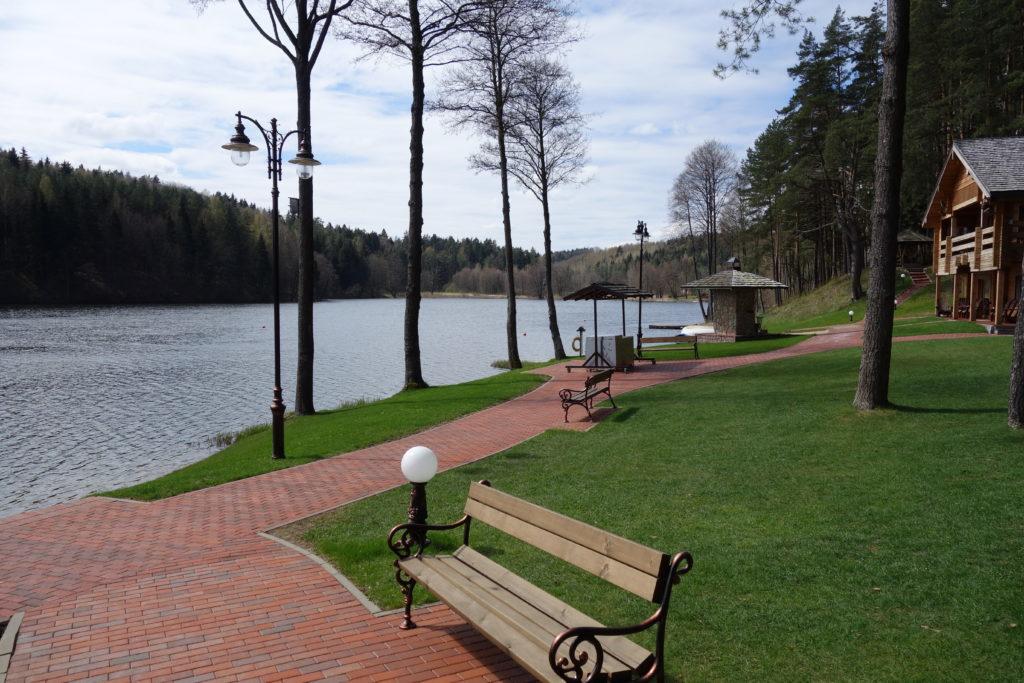 Nearby, there was a tennis court, and a small football field.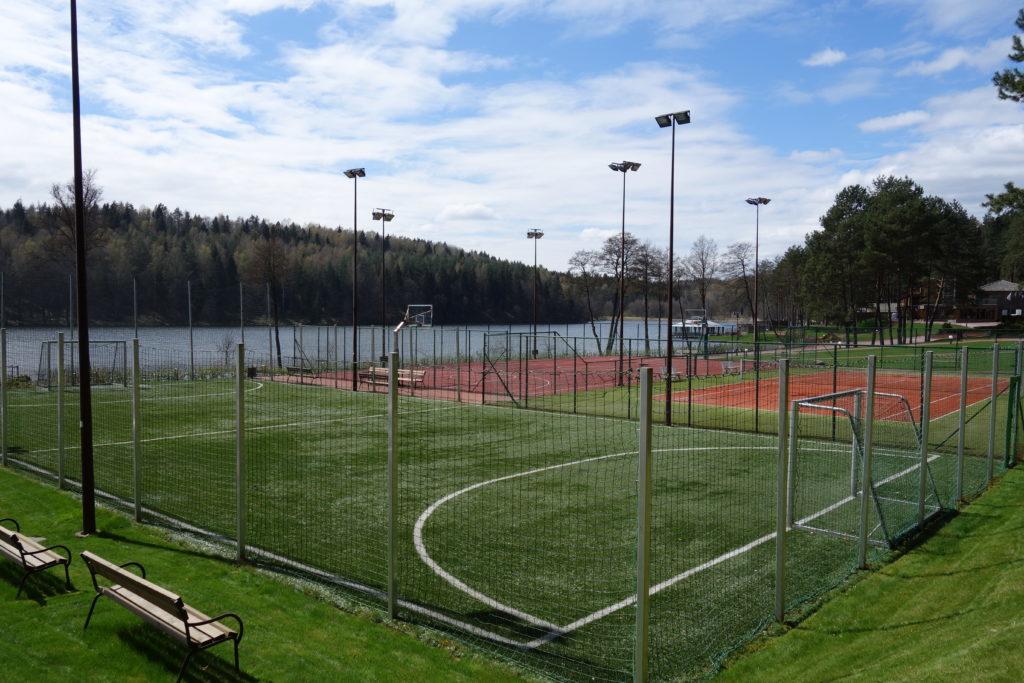 After having strolled through the woods along one of the few paths, I reached an aviary. There were some peacocks here…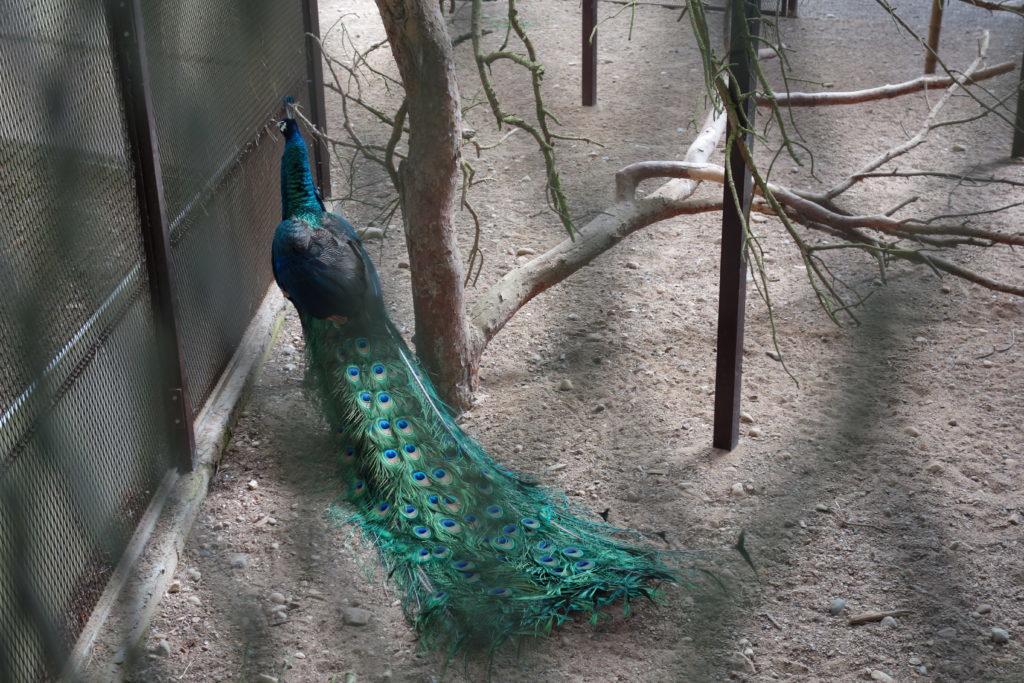 …and smaller fowl.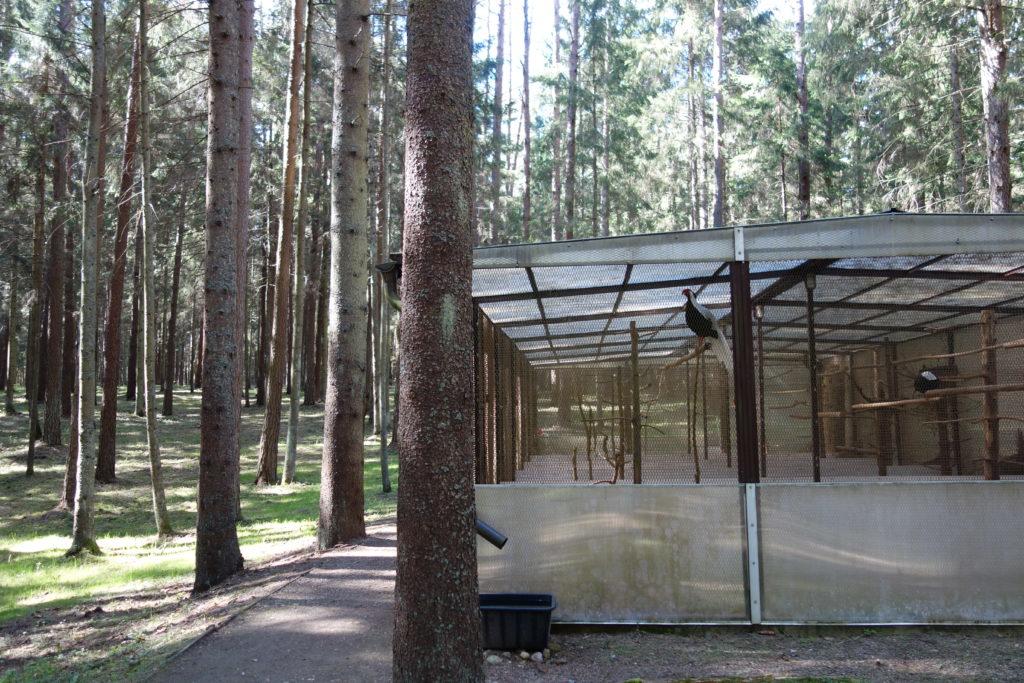 A little further down, in the meadow, there was a helipad which looked a bit out of place here!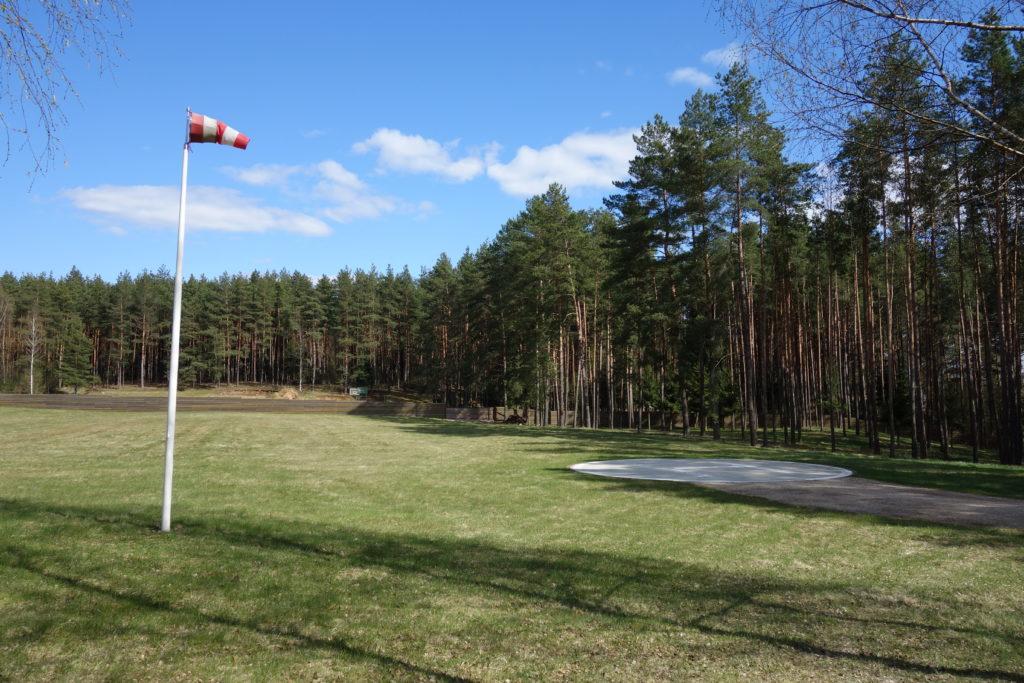 The resort grounds were impeccable. The only thing that bothered me a little was the fencing, which I ran into every now and then while walking. I wished it had been as it was in my beloved Austrian Alps, with a network of endless footpaths with no limitations.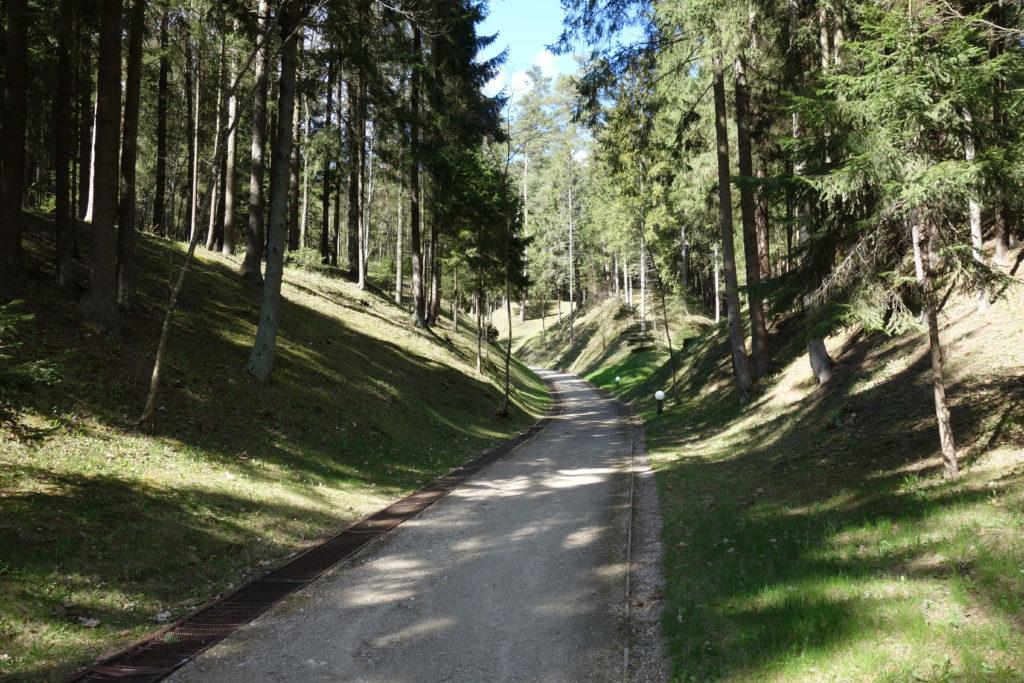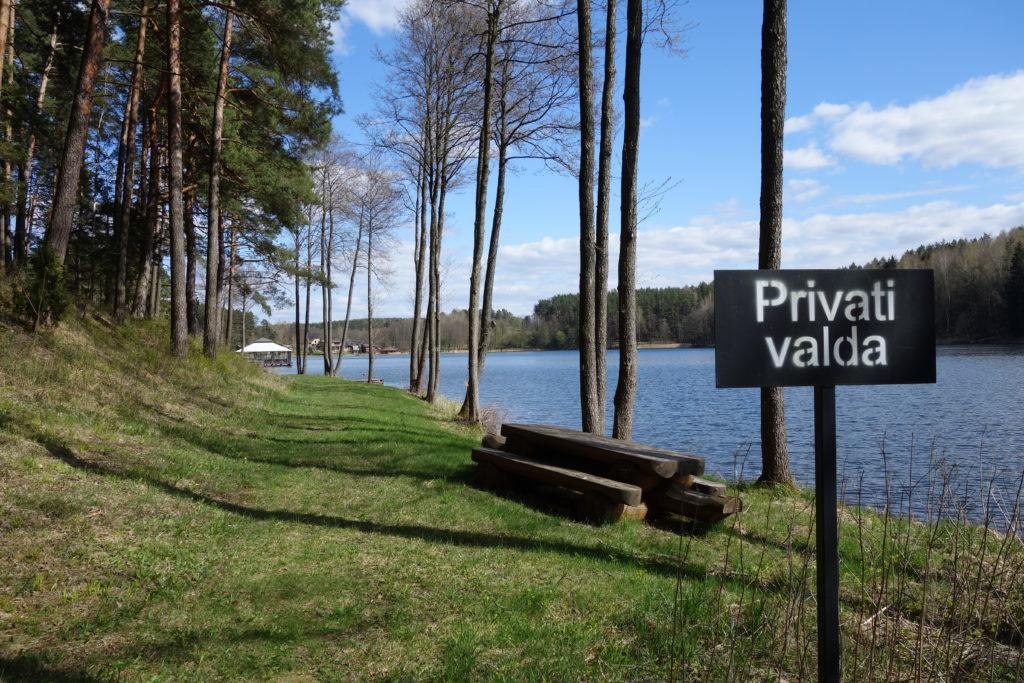 The resort looked idyllic at night, as well, giving off a mesmerizing glow.
A nice, cool European evening. The warm smell of a crackling fire… Lovely!
In the evening, only one restaurant was open in the resort – La Esperanza.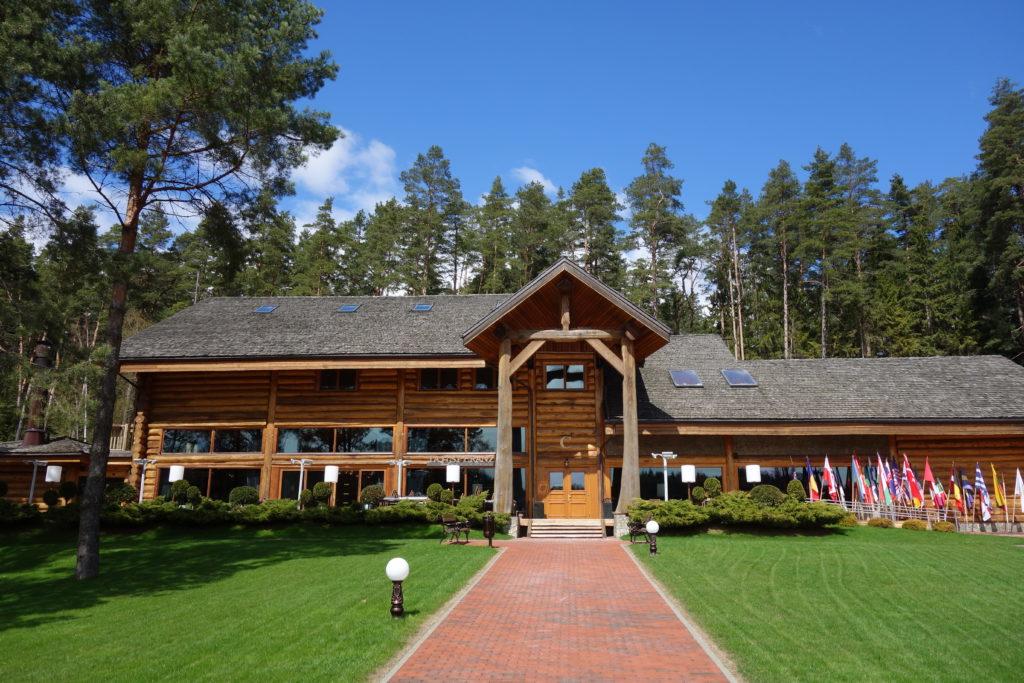 This turned out to be probably the biggest disappointment during my stay. I usually avoid having lunch and dinner in hotels, as they always leave me dissatisfied. The pretentious marketing and high expectations never live up to the actual experience. That, as well as the unreasonably high prices, usually make me look for other places to eat. In the IDW Esperanza, that wasn't easy, since the nearest cafes and restaurants were located in Trakai – 12 km from the resort.
The restaurant's design was cute, but the quality of the food and the service left much to be desired.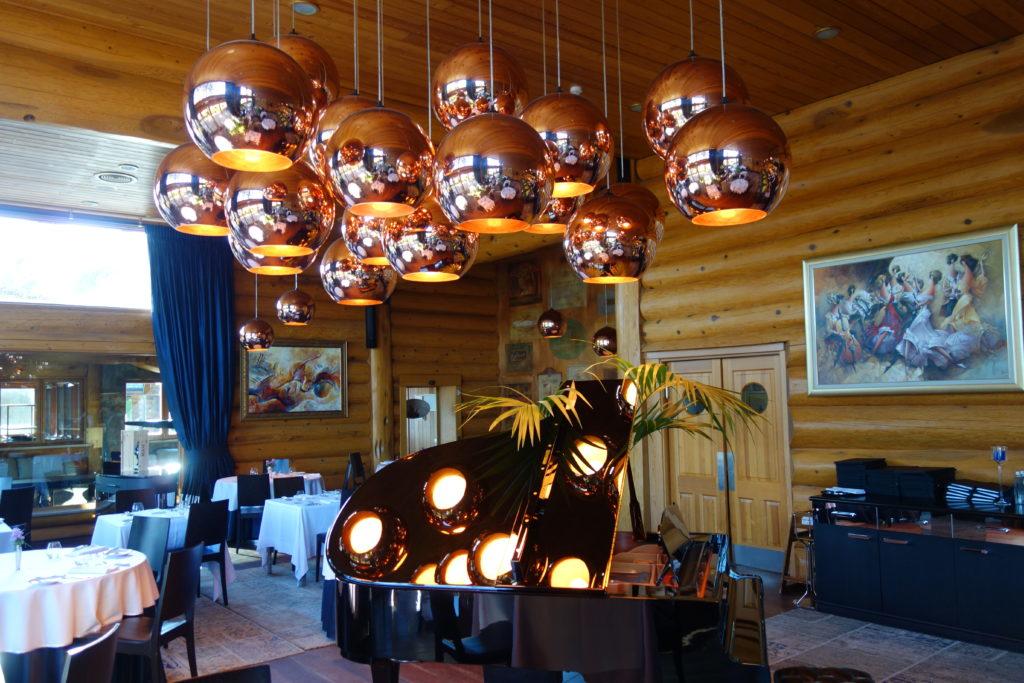 I ordered the soup of the day, which turned out to be a borscht with dumplings…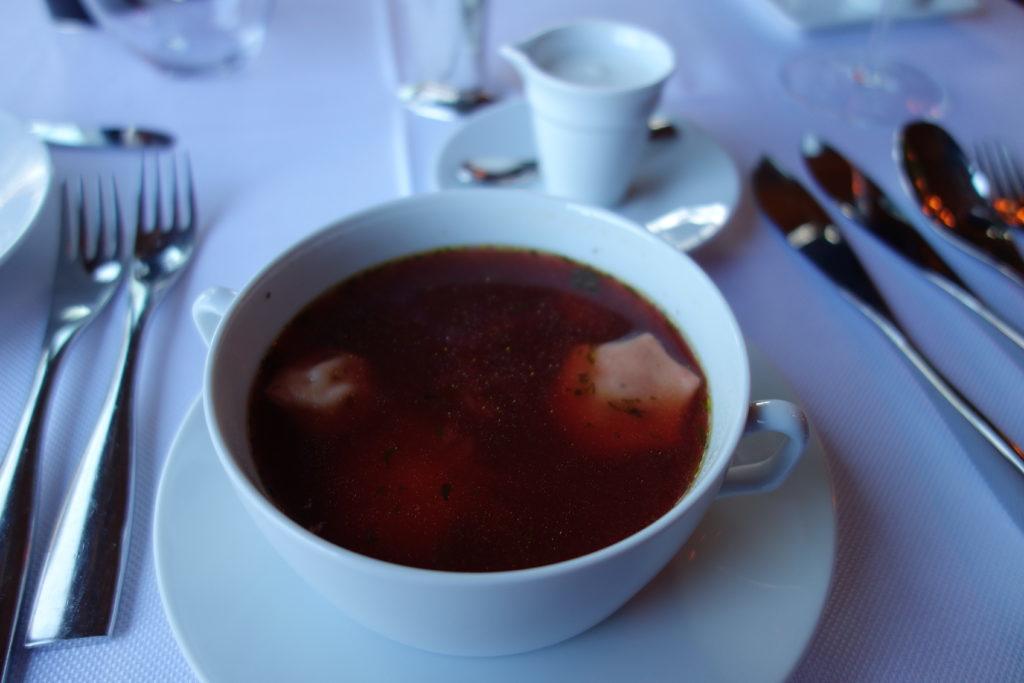 …and then the salmon.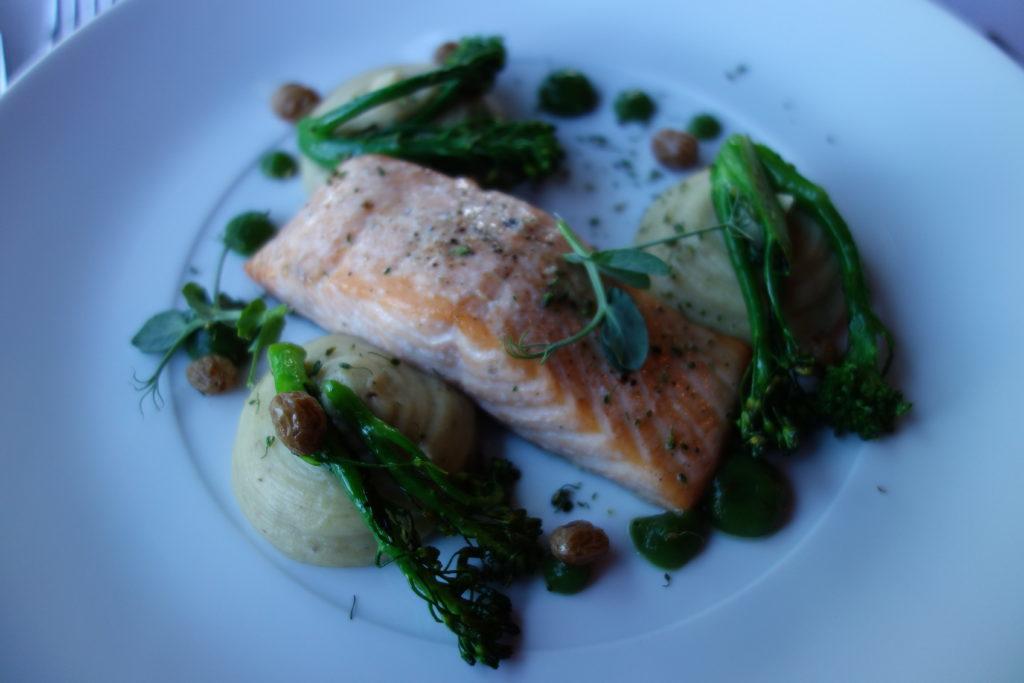 The dinner was more than simple. Any mom could whip up a better meal than this in no time.
I ordered a glass of wine to go with my meal. Prices start at 10 euro for one glass, which is just absurd (my American readers may not understand, but in Europe, this is a truly unbelievable price) – especially by Lithuanian pricing standards. For that amount, I should have expected something exquisite, but I was instead given a splash from the bottom of an already opened bottle. I had to ask the server to open a new bottle, but the drink was still piss poor.
51 € for such a dinner is a ripoff. Aside from making my opinion known on this review, I also informed hotel management about it. It shouldn't be this way.
After dinner, I checked out the spa. Hotel guests get unlimited and free access to the pool, sauna and some spa treatments.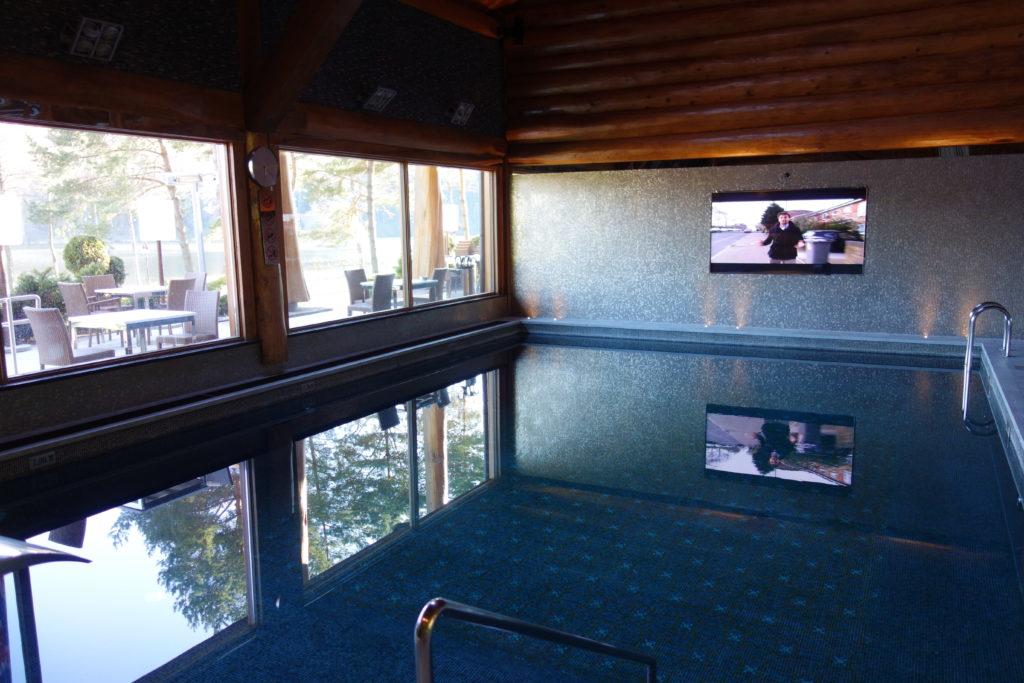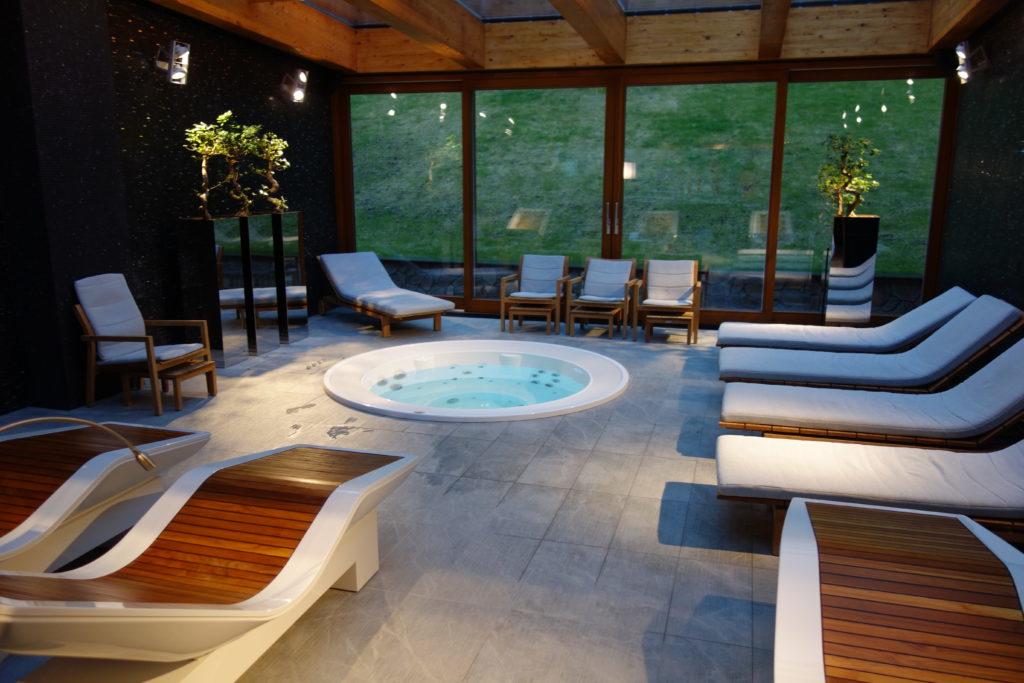 Due to the low season, only Thai specialists were available for massages.
The spa offers some very exotic services, such as a horizontal shower, a sand bed, and a Cloud 9. This is what pricing looks like: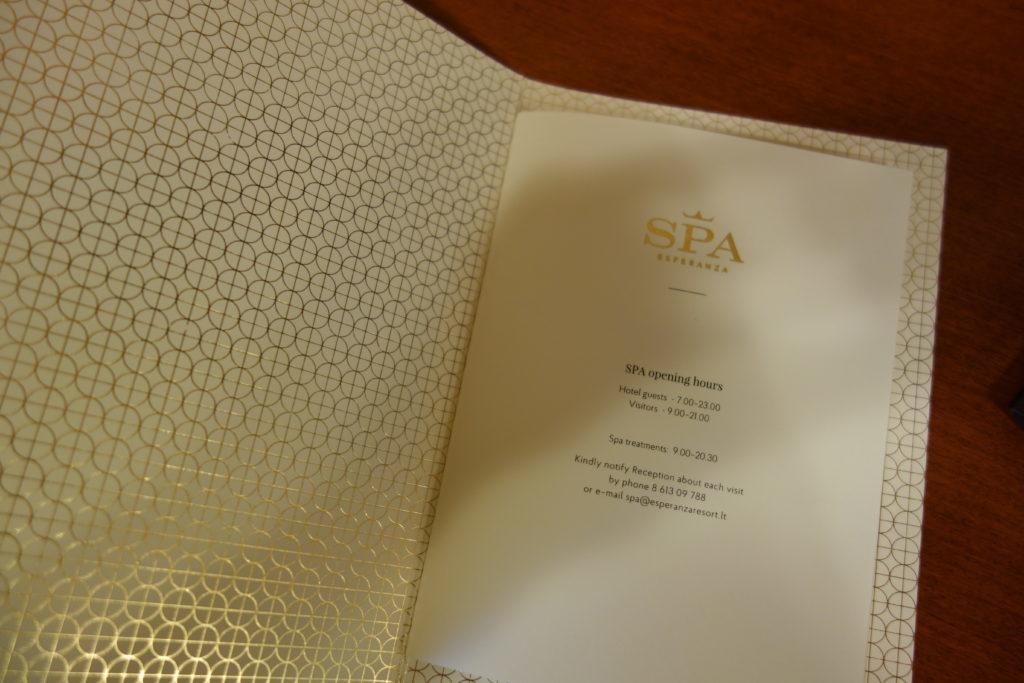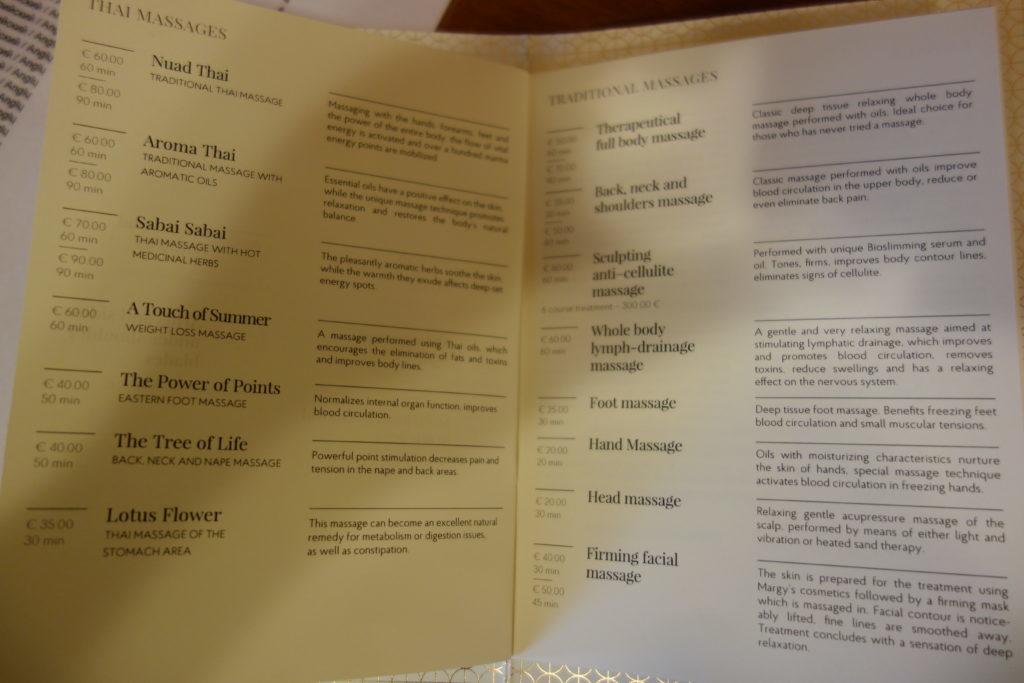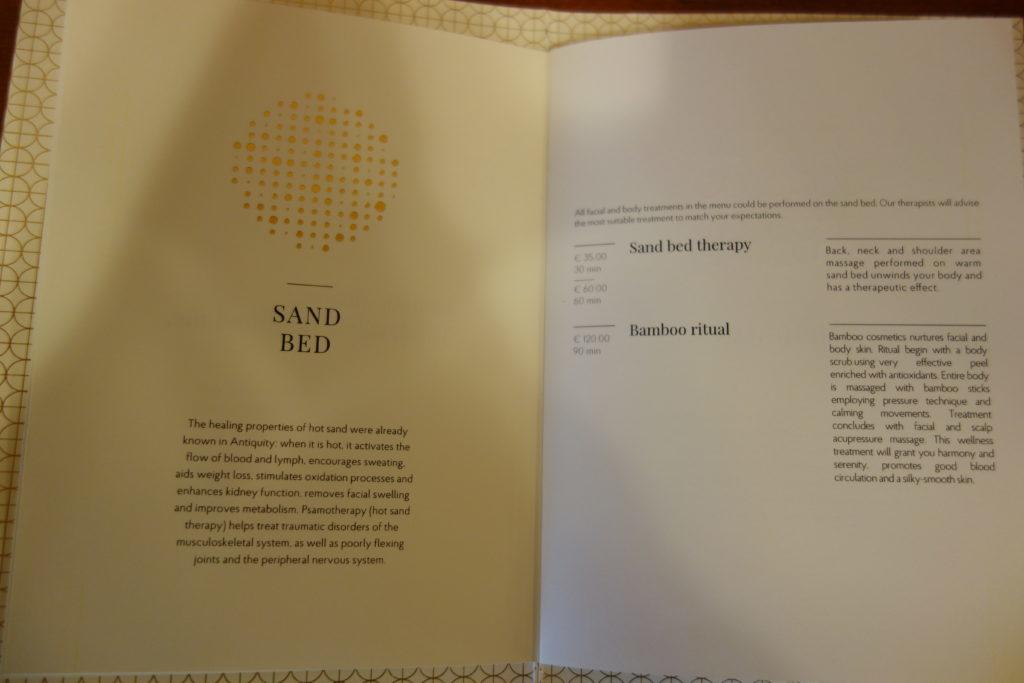 The spa was impeccable.
Breakfast was included in my rate. I enjoyed it at the La Terraza restaurant (which opens only in the morning), on the second floor. In summer, guests can enjoy breakfast on a magnificent terrace overlooking the lake. During my visit in May, the terrace was still closed due to it being almost zero degrees in the mornings.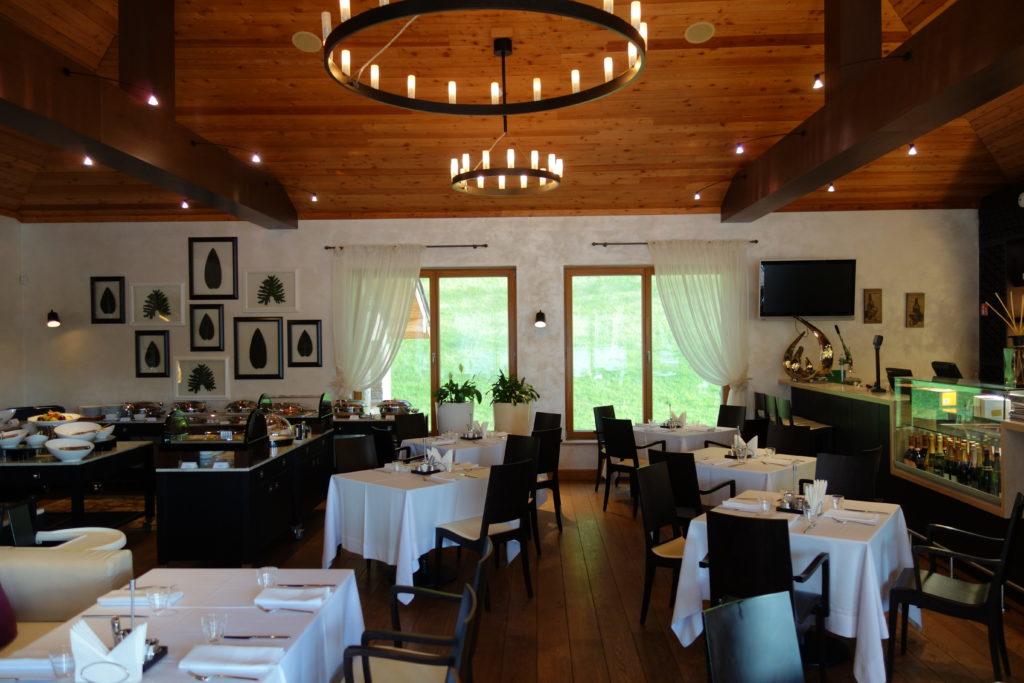 Breakfast was great. This is exactly how I imagine breakfast should be an exclusive hotel – the focus should be on a small number of high quality dishes and a minimalist presentation, not an assortment of "whatever you want from anywhere in the world".
The service was unobtrusive, yet effective, and the cappuccino was delicious.
The assortment of dishes included cheeses, cold cuts, assorted fish platters, salads, fruits and mouth-watering hot dishes – including pancakes with raspberries and sour cream. Some things you just can't say "no" to, even when on a diet. I'll let the pictures speak for themselves.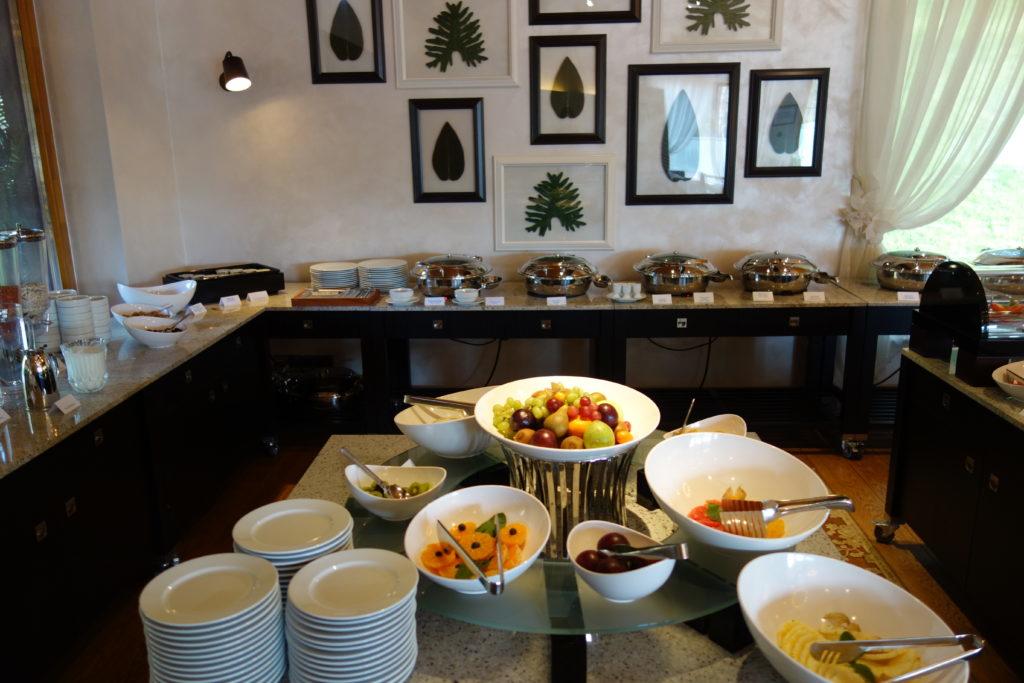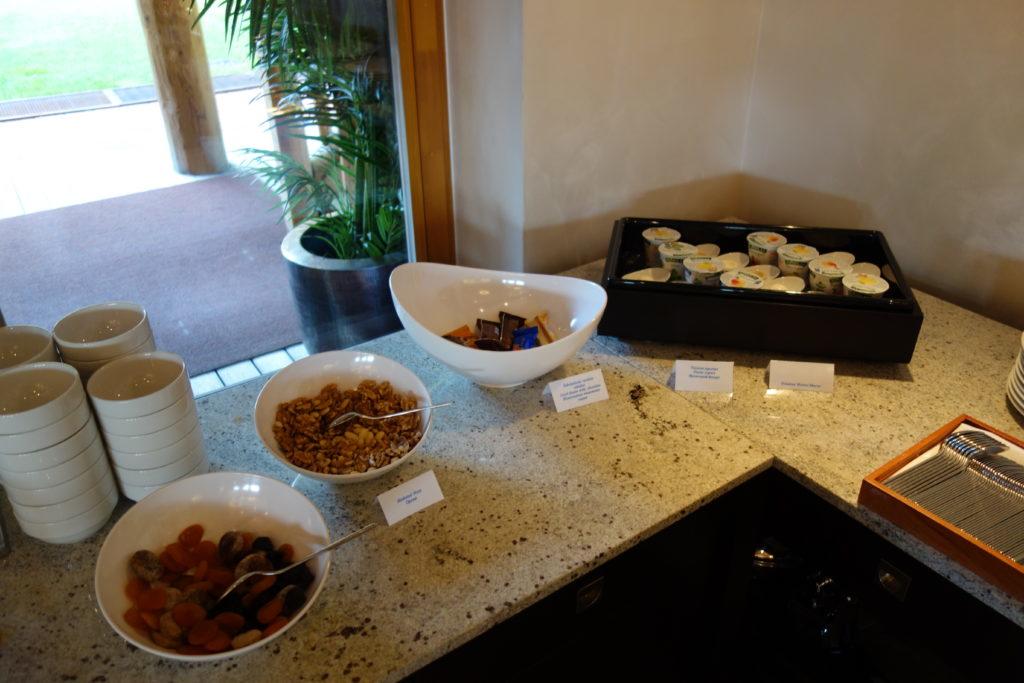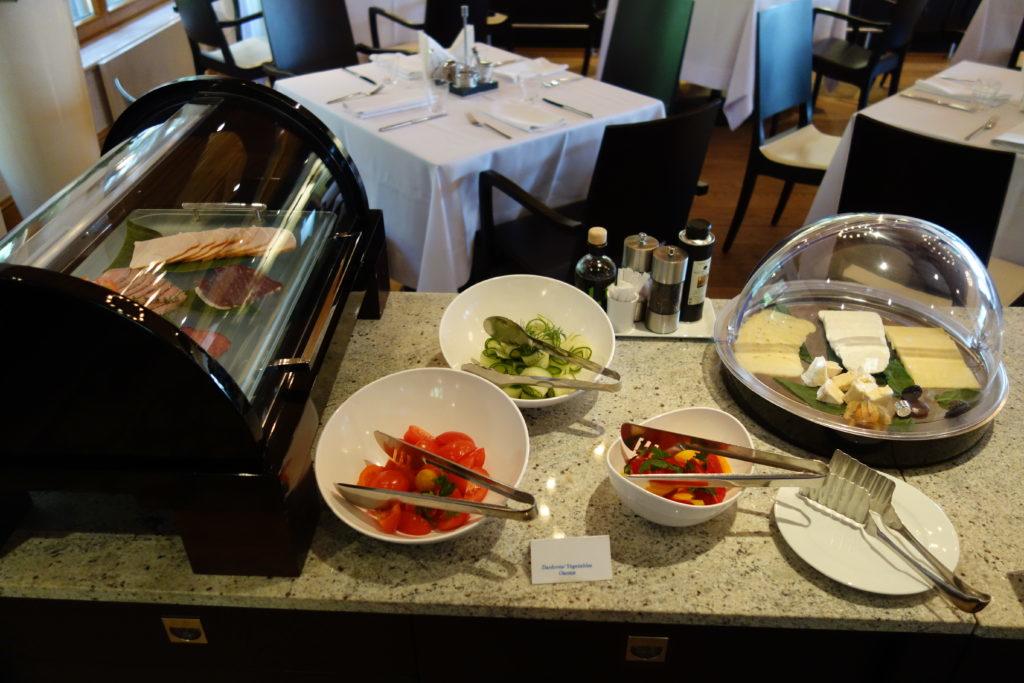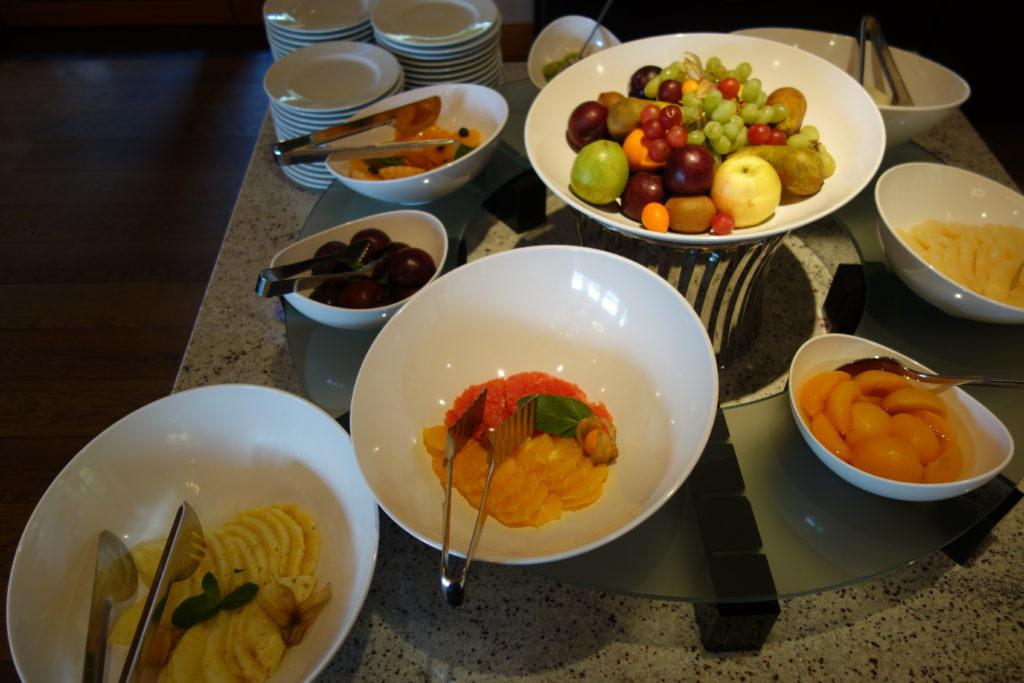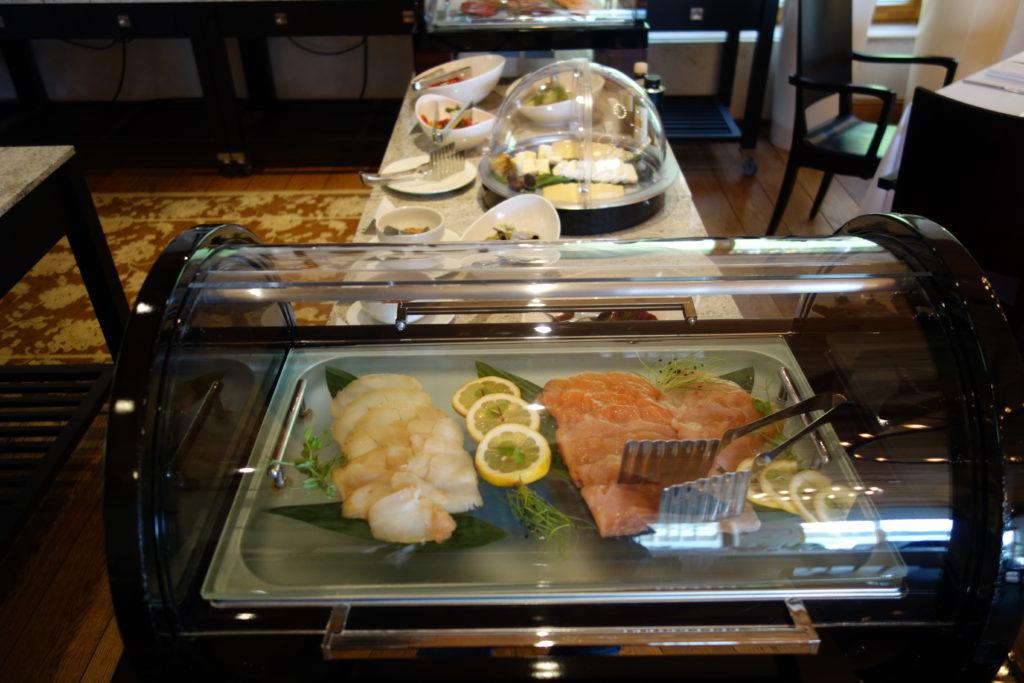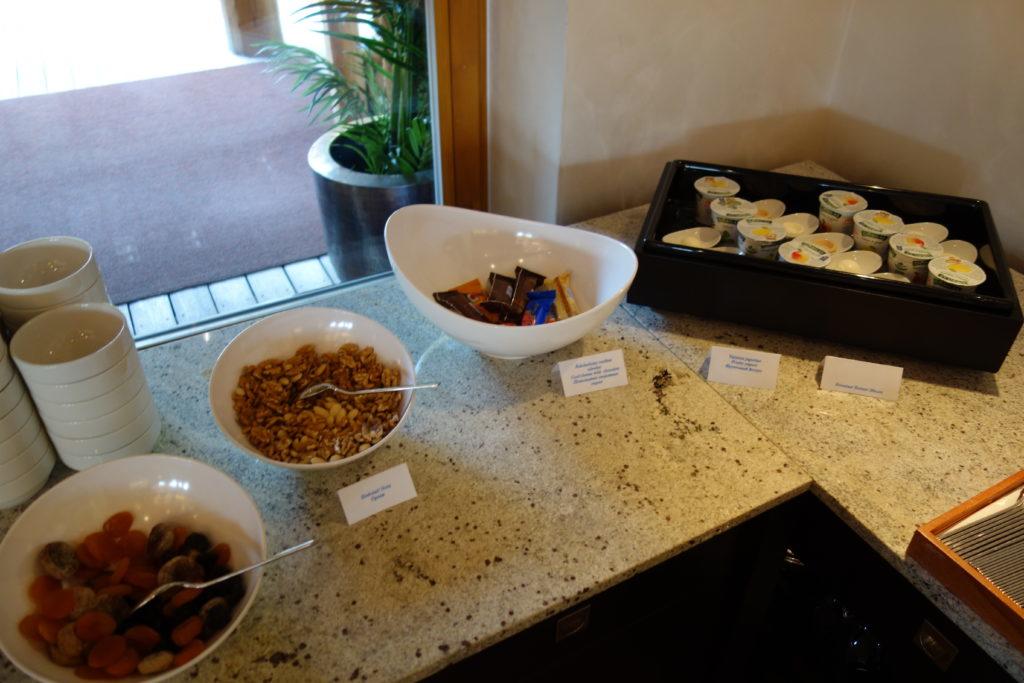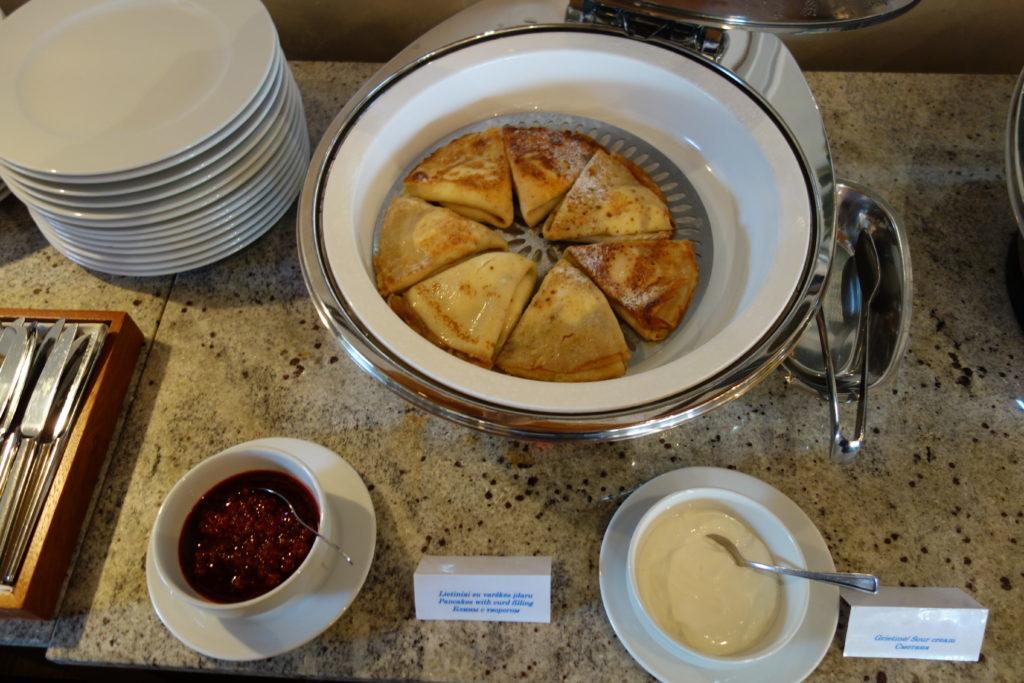 There was freshly made bread and pastries. The pain au chocolat was top-notch!
---
I had a great time at IDW Esperanza. Fresh air, virtually no other guests, a cozy and comfortable room, and great breakfast – exactly the way it should be in a resort of this caliber. The staff was beyond friendly at every each interaction. It was obvious that the people working here sincerely love what they are doing.
The only disappointment here was dinner in the restaurant. Unfortunately, it's not easy to avoid that disappointment, unless you have your own transport…
During low season, the rates in the resort are around 150 € per night, and it's undoubtedly worth it. Remember that the price includes transport to and from the resort, and Loved members get a free upgrade and breakfast. I find it to be a great value.
IDW Esperanza is a part of Small Luxury Hotels of the World. I'm planning to write more about lesser known hotel chains and their loyalty programs, so stay tuned for my next articles.